8 Perfect Toys for Development in 18-Month-Olds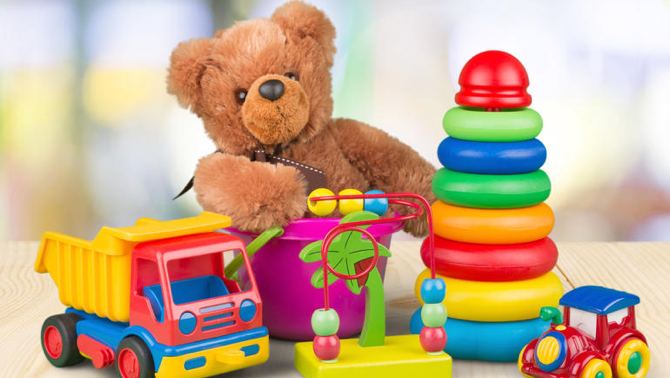 Every baby loves having baby toys to chew, snuggle on or to hug. Young kids between the ages of 1 and 2 experience an outburst of new abilities. It is very important that you buy your 18-month-old baby toys that are specifically for that age. The thing is, such toys were made with an 18-month-old baby in mind. This means that they will not have minute pieces that could cause choking, pieces your baby might harm him/herself with or pieces that a child cannot teeth on (remember that an 18-month-old is teething so everything the baby holds goes straight to the gums). Here are examples of some of the best toys:
1. Laugh and Learn Say Please Tea Set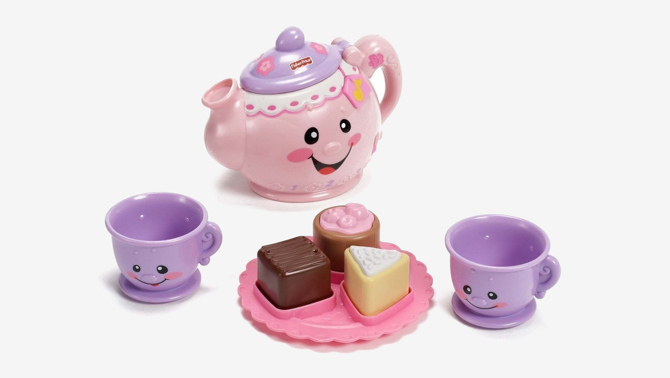 This is a toy that helps your child's imagination grow, learn and sing along to music thus being a 3 in 1 toy. It comes with two teacups meaning the child can learn to entertain a guest and play along with other children. Cookies tray with different shapes help your child learn to differentiate shapes and match them accordingly. It also has three cookies just in-case the child feels like chewing on something. It also has three songs.
2. Baby's Learning Laptop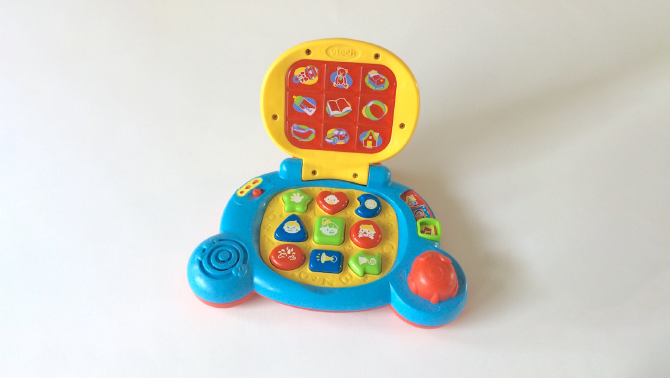 Toy laptops come in handy especially in equipping a child with knowledge of modern technology. It comes with a keypad imitation that has about nine large, colorful, different shaped buttons. The screen lights up to interact with your child whenever a button is pressed. It also has a mouse small enough to fit your child's tiny hands. When a button is pressed, it plays some music, and there is a switch to control volume levels.
3. Early Learning Learn To Dress Monkey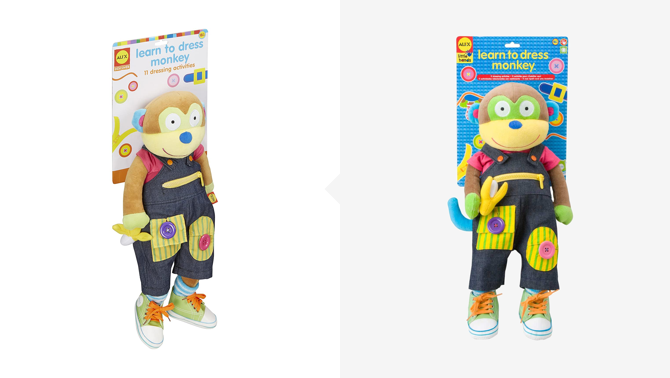 These types of toys help children learn how to dress and also find a friend in the toy. For example, the Early Learning Learn to Dress Monkey comes with as many as eleven different dressing activities. Your kid will learn how to snap straps on, loop, zip, and button and even tie shoes. As a result, your child's motor skills are also developed. It comes in bright colors and the clothes in different colors. You child will, therefore, learn how to color coordinate and match clothes.
4. Illustrated Books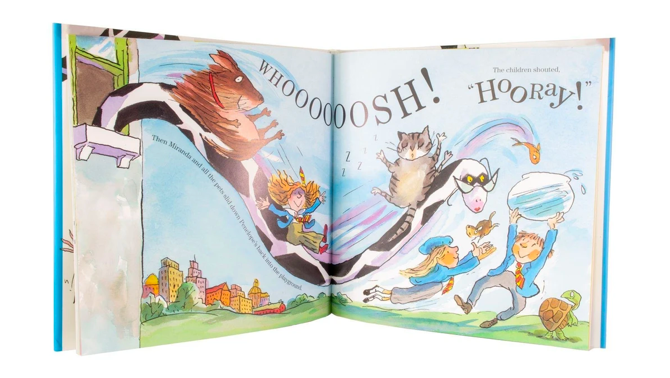 Although there are recorded books your child could listen to, they still cannot substitute illustrated books as best toys for 18-month-olds. Even so, children enjoy hearing voices that come from a machine, and the regular pattern of nursery rhymes tends to be very pleasing to your child. When reading an illustrated book to your child, involve the child in the process by asking him/her to name pictures in the book.
5. Puzzles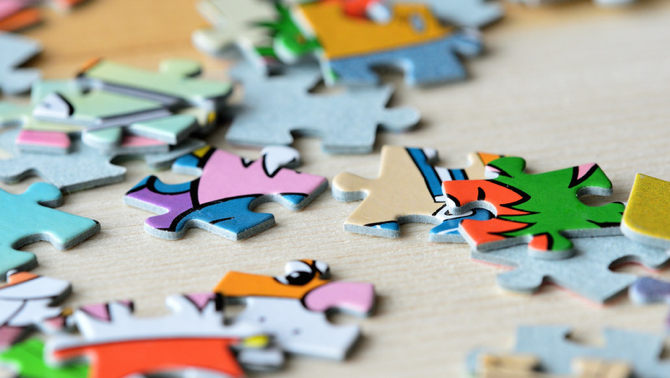 Puzzles are great as they allow your child to have little victories. Kids get satisfaction by simply putting a shape exactly where it is supposed to be. Puzzles also boost your child's thinking ability since they will have to figure out which puzzle piece fits where. Their imagination is also aroused. Buy puzzles that are not complex i.e. are made of few, thick pieces. Remember to play this with you kid since your kid may get choked by a piece.
6. Magnet School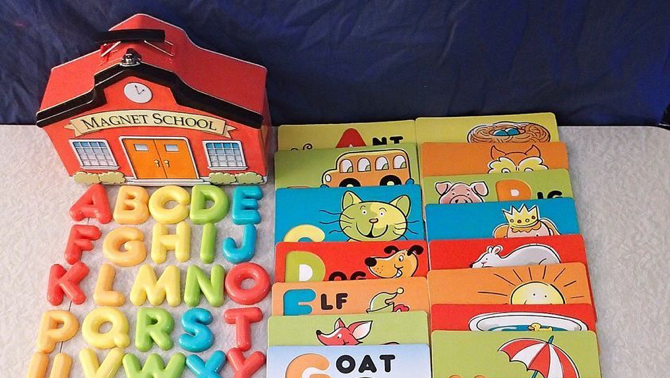 This is a type of toy that is made up of card words puzzle that help your child with letter recognition. The cards are magnetic and have pictures drawn on them. You child is supposed to take a card, find the missing letter (which is also the name of the picture) and attach that letter to the card to make it a complete word. For example, if a pig is drawn on the card and the name pig is there without the 'P', the child is supposed to look for the letter and place it correctly.
7. Fun, Cubed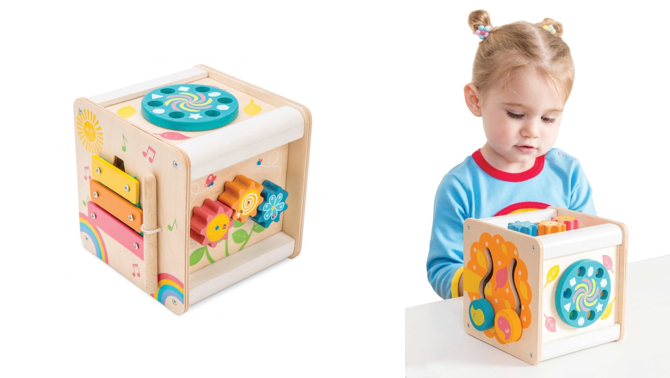 This is the type of toy, shaped in a cube shape and each side has a different type of interesting and educative game for your child. Such toys have been created to stimulate a child's mind. Some of the activities involved include telling time and shape sorting. This toy is fun, colorful and has pieces that are easy for your child to hold.
8. Busy Zoo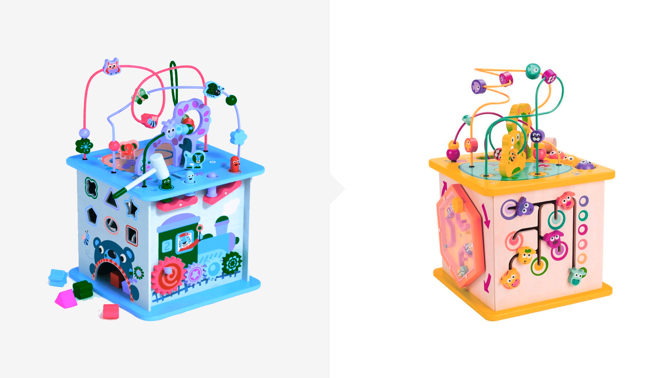 This is a "several in one" games type of toy. It has peek-a-boo doors where inside the door is an animal your child is supposed to name. It also has an animal alphabet spinner and many other imaginative games to boost your child's brain. On top of the toy is a squiggly track where animals can race. This kind of toy will help your child's imagination grow and is also a fun activity.
Check out this video about a mom showing some of the best toys for 18-month-olds:
NEXT PAGE