Women usually pay a good attention to their diet during pregnancy, but you need to ensure that you keep your diet as nutritious as possible even after your delivery. The reason is that your baby gets everything you eat through breast milk. Many experts believe that you avoid sushi during pregnancy, but this leaves women with an important question, what if the craving is so strong that you couldn't resist it? Can this yummy delicacy cause any problem for you or your baby? Let's find out more about it!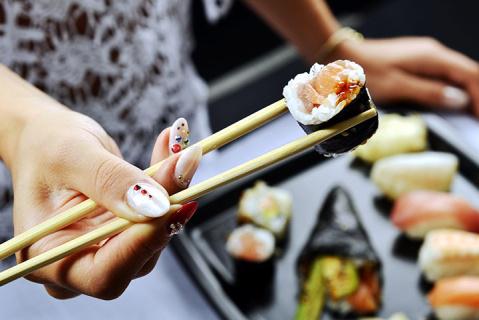 Can You Eat Sushi While Breastfeeding?
Yes, you can. The only thing to consider is to go to a reputable restaurant to eat sushi. You should not eat sushi during pregnancy because of a risk of becoming infected with parasites or bacteria found in raw fish. Your immune system is not at its best during pregnancy, so you should be as careful as possible. However, no such risk is present once you have delivered your baby.
Interestingly, you can enjoy fish because it is a great source of niacin, vitamin D, and omega-3 fatty acids. All these nutrients are beneficial to your newborn. Still, it is a good idea to talk to your doctor and inform them about including sushi in your diet while breastfeeding.
Precautions to Take
Regarded as raw food, there are situations when sushi is not safe. Can you eat sushi while breastfeeding? Yes, you can, so long as you take some precautionary measures. For instance:
Be sure to select a reputable restaurant where they are very specific about maintaining a high hygienic standard. Not paying attention to this could make you deal with infections.
Be sure to clean all the surfaces first and then prepare your sushi at home. It is better to use some antibacterial solvent to clean the surface before preparation.
Clean your hands thoroughly when handling meat and raw fish.
Opt for the wild grown or organic salmon to be on the safe side. In case of canned tuna fish, you will be better off choosing the chunk light tuna fish because it is less likely to be contaminated with mercury. Do not forget to check the expiry date when purchasing tinned or canned fish.
Always clean your refrigerator regularly and pay attention to keeping the temperature below 40F.
Avoid raw fish like yellowtail, swordfish, shark, and mackerel when cooking sushi.
Great Recipes for You to Try
Now you know you can enjoy sushi while breastfeeding, but you may be thinking about different ways to cook it. Here are some delicious recipes to try.
1. Salmon Nigiri Sushi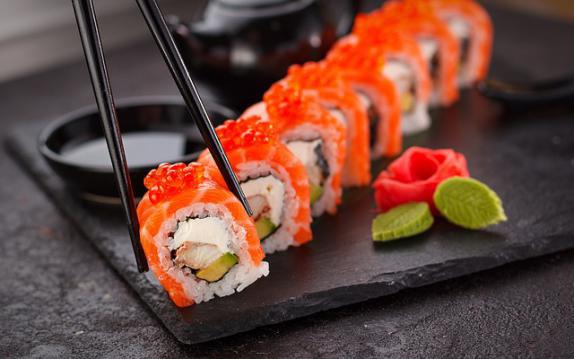 Ingredients
1lb each of scallops, Atlantic salmon, and seabass
454g of bluefin tuna
Wasabi
A cup of sushi rice
Directions
Cut salmon into small pieces – each piece should be no more than 20g.
Use the rice to make an oblong ball.
Take the fish slice and place it on your fingertips. Now, spread wasabi on the fish slice along with the rice.
Fold the edges of the slice to get it ready.
2. California Roll
Ingredients
1 nori sheet
2/3 cup of sushi rice
½ avocado
6 sticks of Surimi
A teaspoon of sesame seeds
Directions
Get a bamboo wrap and spread a sheet on it keeping the shiny side down.
Now, spread your sushi rice over it. Take a spoon full of sesame seeds and spread over the sheet.
Flip the sheet and line it with the Surimi with sliced of avocado right next to it.
Roll it and cut into small pieces.
3. Spicy Tuna Roll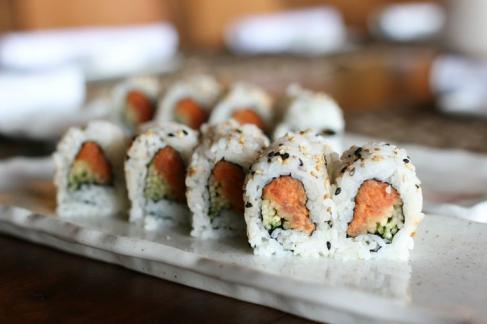 Ingredients
1 tsp each of mayonnaise, chili sauce, and lemon juice
A nori sheet
Half teaspoon of sesame oil
Half avocado
2/3 cup sushi rice
Tuna dices soaked in spicy mayo
Directions
Mix mayonnaise, chili sauce, lemon juice, and sesame oil in a bowl and refrigerate.
Take the nori sheet and break it into two. Keeping the rough side up, place half of it on a bamboo sheet.
Take some sushi rice to make a ball and place it on the nori sheet.
Flip the sheet gently and add thick slices of avocado along with the tuna dices. Close the mat from the top and tighten it from the center. Finish by pushing it in a rolling motion.
Cut the role and serve.
4. Egg and Pesto Sushi
Ingredients
6 eggs
2 cups of white rice (glutinous, cooked)
4 cups of water
6 nori sheets
Salt and pepper
¼ cup of basil pesto
Directions
Take a skillet and heat it on a medium flame.
Add some cooking oil to the skillet. Beat the eggs and pour in the skillet. Add some salt and pepper and leave it to cook.
Take a nori sheet and lay it on a clean surface. Take the cooled rice and place a layer of it onto the sheet. Now, fill the edges using a line of pesto and the egg.
Now, roll the sheet over the rice and pesto egg.
Cut into small pieces and serve.