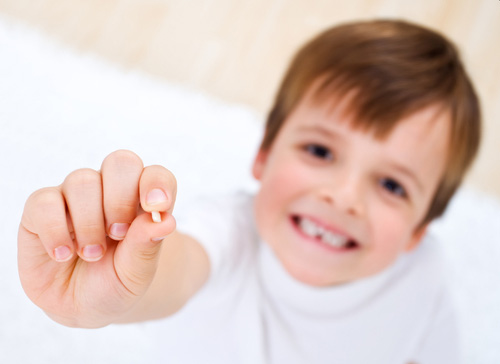 There comes a time when the baby teeth of your child fall out and are replaced with permanent teeth. The time around which all the baby teeth start to fall is more or less the same, except for a few exceptions.
Baby teeth have several purposes, including eating.They also occupy their space until the permanent teeth start to grow underneath. When it is time for the permanent teeth to appear, the root of the deciduous teeth is dissolved to make room for the permanent teeth. The deciduous teeth become lose and fall out. In some cases, it may become loose but not fall out for quite a while.
When Do Baby Teeth Fall Out?
1. How Will Baby Teeth Fall Out?
Your child's deciduous teeth, otherwise known as their baby teeth, usually grow completely around the age of three, twenty of which in total. They fall in the corresponding pattern of their eruption, which makes the mandibular (lower) incisors the first ones to fall at around the age of five or six years old. The maxillary (top) incisors, which are typically the center teeth, follow the lower incisors. The exit of baby teeth can occur by the age of four years or even as late as seven years. It all depends on how early your child's baby teeth begin to grow. In some cases, baby teeth can fall out but the permanent tooth may not be ready to grow in its place. In such cases, dentists place spacers in the empty area to avoid any potential spacing problems.
2. Primary Teeth Development Chart
It is always better to be well–informed rather than suffering the consequences of ignorance. Information regarding the growth and development of your child's primary teeth can help you stay on track with their intra-oral changes.
Upper Teeth Development

Upper Teeth

When Emerges

When Falls Out

Central Incisor

8 – 12 months of age

6 – 7 years of age

Lateral Incisor

9 – 13 months of age

7 – 8 years of age

Canine

16 – 22 months of age

10 – 12 years of age

First Molar

13 – 19 months of age

9 – 11 years of age

Second Molar

25 – 33 months of age

10 – 12 years of age

Lower Teeth Development

Lower Teeth

When Emerges

When Falls Out

Second Molar

23 – 31 months of age

10 – 12 years of age

First Molar

14 – 18 months of age

9 – 11 years of age

Canine

17 – 23 months of age

9 – 12 years of age

Lateral Incisor

10 – 16 months of age

7 – 8 years of age

Central Incisor

6 – 10 months of age

6 – 7 years of age
Additionally, this video can assist you in acquiring more information about your child's primary teeth and how they fall out:
What to Expect When Your Baby's Teeth Are Falling Out
Your child's baby teeth start to fall out? Here are several things to expect, including the cute funny face!
1. It Is a Little Unpredictable
You can never be certain when or where a baby tooth may fall out. The precarious little white crowns usually erupt completely around the third birthday of your child. Before you know it, it is time for the permanent teeth to make an appearance. Sometimes permanent teeth may erupt when the primary teeth have not yet fallen. This creates a situation where your child may have two rows of teeth, but this is only temporary, so there is no need to worry.
2. Teething Patterns Won't Change Too Much
A change in teething patterns usually indicates the presence of a disease or a disruption that has not shown its face yet. The lower two middle teeth are the first to fall out in a general pattern. If your child's primary teeth are still intact after the age of eight years old, consult your dentist. If your child's baby teeth start to fall out before he or she is four, it would be helpful to consult your dentist to make sure that the process is smooth and natural.
3. A Loose Tooth Takes Time
Never let your child pull a loose tooth out. Pulling out a loose tooth can cause the root of the primary tooth to break, thus allowing bacteria to take up residence inside your child's mouth. A loose baby tooth usually falls within a month's time. While you can encourage your child to gently aid the tooth in falling out more rapidly, avoid letting them pull teeth out under any circumstances.
4. Expect the Teething Pain Again
The eruption of the molar teeth causes teething pain that can often radiate to your child's jaw or ear. The best remedy is to encourage your child to use ice-cold water and lots of fruit-popsicles as a treat. Ibuprofen is a painkiller that you can give to your child at night to ease any consistent pain.
5. Be Surprised with Your Baby's Funny Looking
When the time for the eruption of permanent teeth approaches, your child may adopt an oral exterior that is similar to a beaver. The permanent eruption would be huge for your child's small mouth, but they would eventually grow into corresponding sizes. Luckily for us all, beavers can be very cute. If there are any issues with size or space, they are usually dealt with when the child is old enough to wear braces.
6. Expect Teething to Last Longer than Expected
Permanent teeth consist of three sets of molars, the last of which will erupt when your child is in their teenage years. Generally, primary teeth can take a period of three years to fully grow and appear. The eruption of permanent teeth can take longer than expected, but this is very common and completely harmless.
How to Take Care of Your Baby's Oral Hygiene
Teach your child to brush their teeth. The adequate technique for brushing teeth would help remove plaque and food debris from your child's mouthas well as freshen the breath and massage gums at the same time. It is important that children learn this habit as early as possible.
Teach your child how to use floss. Flossing, if done properly, can remove the risk of gingivitis and periodontitis. Using adequate flossing equipment regularly can help your child avoid gum disease.
Choose the right toothpaste. You can buy your child afluorideinfused toothpasteif his diet lacks fluoride. Fluoride enhances the strength of your baby's teeth while preventing the formation of cavities in his mouth.
Have dental checkups regularly. Regular dental checkupscan help your child keep a healthy intraoral environment. It is necessary to schedule appointments with a dentist for cleaning twice a year for a healthy lifestyle. In case of a toothache,you can ask your dentist for suggestions to decide whether or not to give acetaminophen to your child.
Take measures to prevent cavities. Sealants are used to coat the grooves in your molars. This prevents the formation of cavities in your mouth. Sealants may need to be coated again during adolescence, but they are cost-effective and prove a 90 percent decreased chance of your child acquiring caries.
Establish a healthful diet. A healthy diet comprising of vitamin C, vitamin D, calcium and fluoride is essential for maintaining healthy gums and teeth. Starchy substances and sugary food can lead to the incorporation of bacteria in your mouth even if you brush regularly. Children should also be told about certain drinks that can stain their teethas well as the damage that sodas can create.