Chicken is a very versatile food, one that goes well with almost any other dish, and with a taste that almost everyone can agree is delicious. But everyone knows the difference between chicken that is properly cooked and chicken that has been dried out until it is almost leathery, hard to chew and definitely unappetizing. Learning a few simple recipes for what to cook with chicken can make anyone a great chef when it comes to this tantalizing bird.
There are endless possibilities to cooking chicken: you can bake it, barbecue it on the grill, roast a whole chicken or do individual pieces, fry it in a cast iron skillet, braise it in savory broths, and so much more. Here are five of the best recipes for what to cook with chicken.
What to Cook with Chicken--Top 5 Chicken Recipes
These recipes are sure to please anyone's taste buds, and can look especially nice when served for dinner for guests. Please note that you can adjust the amount of ingredients however you like to feed one or many. One of the fun things about cooking chicken is how versatile it is, and how well it takes to seasonings and flavorings of any kind.
1. Chicken & Sun-Dried Tomato Orzo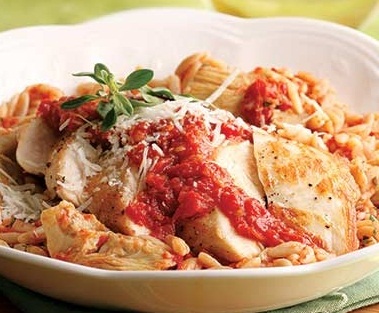 Total time: 30 minutes
Yield: 4 servings
Ingredients

Directions

8 oz. orzo, whole wheat
1 cup water
½ cup chopped sun-dried tomatoes
1 diced plum tomato
1 peeled clove of garlic
3 tsp. chopped marjoram
1tbsp. red wine vinegar
2 tsp. plus 1 tbsp. olive oil
4 boneless skinless chicken breasts
¼ tsp salt
¼ tsp pepper
1 9-ounce package artichoke hearts
½ cup shredded Romano cheese

Cook orzo according to package directions.
Mix the water, sun-dried tomatoes, plum tomato, 2 tsp. marjoram, vinegar and 2 tsp oil in a blender.
Sprinkle on season chicken with salt and pepper, and then sear in a hot pan over oil, 3 to 5 minutes per side.
Once chicken is cooked through, remove it from pan.
Add the tomato mixture to the pan, measuring out ½ cup to reserve.
Add all other ingredients and bring to a boil.
Ladle sauce onto plates, top with sliced chicken, top with reserved sauce, and sprinkle with Romano and marjoram.
2. Oven-Fried Chicken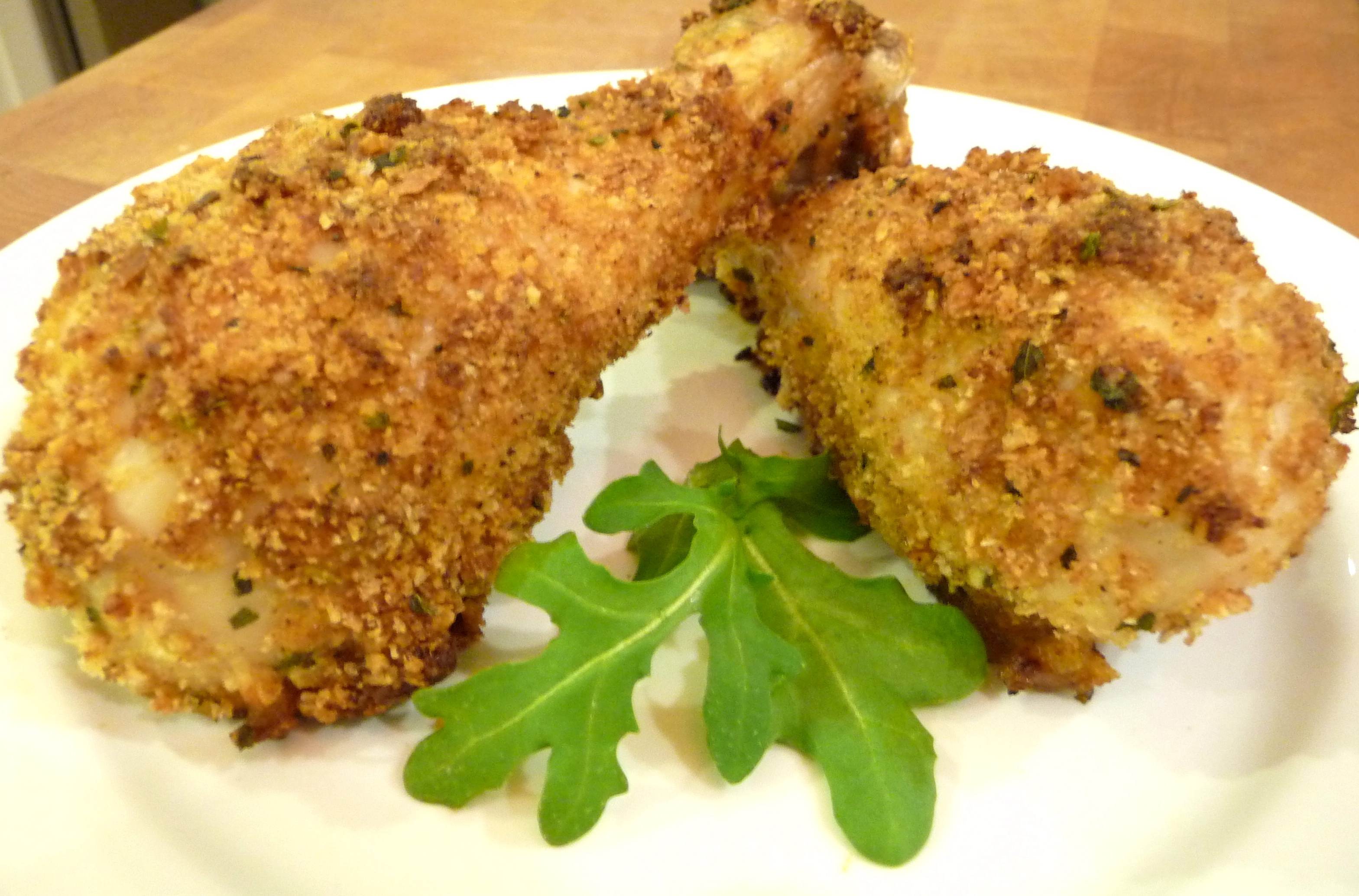 Total time: 40 minutes
Yield: 4 servings
Ingredients

Directions

1 1/3 cups crispy rice cereal
2 ¼ cups bagel chips
5 tsp olive oil
¾ tsp paprika
Salt and freshly ground pepper
1 ½ cups plain Greek yogurt
1 tsp dijon mustard
4 skinless, bone-in chicken thighs
2 bunches scallions
Harissa, chili sauce or ketchup, for thesauce

Preheat oven to 475.
Grind the cereal and bagels in a food processor and transfer to a large resealable bag.
Toss with olive oil, salt, paprika and pepper. Whisk ½ cup yogurt and mustard in a shallow bowl; coat the chicken. Transfer the chicken to the bag and toss to coat with the crumbs.
Roast the chicken on a rack along with the scallions for about 30 minutes.
Make a dipping sauce from the Harissa, yogurt and roasted scallions.
3. Chicken-Apricot Skewers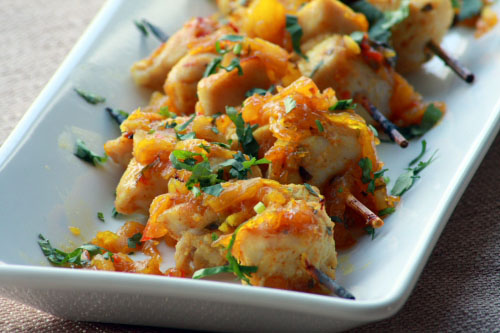 Total time: 30 minutes
Yield: 4 servings
Ingredients

Direction

½ cup apricot jam
1 ½ tbsp soy sauce
½ tsp dried basil
¼ tsp cayenne
2 lemons
1 pound boned, skinned chicken breast halves
About ½ cup dried apricots
Salt and pepper

Melt apricot jam in microwave and stir in soy sauce, basil and cayenne.
Cut lemons crosswise into slices and cut chicken into one-inch pieces.
Thread chicken on skewers, alternating with apricots wrapped in lemon. Brush skewers generously with the sauce.
Broil four inches from heat, for about 10 minutes total, turning when necessary. Add salt and pepper to taste.
4. Mexican Chicken Soup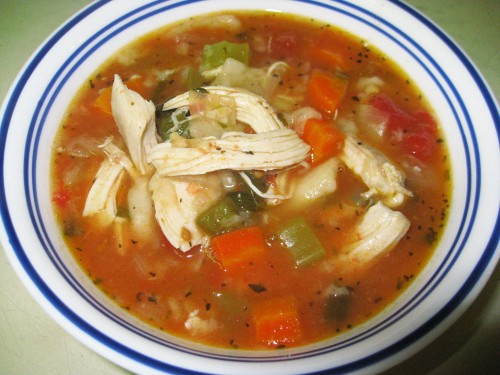 Total time: 1 hour, 5 minutes
Yield: 6 to 8 servings
Ingredients

Direction

4 split chicken breasts, bone in, skin on olive oil
Salt and freshly ground black pepper
2 each: onions, celery stalks and carrots, all chopped
4 large cloves garlic, chopped
2 ½ quarts chicken stock
1 (28-ounce) can whole tomatoes in puree, crushed
2 to 4 jalapeno peppers, seeded and minced
1 tsp ground cumin
1 tsp ground coriander seed
¼ to ½ cup chopped fresh cilantro leaves, optional
6 fresh white corn tortillas, ripped into small pieces

Heat oven to 350.
Rub chicken with olive oil, salt and pepper, then roast 40 minutes or until done. Shred the meat and set aside.
In the meantime, heat 3 tbsp olive oil in a pan. Add onions, celery, and carrots and cook for 10 minutes, then add garlic and cook for 30 seconds.
Add the remainder of ingredients and cook over simmering heat for 25 minutes. Add the chicken and heat through.
5. Chicken Salad Melts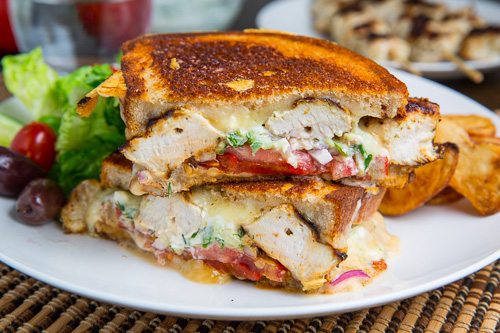 Total time: 10 minutes
Yield: 6 servings
Ingredients

Direction

2 cups shredded skinless, boneless rotisserie chicken breast
¼ cup plain fat-free Greek yogurt
¼ cup mayonnaise
2 tsp chopped fresh dill
¼ tsp salt
¼ tsp freshly ground black pepper
3 green onions, thinly sliced
6 whole-wheat English muffins, split and toasted
¾ cup shredded cheddar cheese
¾ cup thinly sliced apple
6 lettuce leaves

Blend first seven ingredients and mix well.
Place 1/3 of mixture on top of each muffin bottom, top with a sprinkle of cheese, and broil evenly until cheese melts.
Top with apple and lettuce leaves, then the top half of muffin.
If you really love roasted chicken and want to make it for a holiday meal, this recipe for roasted chicken and veggies can make your day: