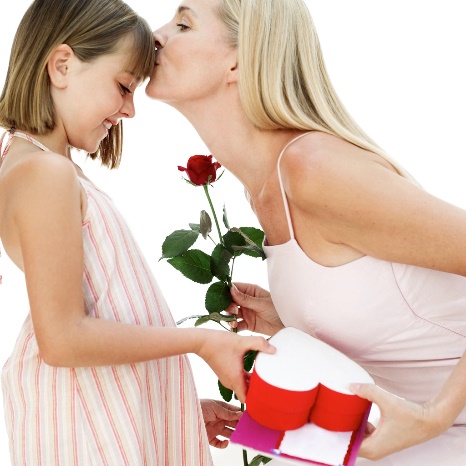 100 years ago, President Woodrow Wilson pronounced Mother's Day to be the day the nation celebrates mothers. Every May since we have set aside this special day to honor moms. Whether it be a special brunch, dinner or day out at the park, we do things to show her our appreciation and love. The following 50 quotes about moms are uplifting and speak volumes about what special people they are to us!
The following quotes about moms were written as far back as the 18th century and come to us from many well-known authors, song writers, poets and many other influential people. No matter who writes these words, they all acknowledge the same thing: how important mothers are in our lives.
50 Quotes about Moms
Quotes about Becoming a Mother
"The moment a child is born, the mother is also born. She never existed before. The woman existed, but the mother, never. A mother is something absolutely new."
- Rajneesh
"A suburban mother's role is to deliver children obstetrically once, and by car forever after."
- Peter De Vries
"Being a mom has made me so tired. And so happy."
- Tina Fey
"The natural state of motherhood is unselfishness. When you become a mother, you are no longer the center of your own universe. You relinquish that position to your children."
- Jessica Lange
"A miracle is really the only way to describe motherhood and giving birth. It's unbelievable how God has made us women and babies to endure and be able to do so much. A miracle, indeed. Such an incredible blessing."
- Jennie Finch
"All those cliches, those things you hear about having a baby and motherhood - all of them are true. And all of them are the most beautiful things you will ever experience."
-Penelope Cruz
"Pregnancy and motherhood are the most beautiful and significantly life-altering events that I have ever experienced."
- Elisabeth Hasselbeck
"You don't take a class; you're thrown into motherhood and learn from experience."
-Jennie Finch
"In many ways, being pregnant and working were more difficult than motherhood."
-Bethenny Frankel
"I think motherhood is just about instinct. I remember coming home from the hospital and having no idea what we were doing."
- Kourtney Kardashian
Motherhood: the Experience for all Mothers
"Motherhood is the greatest thing and the hardest thing."
- Ricki Lake
"With what price we pay for the glory of motherhood."
- Isadora Duncan
"Sometimes the strength of motherhood is greater than natural laws."
- Barbara Kingsolver
"It is only in the act of nursing that a woman realizes her motherhood in visible and tangible fashion; it is a joy of every moment."
- Honore de Balzac
"Motherhood is a dream. It really is absolutely amazing."
- Jessica Simpson
"Motherhood is... difficult and... rewarding."
- Gloria Estefan
"Motherhood changes everything."
- Adriana Trigiani
"There's no way to be a perfect mother and a million ways to be a good one."
-Jill Churchill
"Mother is the name for God in the lips and hearts of little children."
-William Makepeace Thackeray
Quotes for Working Moms
"The phrase "working mother" is redundant."
- Jane Sellman
"Until women learn to want economic independence, and until they work out a way to get this independence without denying themselves the joys of love and motherhood, it seems to me feminism has no roots."
- Crystal Eastman
"The balancing act of motherhood and a career, and being a wife, is something that I don't think I'll ever perfect, but I love the challenge of it."
- Kerri Walsh
"I had three children while doing a show, as demanding as 'Good Morning America,' so this is - you know, it's almost like I'm less daunted about motherhood, and parenting at this point in time. And I think I'm just much more fit and healthy than I was 20-years-ago."
- Joan Lunden
"None of my own experiences ever finds its way into my work. However, the stages of my life - motherhood, middle age, etc. - often influence my subject matter."
- Anne Tyler
"Work for black women has been an important and valued dimension of Afrocentric definitions of black motherhood."
- Patricia Hill Collins
"There's people constantly asking you for something on set, so the multi-tasking of motherhood transfers very well to being a director. And I think you're compassionate."
- Angelina Jolie
"Even prior to marriage and motherhood, it's always been about prioritising and focusing on what you can commit to. That's been my approach to every aspect of my life, be it my relationships or my professional commitments."
- Aishwarya Rai Bachchan
"I do think that despite my best efforts to resist it, I am now a grown-up. It's due to lots of very difficult decisions that you make over a long period of time - about motherhood, wifehood, and work, and all the things that one has to make decisions about."
- Emma Thompson
"I honestly wondered how on earth I would manage to combine work and motherhood."
- Zoe Tapper
Quotes for Stay at Home Moms
"I don't want to let my life as a woman pass me by. There's a time to work, there's a time to be young and crazy, and there should be a time to enjoy motherhood. I'm actually looking forward to that."
- Diane Kruger
"Motherhood is the only thing in my life that I've really known for sure is something I wanted to do."
- Cynthia Nixon
"Take motherhood: nobody ever thought of putting it on a moral pedestal until some brash feminists pointed out, about a century ago, that the pay is lousy and the career ladder nonexistent."
- Barbara Ehrenreich
"Beguiling voices in the world cry out for 'alternative lifestyles' for women. They maintain that some women are better suited for careers than for marriage and motherhood."
- Ezra Taft Benson
"Motherhood was my career. I'm totally satisfied with that."
- Ann Romney
"Motherhood definitely took the focus off of my work. And I didn't mind. I had a few panics when I thought that if I wanted to work I couldn't get a job anymore and then I would get one once in a while and it would make me feel better."
- Uma Thurman
"It is a fundamental truth that the responsibilities of motherhood cannot be successfully delegated. No, not to day-care centers, not to schools, not to nurseries, not to babysitters."
- Ezra Taft Benson
"Of course a woman who decides to work full time as a mother in the home can be happy and deserves full respect from us. Motherhood is one of the most challenging and creative jobs anyone can do. The goal is to remake the world so that our choices are not so stark."
- Naomi Wolf
"That's what motherhood is: you're working; you're doing 25 different jobs, and you're not getting paid."
- Melissa Peterman
"But the truth is I wanted to have my daughter for so long. It's not the kind of thing you can visit, motherhood. Especially in the early years. Now she's eight, and I'm still not going to go anywhere."
- Helen Hunt
Quotes about Single Motherhood
"The truth is, every son raised by a single mom is pretty much born married. I don't know, but until your mom dies it seems like all the other women in your life can never be more than just your mistress."
- Chuck Palahniuk
"When you're in the thick of raising your kids by yourself, you tend to keep a running list of everything you think you're doing wrong. I recommend taking a lot of family pictures as evidence to the contrary."
-Connie Schultz
"Each child is biologically required to have a mother. Fatherhood is a well-regarded theory, but motherhood is a fact."
- P. J. O'Rourke
"Passion has always been important to me. That won't change. What changes in a woman's perspective. I mean, I have two kids now. I'm a single parent balancing motherhood and my career. That changes the equation."
- Jody Watley
"I feel awful for women who are trying to raise kids on their own, with zero income and no fathers present - that's single motherhood."
- Natascha McElhone
"I had a career and I came to motherhood late and am not married and have never had such a trusting relationship with a man - and trust is where the real power of love comes from."
- Diane Keaton
"Single motherhood is an amazing thing; it's a blessing."
- Kelly Cutrone
"Raising a family is difficult enough. But it's even more difficult for single parents struggling to make ends meet. They don't need more obstacles. They need more opportunities."
- Bill Richardson
"Mothers – especially single mothers – are heroic in their efforts to raise our nation's children, but men must also take responsibility for their children and recognize the impact they have on their families' well-being."
- Evan Bayh
"You know, I don't think any mother aims to be a single mom. I didn't wish for that, but it happened."
- Charlize Theron