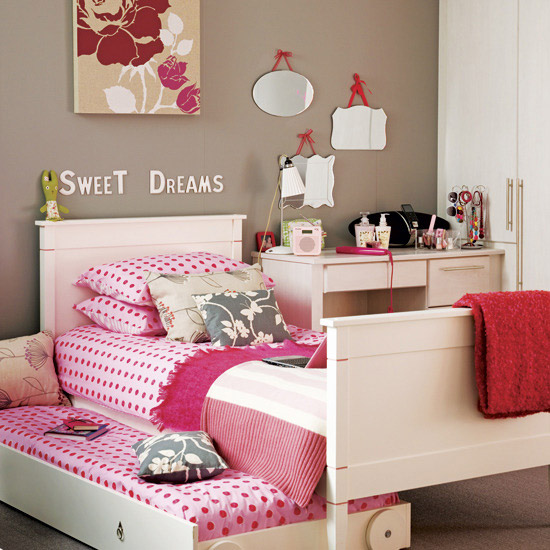 Your little girl is your princess and you definitely want her to have the best. You wish she could have a safe place to grow up with precious dreams and magic, so she can stretch her wings and be happy. The ideal bedroom will let your daughter think of fairies and channel her creativity. It will be a safe place for resting with pretty shapes and colors. To create the perfect bedroom for your daughter, you just need a bit of inspiration.
Little Girls Bedroom Ideas
1. Select a Theme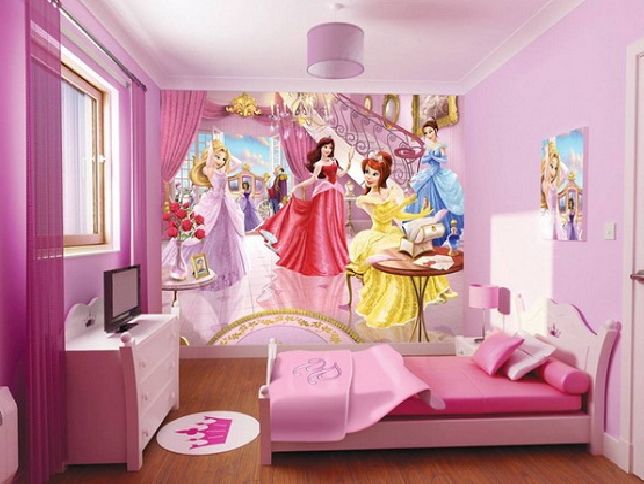 When selecting a theme, go with something that your child loves or one of her hobbies. It can be an image like flowers, butterflies, or an activity such as horseback riding or dancing. Just be sure that you select a theme that your daughter will like for a long period of time instead of a passing fad. These examples can help your creativity:
If your little girl wants to be a princess with gowns, tiaras and a castle, then make her a princess-themed room. Opt for whimsical textures and colors to create an enchanting environment.
You can also get inspiration from nature by using earthen brown, mossy green or sky blue. Paint a tree-branch mural and match it with pillows and window cushions that have leafy prints. Although a mural may sound challenging, a tree or similar option can be stenciled or easily drawn from scratch.
2. Start With the Basics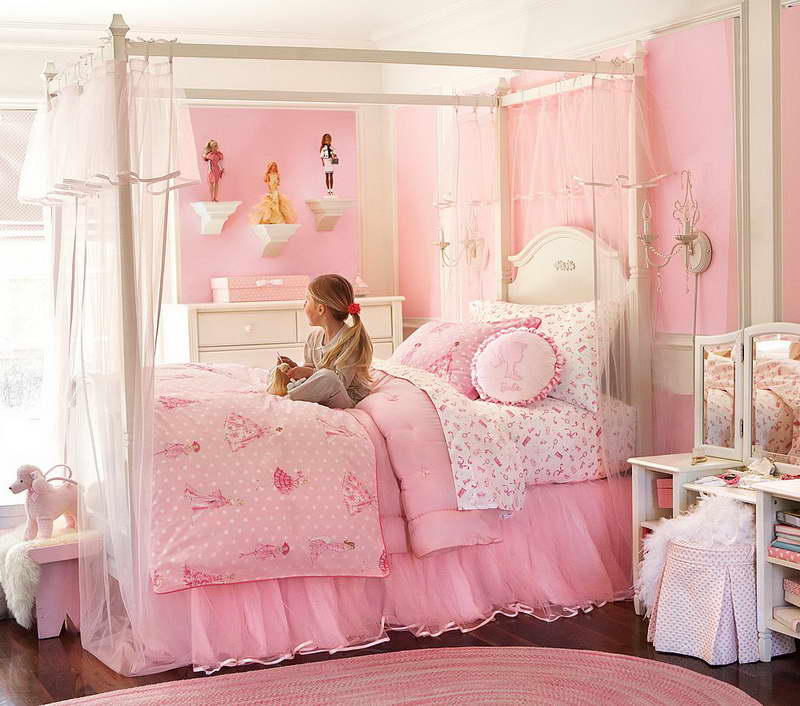 You can have a lot of fun with the patterns for bedding, so don't worry about mixing and matching. Most people will usually opt for a twin bed in their little girl's room, but you can get a queen size bed if you want something that will fit occasional overnight guests or give your daughter room to grow up. You can fold clothing as well as extra shoes in under-bed storage containers if you want to save space.
The bed will take up a lot of room, especially if you select a full or queen size, you will need to find other furniture that saves space. An L-shaped desk, for example, can fit in any free corner of her room. If you go with a smaller bed or your daughter has a big room, consider getting a dressing table that includes a large mirror to help her dress up and feel beautiful.You can get a padded bench that has storage hidden under the seat as it will provide storage as well as extra seating for friends.
3. Choose Color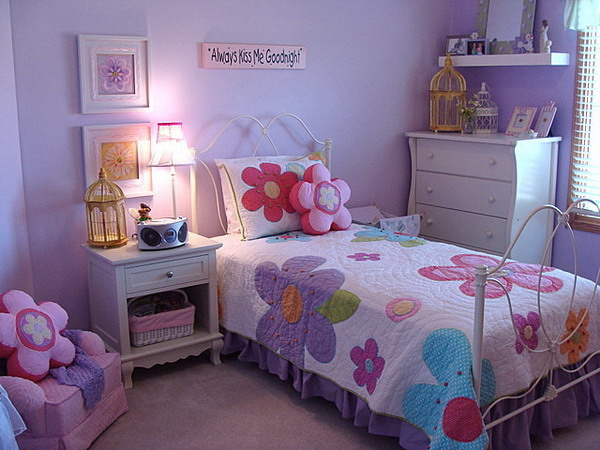 Color is an important decision and it doesn't mean you have to go with the traditional pink just because you have a girl. You can paint the walls with your daughter's favorite color, or pick one of her favorite objects. If your daughter wants a stronger color, try putting it on an accent wall and paint the other ones a neutral color. Here are some color suggestions:
Pink is the classical option and is perfect for creating a cute, darling atmosphere. If you choose to go with pink, you can create a princess room with silver or gold, or opt for a calming light pink that your daughter will still appreciate when she is older, or go for an exciting dark pink.
Right after pink, purple is another top favorite color of little girls and many will tend to like it for a longer period of time. Dark purple is especially versatile as you can change the accents to fit any age. Just be careful and make sure the dark color doesn't make the room seem smaller. An alternative is light lavender.
Blue is the safest choice and the most calming color. It will match everything, and light and medium hued blues will usually work for girls of all ages. Try adding complementary colors such as gold, white, yellow, or other blue shades.
4. Add Personalized Elements
When a girl is growing, she loves to have a bedroom that is just hers. To help her feel ownership, display some of her artwork in creative ways to help the room get a sense of her personality. Be sure to have at least one part of the room setup (with a ribbon or corkboard pinboard) to have rotating masterpieces of her latest work. Then pick some of her favorites from her previous artwork and display them a bit more permanently in the frame.
5. More Little Girl's Bedroom Ideas
Find an inspirational quote, poem, or the lyric from your daughter's favorite song and write it on the wall. Opt for a color that contrasts with that of the wall and buy stencils or wall decals to make it easier.
If you get a four poster bed, you can make your own canopy. Just measure the fabric, then sew some side panels along the corners. You can mount the corners of the fabric with hooks in the ceiling above the bed's corners.
You can go with typical polka dots or update them with dots of various sizes and colors, including some inside of others. If you throw in darker and complementing colors, you can help transition the room from childhood to adolescence.
If your little girl likes to try new things or is always changing her mind, get a solid-colored bed spread and a fun variety of throw pillows. She can change them around based on her mood. Besides you can change the color and texture of her curtains or the location of all the elements in her room.