Making a choice for your baby's food can be a little worrying to the new parents. Once you have given cereals, you can incorporate vegetables as solid foods. Yellow-orange vegetables is a good choice for your baby because they are easy to digest. Sweet potatoes are excellent choice for baby food. It is nutritious and has soft consistency. Hence, it is easy to mash and strain them, and since they are sweet, babies will like the taste. It contains good amount of beta-carotene, vitamin B6 and vitamin C as well.
The Benefits of Sweet Potato for Baby
Sweet potatoes are an excellent choice for baby food. They are good to taste as well as very nutritious for the baby. Besides the nutrients mentioned above, they also contain potassium, calcium, vitamin E and folate. 58 vegetables were ranked based on the total percentage of 6 nutrients like – vitamin A and C, Folate, iron, copper, calcium and fiber by the Nutrition Action Health Letter. Sweet potato topped the list with 582 points which is more than 100 points over the second ranked vegetable – Carrot.
How to Introduce Sweet Potato to Baby
Introducing new foods to babies is a long process and parents will need a lot of patience. A baby may not accept all the foods immediately and will definitely take time to actually like the food. If your baby does not immediately accept the sweet potato, try again after a few days and never force feed the baby. It can also be possible that the baby never likes sweet potato. If you have previously introduced any baby food and they have liked it, for example apple sauce, you can mix it with sweet potato and then feed the baby.
Parents should take care that the sweet potatoes are cooked well and are soft, strained and mushy when giving to the baby. This is to ensure that any choking hazards are avoided. Babies should be fed in a sitting position and not when they are running around.
How to Make Sweet Potato Baby Food
Sweet Potato Puree for Baby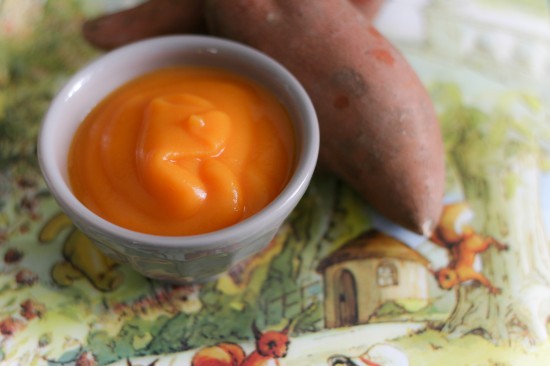 For baby: 6 months+
Ingredients:
1 sweet potato (You can choose darker colored sweet potatoes which have higher content of beta carotene.)
1 cup water / breast milk / baby formula
Directions:
1. Clean the sweet potato thoroughly and make piercing with a sharp knife.
2. Bake for around 50 minutes in a pre-heated oven at 425 °F or until soft.
3. After cooling, peel and put into blender or food processor.
4. Add the water / breast milk / formula to make a puree and adjust consistency.
You can steam, boil or roast the sweet potato as well.
Sweet Potato Soup for Baby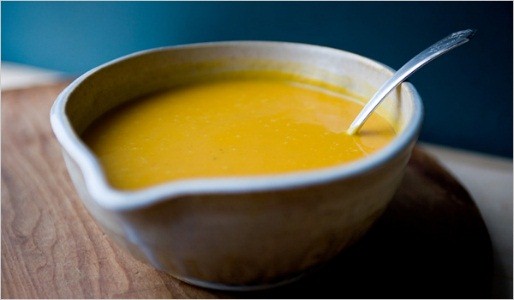 For baby: 8 months+
Ingredients:
1 & ½ cup cooked sweet potato
1 tablespoon flour
1 tablespoon butter (unsalted)
1 cup chicken or vegetable broth
1/4 teaspoon ginger paste
1/8 teaspoon cinnamon & nutmeg powder
1 cup milk
Directions:
1. Heat butter in a pan and add the flour to make caramel colored roux.
2. Add the broth and bring to a boil.
3. Simmer and add sweet potatoes, cinnamon, nutmeg and ginger.
4. Cook for 5 minutes and cool.
5. Puree in blender or food processor, return to pan and add milk.
6. Add salt to taste and the soup is ready.
Sweet Potato and Squash Puree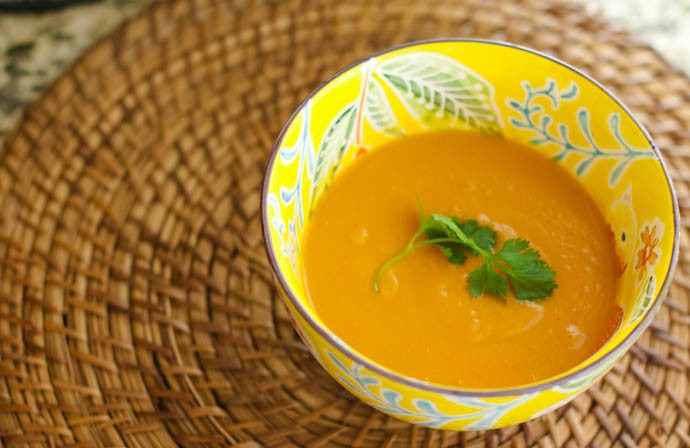 For baby: 6 months+
Ingredients:
½ or 1 butternut squash, small, peeled, seeded and chopped into cubes of 1 inch
1 tbsp. olive oil
1 sweet potato, peeled and chopped into cubes of 1 inch
2 tbsp. water
Some amount of formula or breast milk
Directions:
1. Take a baking sheet and place a large piece of foil on it. Place the chopped pieces of squash and sweet potato on the foil. On the top of the vegetables, drizzle the water and olive oil. Cover with another piece of foil and fold the edges to seal it from all sides. Bake in a preheated oven (400 °F) for approximately 30 minutes or till the vegetables are cooked.
2. Cool the cooked vegetables and place in a blender. Blend to form a smooth puree. Use formula or breast milk to adjust the consistency.
3. You can also freeze the puree in individual portions. Before using, thaw it for 1-2 hours and then add milk or formula and heat. Allow it to be cooled before giving it to the baby.
Sweet and White Potato Mash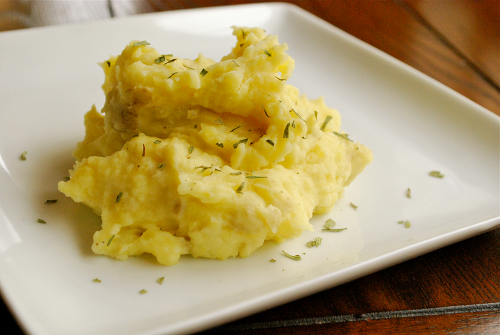 For baby: 8 months+
Ingredients:
1 sweet potato, peeled and chopped
1 white potato, peeled and chopped
1 clove of garlic, chopped finely or minced
1/8th cup butter, unsalted
¼ cup breast milk or formula
2 oz cheddar cheese, grated
A pinch of black pepper, freshly ground
Directions:
1. Place the chopped vegetables in a pan and add water. Put the pan on heat and bring to a boil. Cook for approximately 20 minutes without a lid.
2. Drain excess water and put the cooked vegetables in a bowl. Mix the remaining ingredients except cheese and mash.
3. Put the contents in a baking dish, cover with cheese and bake in a preheated oven (350 °F) for approximately 30 minutes.
Foods Good to Mix with Sweet Potatoes
To introduce a new food to babies can be difficult. It can be combined with some other food for which the baby has already developed a taste. There are some foods which go well along with sweet potato and can be used together when feeding the baby. Some of these foods are:
Baby cereal made of oats, rice or barley
Fruits like apples, peaches and pears
Vegetables like carrots, beans, parsnip, peas, pumpkin, zucchini and winter squash
Brown rice, quinoa, lentils and even non-vegetarian products like chicken, beef and pork
It can also be mixed with yogurt and given to the baby.
Watch the video to know how to make delicious sweet potato baby food with chicken and apricots: