The arrival of asparagus announces the start of spring. This spring vegetable is loaded with so many nutrients, including folate, fiber, chromium, and vitamins A, C, E, and K. Chromium in asparagus makes it easier for insulin to transport glucose from your bloodstream into cells. Then the question is how to enjoy both the taste and the benefits of asparagus?
How to Cook Asparagus
Wash and Prepare
Instructions on cooking asparagus will help you enjoy it better. You need to prepare it for cooking first. Remember that it is grown in sandy soil, so it is important to rinse its spears thoroughly using cold water. Bend the spear a few times to snap off the woody base, or just chop off the woody base. It is usually easier to snap it off around the bottom third of the spear. You can also scrape off the scales using a vegetable peeler to give it a cleaner look. Once ready, use this information to learn how to cook asparagus.
Accompaniments
If you are looking of the best accompaniments for asparagus, go for a little butter or olive oil. Season it with fresh black pepper and a little salt to make it taste even better. You can also serve it with crumbled feta cheese or parmesan. Strong cheddars and goat's cheese are also great partners.
In the Oven
You can cook asparagus in the oven. Here are the ingredients you need to make 2-4 servings.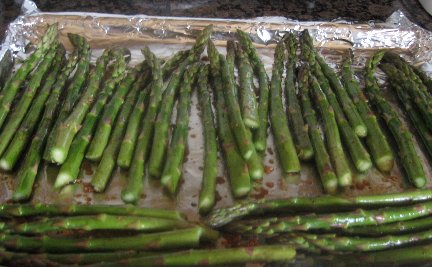 Ingredients
Olive oil
Freshly ground black pepper
Salt
Asparagus (one pound)
Baking sheet
Instructions
Start by heating the oven to 425°F. Now, cut the dry ends of the asparagus.
Spread the asparagus on a baking sheet. Make sure to place it in a single layer. Drizzle with olive oil. Toss it to ensure it is evenly coated with oil.
Take some salt and pepper and sprinkle generously.
Put it in the oven and roast for about 20 minutes. You can get it out early depending on how cooked you want your asparagus. It will be roasted quite well in 20 minutes with rater crispy ends.
Serve with a hard-boiled or poached egg on top.
Steam Cooking or Boiling on a Stove
Many people want to know how to cook asparagus on the stove. It is not that tricky actually. You can steam asparagus if you want. This is a great way of eating asparagus because this helps keep its nutritional value intact.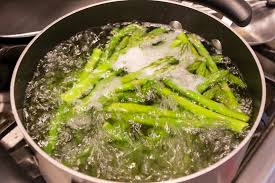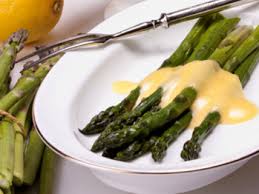 Take a steamer basket and place it properly in a saucepan. You need to add some water below the bottom of the basket. Season the asparagus with salt the butter if you like it to be more flavorful.
Start cooking until the water reaches boiling point. Now, throw asparagus to steamer basket and cover it. Reduce heat and let it cook for 3-5 minutes.
Another way is to boil it, all you have to do is take a large skillet and place the spears in it. Now, top those spears with an inch of water. You now have to salt the water – use a little salt only. Bring it to a simmer and cook for 3-5 minutes. Be sure to cover the skillet.
On the Grill
If you have a grill rack at home, you can always cook asparagus on it. Here is how to cook asparagus on the grill:
Ingredients
Olive oil
Grill rack
Seasoning as per your preference like salt and pepper
Directions
Take asparagus and brush it with olive oil. You can also use margarine or melted butter for the same. The idea is to keep it from sticking to the rack.
Take a piece of foil and place asparagus on it. Make sure it is perpendicular to the wires on the grill rack. Some people prefer to cook it directly on the grill.
Cook it for 3-5 minutes or until it becomes crisp. Be sure to turn occasionally and leave it uncovered on the rack.
Here's a video tutorial:
Sautéed Asparagus
To make a serving of 4 sautéed garlic asparagus, prepare 4 cloves of garlic (more if you are a garlic lover), fresh asparagus (1 bunch) and 3 tbsp. margarine or butter.
To cook, just heat a large skillet with medium to high heat and then melt the butter or margarine in it. Toss in the garlic, then the spears of asparagus.
Stir every 30 seconds to make every spear evenly heated and wait for the asparagus to become tender in about 10 minutes. Then it's ready to serve!
A nice video tutorial which makes more flavorful and spicy sautéed asparagus:
Eating Asparagus Raw
It is easy to learn how to cook asparagus, but there is nothing wrong in eating it raw. You can also eat it with feta cheese and radish or add a few of its spears to a fresh green smoothie. It works great with everything.