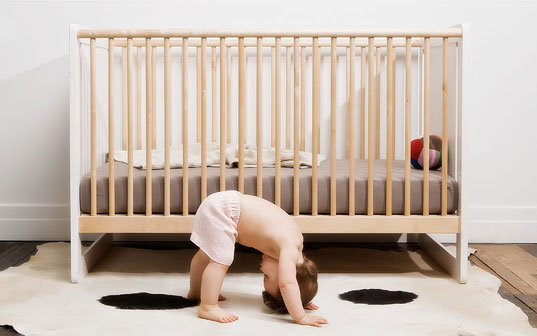 A baby crib can seem like a huge bed for your little bundle of joy, but it is the safest place where they can sleep. Most parents prefer using bassinet, cradles and even bedside sleepers in the first few months after birth. However, it is possible to save money and time by getting a crib. All cribs on sale are regulated by the government and most of them are certified by JPMA (Juvenile Products Manufacturers Association). However, you will not find any regulations on co-sleepers and Moses baskets because currently there are none, and how to buy a crib can be an issue for a lot of parents. If you care about the safety of your baby, it is best to steer clear of bedside sleepers or any other co-sleepers.
A baby crib is one of the many items you would rather buy new. This is the only way to ensure that you get a crib that meets the safety standards put in place by the federal government. It is highly recommended that you purchase a full-size baby crib with assured and certified safety and stationery sides. Use this guide to figure out how to buy a crib and find the most ideal crib for your baby.
What Are the Prices for the Different Types of Cribs?
When it comes to how to buy a crib, the price of different types of cribs can be one of the considerations you may have. The prices of cribs can range from as low as $100 to as high as $3000 for customized models.
1. Economy Cribs
With these types of cribs
, the manufacturers may choose to use affordable material and hardware. https://www.amazon.com/Delta-Children-Adelaide-Convertible-Bianca/dp/B01G8Q94GK/ref=sr_1_7_s_it?s=baby-products&ie=UTF8&qid=1469082722&sr=1-7&keywords=baby+cribs come in simpler designs. Economy cribs are lighter in weight compared to their more expensive counterparts. It is possible to notice a few finishing flaws, but as long as it is not shaky and does not rattle, then it is worth the buy.
2. Mid-Priced Cribs
There are a lot of choices in mid-range cribs. These
come in more sturdy looks and also more decorative finishing. You can find them in golden maple, Scandinavian-style natural or even deep mahogany. The end boards are solid with smooth finishing and most of these cribs come with side slats that are either round or flat. These slats are thicker than the ones on the economy cribs. Stability is ensured by casters or locking wheels with two or more stability bars. Most mid –price cribs can be converted to other bed types. For instance, the 3-in-1 crib can be converted into a day bed or a full-sized bed. There are also 4-in-1 cribs in this category.
3. High-End Cribs
Most of the cribs in this category are imported from Europe. They come with hand rubbed, burnished or glazed finishes. You can find some styles with hand painted details or curved end boards. Some models can be crafted from wrought iron while some come in round or oval shapes.
In this range, it is possible to order for customized baby cribs to match the color scheme of your nursery. The mattresses for these types of cribs are supported by metal frames and heavy gauge springs. These cribs can come with drawers and can be converted into day beds or other furniture for the nursery.
Note that there are numerous custom for high end cribs, but most of them are unlikely to be covered by the cribs' regulations and may also not be certified.
4. Portable Cribs
This is similar to ordinary cribs with the main difference that it is smaller. Some of the cribs
in this category are JPMA certified while others are not. A portable crib is most ideal for small apartments or if you travel a lot. You will be required to buy sheets and a mattress for this crib. Some portable cribs come with customized sheets as these are specifically designed for the size of this bed.
How to Buy a Good Crib
1. What to Look For
| What to Look for | Descriptions |
| --- | --- |
| Foam mattresses | These are the lightest options and the least expensive types. They come in a range of thicknesses that range between three and six inches. The best foam mattresses have a high density of at least 1.5 pounds per every cubic foot. |
| Less than 2⅜ inches between slats | This is a close enough gap to prevent the baby's head from getting stuck or slipping through. |
| Safety corner posts | You need to go for a crib with cornet posts that are not higher than 1/16 of one inch. If the posts are higher than this, clothes can get trapped and choke the infant. |
| Adjustable mattress heights | The best cribs should allow you to raise or lower the mattress height. You can lower the mattress when the child begins to sit up. This will prevent them from falling when they start standing. |
| Stability | Take the time to shake the crib after you have assembled it. If it shakes or rattles, you may have assembled it wrong. However, it could also be a sign that you need to take it back for an exchange. |
| The size of the frame | A good crib should be able to accommodate a mattress of standard size. If you can fit more than two fingers between the bed and the mattress, you probably should look for a bigger mattress. |
| Look for versatility | Some cribs can convert to other nursery furniture such as a bench or headboard. Make sure that the makeover is easy and that you like how it will look after the conversion. |
For more information on what to look for in a baby crib, watch this video below:
2. What to Avoid
| What to Avoid | Descriptions |
| --- | --- |
| Cribs with drop sides | Avoid these types of cribs at all cost. The drop sides pose a great danger for babies. In case they detach, the baby can be trapped, suffocated or strangled in the spaces between the crib mattress and the drop side. |
| Use of bumpers | These are the paddings attached to the sides of the inner side of the railings. They pose a hazard and are therefore unsuitable for the baby's crib. |
| Old cribs | Avoid using cribs that were manufactured too many years ago. Besides, avoid using second hand cribs. If you must use them, check for stability, slat spaces, sharp edges, peeling paint and protruding metal. |
| Decorations | Avoid decorations that can potentially harm your baby by choking or in any other way. |
| Structurally unsound cribs | These cribs can dismantle and pose a great risk to your baby. The head may get stuck in open spaces which can lead to death. |
Learn more about safety consideration for baby cribs by watching this video below: