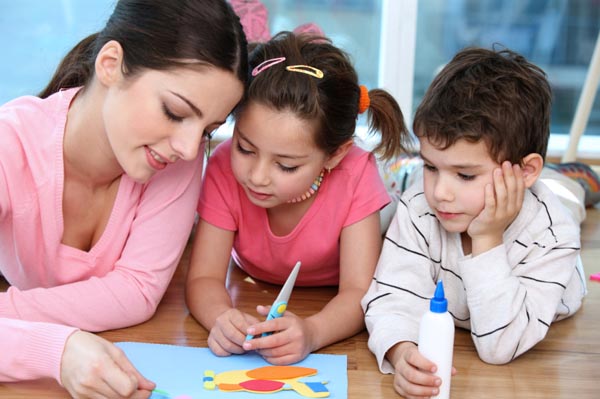 If you think you want to hire a nanny to care for your children, there are things you should consider to know if this option is a good one for you, your child and your family. Typically,a nanny will provide all the care for your child or children including day-to-day care, meals, activities and perhaps other minor chores connected with your child. Is a nanny right for you? How much does a nanny cost? Read on and you will find out the answers
What Are the Advantages of Having a Nanny?
There are many advantages of having a nanny caring for your child. Some of the most important are:
| Advantages | Descriptions |
| --- | --- |
| One-on-one care | One of the most important advantages to having a nanny is that your child will have true one-on-one care and attention from a consistent and caring individual. |
| In your own home | The care being provided will be in your own home where you know your child is safe and the environment is clean. Your child will sleep in his own bed, eat only the food you want him/her to eat, and will not be as readily exposed to childhood diseases and infections. |
| You have control over everything | You will have more control over the kinds of activities your child participates in. You and the nanny will be able to decide exactly what a typical day will look like and how your child will get the socialization that is so important to his/her development. |
| Relaxation for you | Mornings will be much more relaxed for you and your child since getting ready in the morning can be a stressful time if you are "on the clock" for getting to work. Having the nanny come to you and be available to dress and feed your child will allow you more time to get ready for your day. |
| Flexibility | Particularly if you ever have to go to work early or stay late, the flexibility of having a nanny is a huge plus. Many daycare options will NOT allow flexible hours and those that do may charge very high fees to come in early or stay late. |
| Light household chores | If you have negotiated with your nanny to do light household chores, it may be a big advantage to have laundry done and meals prepared. You will not have to spend your free time catching up with a week's worth of work on your days off. |
What Are the Disadvantages of Having a Nanny?
Although there are fewer disadvantages of having a nanny, there are a few that must be considered before you make a decision:
| Disadvantages | Descriptions |
| --- | --- |
| Take sick leave | When your nanny is sick, what other options will you have for childcare? When your child attends daycare, there are other people who can replace the missing employee. Not so with a nanny. When you interview prospective nannies, be sure to ask about how often they were sick in their previous position. Check that with reports from their previous employers. |
| Difficult to monitor | In other childcare situations, there are typically others in the setting who can monitor each other. With a nanny, this is not the case. Since this person will be alone with your child much of the time, you will need to think about how you can monitor the nanny to be sure your child is getting the quality of care she/he deserves. |
| Socialization with children | A critical part of the childhood experience is socialization with children outside of the family situation. This is built in in a group setting but may be missing with a nanny. During the interview, be sure to ask your potential nannies how they will provide this social network for your child. |
| More expensive | A nanny will probably be more expensive than traditional childcare options. |
How Much Does a Nanny Cost?
1. Factors That Affect a Nanny's Salary
The cost of a nanny will vary depending on a number of factors: where you live, the amount of experience and education the nanny has, the expectations of time the nanny will spend with your child, how many children are in the home and what other benefits you provide (for example, will the nanny live in your home?). In general, if the nanny lives in your home, the weekly salary will be slightly lower than if she has to maintain her own home.
To be specific, education makes a difference in salary. With two years of college experience, a nanny will make an average of $611 per week. With a bachelor's degree, the average increases to $633 per week. A nanny with a master's degree will earn an average of $725 per week.
In 2012, the International Nanny Association did a salary survey which indicated the following national average salaries based on years of experience:
| Years of Nanny Experience | Average Gross Salary per Week |
| --- | --- |
| Less than 1 year | $521 |
| 1 year | $529 |
| 2 years | $603 |
| 3 years | $610 |
| 4-5 years | $626 |
| 5-7 years | $630 |
| 7-10 years | $677 |
| 10-15 years | $709 |
| 15-20 years | $713 |
| 20+ years | $734 |
2. How Should You Pay a Nanny?
A good nanny will become part of your family, but remember that you are also this person's employer. When you are interviewing nannies, it is important that you both agree on how you will pay for these services. Will you pay hourly or weekly? In either case, how many hours per week will be the nanny expected to work? Will you pay for the nanny's health insurance, vision and dental? If so, will you pay all or part of this coverage? Will the nanny be eligible to be paid for holidays and sick time? Remember that as an employer you will be responsible for paying any employment taxes for the nanny. Consult an attorney or hire an agency to determine what these financial obligations will be.
How to Find a Good Nanny
Once you decide that you want to hire a nanny, the most important question becomes: How do you find a good nanny?
1. Find Good Applicants
You have interviewed a potential nanny and have a resume and a list of references in hand. Be sure to check those references! Ask the previous employers what they liked best and least about the nanny. Find out why the nanny left. Would the previous employer hire the nanny again? Be sure to do a background check on any nanny you are seriously considering. Remember that this person will be entrusted with your child. Before you make a final decision, see how the nanny interacts with your child. Perhaps you can use the nanny for a few days paying an hourly wage. Observe the nanny's interactions with your child.
2. What to Look for in a Nanny Through Your Interview
During the interview process, be sure your child is there for at least part of the time, so you can see how the potential nanny interacts with the child. Use your senses: Does the potential nanny look and smell clean? Is her affect pleasant and calm? How do you react to her voice–is it calming or grating? Remember that your child will probably react to the nanny in much the same way as you do. If you don't like some aspect of the nanny, chances are that your child won't like it, either! Pay attention to the questions the potential nanny asks. Look for a nanny that asks appropriate questions about your child.
3. Questions to Ask Yourself after the Interview
After the interview and before you make a final decision, there are a few things that you will need to consider:
What was your gut-level reaction to her?
Does the nanny have a good sense of humor?
Does she seem open to ideas from you and does she have ideas of her own?
Did you and your child get along well with her?
Would you be willing to leave your child alone with this person for extended periods of time?
Does she seem to be reliable and intelligent?
Can the potential nanny handle the physical demands of the position?
Want to know more about how to find a good nanny? Check out the video below: