Homemade Father's Day gifts mean so much more than something purchased at a store. Kids who love doing crafts can make their dad a special Father's Day gift and make dad feel more special than ever. Homemade gifts are full of love and easy to make with the tips shown below.
8 Homemade Father's Day Gifts
Homemade Father's Day gifts speak "I Love You" straight from your child's heart! You can help your child give Dad the most special gift ever by helping them make one of these crafts.
1. Desk Organizer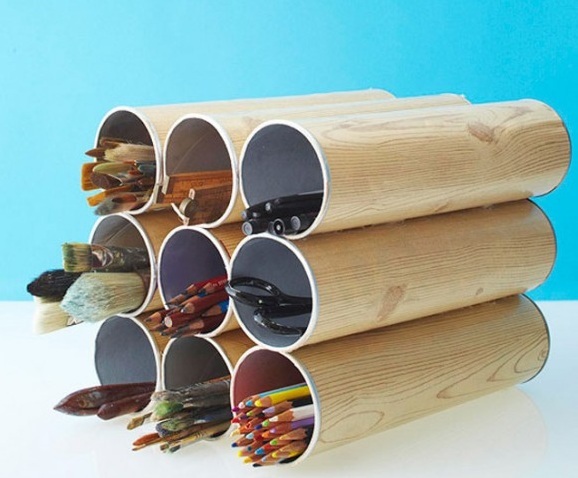 A useful craft to make your dad's desk tidy and organized
What you need:
Toilet paper tubes
Glue stick
Crayons/wrapping paper to cover
How to make it: Have your child color the tubes with crayons or wrap with wrapping paper leaving the ends open. Glue the tubes together.
Why dad loves it: Dad will love this special gift because your child made it for him. While he is working and using it to organize his pens, he will think fondly of your child and the effort he put into making him this special gift.
2. Tape Dispenser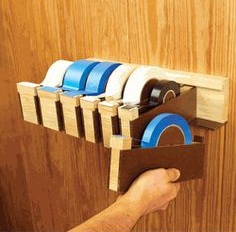 A handy gift to keep dad's rolls of tape organized
What you need:
Plywood or lumber scraps
Wood dowels
Old hacksaw blade or the cutting strip off a plastic wrap box
Assorted rolls of tape: duct tape, electrical tape, packing tape
How to make it: Cut wood to fit the width of the tape rolls and fashion a box with inserts. Cut a groove into each section for the dowel to fit in. Nail sections together from the inside and/or seal with wood glue and place in a vise until dry. Affix hacksaw blade along the front edge for cutting tape. When glue is dry, place a dowel into the center of each roll of tape and place in the box.
Why dad loves it: Dad may have rolls of tape everywhere and not be able to find a single one. This box will help him keep his tape organized and think of the love that went into making this special gift!
3. Fishing Rod and Reel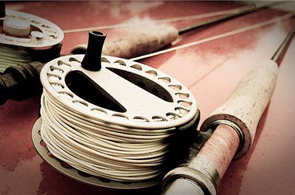 This homemade fishing rod will make for some very special fishing trips together
What you need:
Bamboo or wood stick that is fairly pliable
Handful of old wine corks
Eye screws
A bolt
Plastic thread spool
Large metal washers
Plastic washers
Wing nut
Metal pipe strap
How to make it: Push the bamboo down into the corks to make the handle. Gently drill into the bamboo and place eye hooks spaced evenly along the length of the pole. Fashion a reel out of the plastic thread spool, washers and wing nut. Take fishing line and wrap around the spool, then run the line through the eye hooks.
Why dad loves it: Dad's love to fish with their kids. A homemade fishing rod will make for some cherished memories. This gift also makes a nice display for dad's office or on a shelf at home.
4. Cutout Photo Frame
A special frame to hold pictures of dad's pride and joy
What you need:
Template of the word DAD in the size you want the frame
Heavy card stock paper
Paper clips
How to make it: Cut around the template words inside and out. Lay the template on top of the card stock and have your child trace the letters. Mom can cut the letters out with an exacto knife for safety. Take pictures of the kids and cut them to fit inside the letters. You can have your child decorate the frame as desired. Take the paper clips and bend them to make a stand for the frame. Attach the paper clips to the back of the frame with hot glue.
Why dad loves it: Dad can proudly display his kids on his desk at home or work with this special frame you make for him.
5. Cord Roll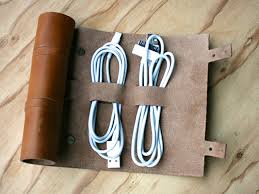 Help dad keep his cords neat and organized in this special cord roll
What you need:
Large piece of leather or faux leather (1/4 yard)
Large snaps
Exacto knife for cutting
Ruler
Cutting board
Pencil
How to make it: To make a large roll, measure out a point for the top around 3.75 inches down each side. Measure a long rectangle 18 inches on each side and the bottom should be about 5.5 inches wide. Trace the measurements with a pencil and ruler onto the leather. Place it on top of cutting board and cut with an exacto knife. Cut out three or four strips in the middle to make cord holders. At the top of the "arrow" point, place ½ the snap and the other half in the middle of the role. Roll up cords and place in holder slots. Roll up and snap.
Why dad loves it: Dad can keep all of his cords organized and in one place with this special holder you made for him.
6. A Wall of Father's Day Surprises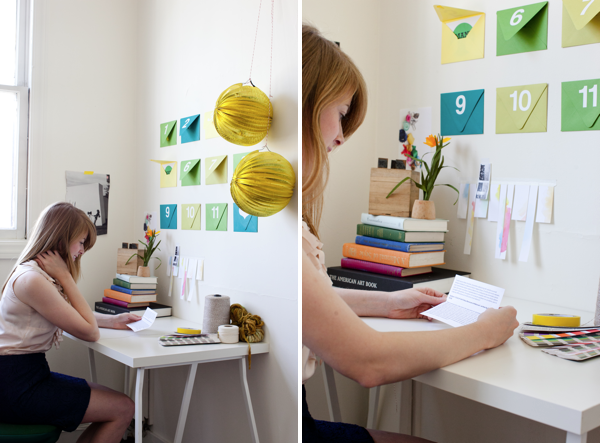 These special "treat" envelopes are fun to open with surprises for dad inside
What you need:
About 10 different colored envelopes
Sticky numbers in a package (from craft store)
Double sided tape
Have family craft gift certificates for special things i.e. car washings, mow the lawn, coffee gift cards, etc. One to fill each envelope.
How to make it: Take the envelopes and place a number on each one. Place a gift certificate in each envelope. Place double sided tape on the back of each envelope and stick on a wall near where dad hangs out. (Or you can sneak into his office at work and place them on a wall near his desk). Dad gets to open one envelope a day until Father's Day.
Why dad loves it: Dads love surprises, especially ones from his family. He will enjoy getting to open a surprise envelope every day and find something special inside.
7. DIY Camping Stool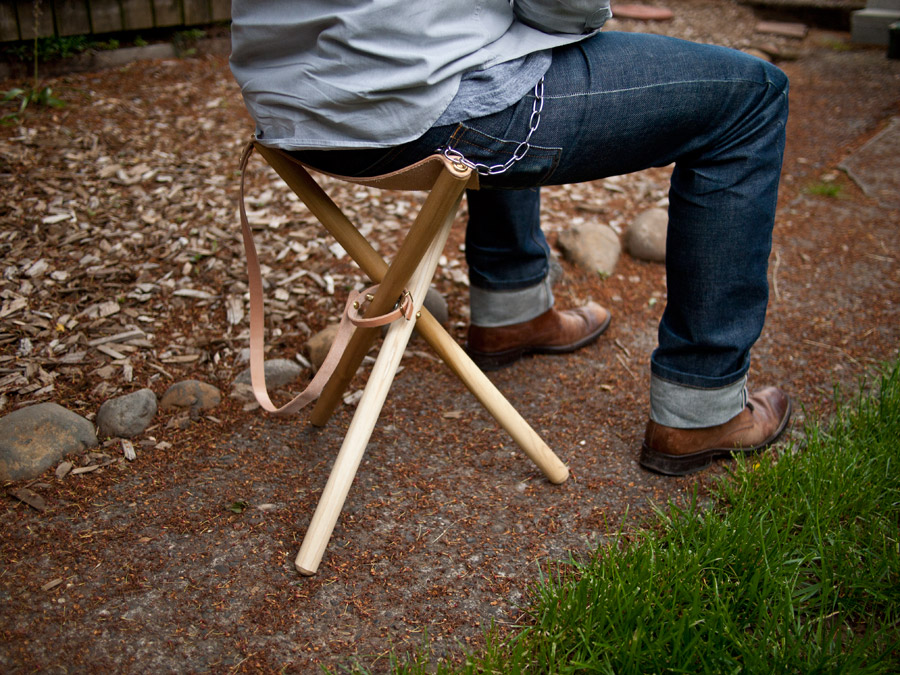 Dad will enjoy a special seat to take a rest during his camping hikes
What you need:
Three 1 1/8 inch birch dowels (three 24 inch pieces)
One 2.75 inch brass bolt
One 1.5 inch eye-hole bolt
2 brass acorn nuts
3 brass washers
3 brass finishing washers
3 brass 1 inch woodscrews
Wood finish
Leather for seat
How to make it: Cut dowels to 24" each and drill a hole in each 10.5" from the top. In the center of the top of each leg, drill another hole to mount the seat leather with screws. Sand each leg and finish. While your legs are drying, cut the leather into a triangle shape for the seat. Cut a hole in each corner for the screws to go through. Place two of the legs together with the 2.75" brass bolt with the eye-hole bolt in between the legs. Place washers on the sides. Attach the acorn nut and tighten gently leaving a little play so the legs will move. Feed the third leg through the eye-hole bolt and fasten with the acorn nut and a washer. Open the legs and place the leather over the top. Fasten with screws and washers. The seat is ready for dad to try!
Why dad loves it: Easy to pack and a stylish way to hang out by the campfire or have a rest during hikes, dad will love this chair made just for him!
8. Colored Tumblers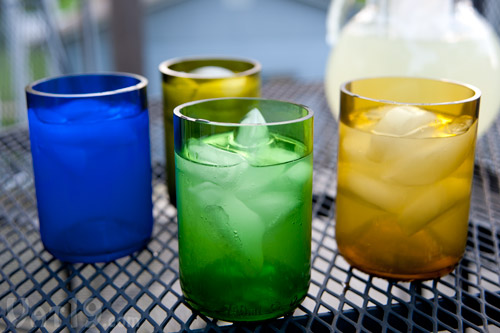 Dad will love these tumblers for his favorite drink
What you need:
Different colored glass bottles (Wine, fancy water, soda)
Glass bottle cutter
Towels
Pot holder
Candle
Sandpaper
Craft foam
Goggles
How to make it: Boil the bottles in a large pot and remove labels when cool. Run the bottle over the bottle cutter to score the lines. Light the candle and rotate the bottle over the candle at the score line. After the glass is hot, dunk the bottle immediately in ice water and the bottle should split at the score. Place the sandpaper on top of the craft foam on a hard surface. Turn the glass over on the sandpaper and rotate until you have smooth edges.
Why dad loves it: Dad will love showing off these gorgeous and green both in color and in eco-ness tumblers you made for him!
For more ideas of homemade Father's Day gifts, watch the video below: