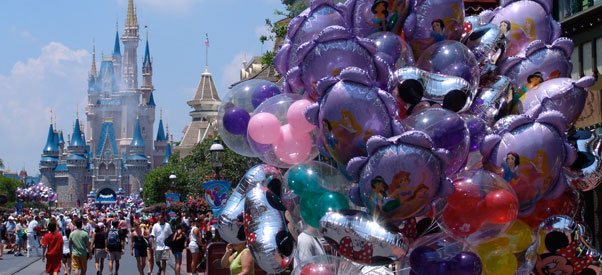 Although there is a lot of planning involved in a trip to Disney, remember that the trip is not about you. It is true that you have great memories from your childhood when you first got to meet Mickey Mouse or go on a certain ride, but this is the chance for your children to create their own memories. Don't get caught up on creating a list of rides that includes your childhood favorites; instead, make sure that your child has the opportunity to select their own favorites. Once you give in to the idea that the Disney vacation is about your child but not you, you can have a trip that is satisfying and even relaxing for everyone. Below are some very powerful tips to help you with all your question of going to Disney World.
Disney World Tips—When to Go
One of the most important decisions when it comes to planning your Disney trip is when you are going. Simply by selecting a week that is off-season you may find it tremendously easier to get Advanced Dining Reservations to eat with characters and even to cut down the lines for your favorite rides. Pulling your kids out of school isn't always possible or ideal, but you will find multiple advantages including Free Dining programs. There are also seasonal attractions such as the Garden festival and Epcot Flower. Keep in mind that when you go in winter, some attractions may be closed for refurbishment or maintenance. Remember to check crowd calendars and weather forecasts as well.
Disney World Tips—What to Pack
It is true that a lot of the items listed below can be bought at Disney, but if you wait to purchase them there, you will end up paying much more.
1. Paperwork
Address book with pre-addressed postcard labels and stamps
Credit cards and cash
Photo ID or driver's license
Emergency numbers from home
Health insurance card
Plane tickets
Proof of car insurance (to use for rental car)
Reservation numbers (for your check-in)
Traveler's checks
2. Clothing
Hat
Comfortable shoes (and an extra pair per person in case of rain)
Sweatshirt or jacket (during cooler months)
3. Touring Bag
Back pack or tote bag
Autograph book with fat pen
Camera (and batteries, film, video camera)
Cup with a lid (you won't find straws and lids in the Animal Kingdom)
Disney notes and guidebooks
First aid kit (including pain relievers and "foot fixers" like moleskin)
Gum (you won't find any in Disney)
Insect repellent
Travel sized tissues
Lip balm that has sunscreen
Battery operated water-misting fan
Quarters and pennies for penny press machines
Rain ponchos and an umbrella
Sunglasses
Sunscreen
Anti-bacterial gel or wet wipes
4. Everything Else
Laundry (including a large bag for storage, softener sheets, pre-packaged detergent and quarters)
Prescriptions
An extra suitcase or duffel for souvenirs
Playing cards and travel games
Sewing kit and safety pins
Stroller (and bring with a bright ribbon or string to make it easy to spot)
Ziploc bags
If you want to learn more about what to pack for your Disney World trip, watch this video:
Disney World Tips—Where to Stay
You may be thinking that you won't be in Florida for long and will be spending very little time in your hotel, but in reality, you still want to have a pleasant experience there. You need to find a hotel that is safe, clean and comfortable, and is worth paying extra for. If you don't like your hotel, you may find yourself staying away at all costs, in which case your kids won't get any naps during the trip and they will become exhausted and maybe grumpy. Also keep in mind that farther hotels won't have Disney shuttles, so you'll have to pay extra for parking (and deal with parking at Disney).
When it comes to getting to the Disney parks, the Disneyland Hotel is the most inconvenient among Disney resort hotels. There isn't a shuttle service and the Monorail doesn't go through the hotel. That means that you have to walk a great deal through Downtown Disney to get to the Monorail when trying to go to another reason.
Frontier Town is to the very south of the hotel and its surroundings are attractive, but it also includes very long walks to parks. It is also farthest from major resort amenities like pools, main lobby servicesand restaurants.
Disney World Tips—How to Save Money
1. Look for Deals
In the past, Disney World didn't discount much, but now you can find many packages with free food or free park tickets. Try MouseSavers.com or disneyworld.disney.go.com/special-offers for deals and coupon codes. Joining AAA will also get you discounts on your hotel room.
2. Bring Water Along
You will need to stay hydrated while in Disney. You can order bottled water from Amazon and have it delivered to your resort (or do this with other items as well). Within the park, you can get free water from any restaurant with counter service.
3. Bring Food
Disney World is great about letting you bring food into the park with you to save money. Keep sandwich-making supplies in your hotel room, so you can take sandwiches with you to the park. Also, bring some fruit and granola bars.
4. Get a Disney Lanyard Before the Trip
Before you go to Disney, buy a cheap lanyard at Party City for a dollar or two and then get multiple pins on eBay for just $12 to $15. If you wait until you get to the park, you will be paying $7 to $15 for each of the pins.
5. Buy Souvenirs Beforehand
Both you and your children will want souvenirs from your trip, but you don't have to buy them in Disney. You can save hundreds of dollars by buying them at home before you travel.
6. Use Glow Sticks
Buy a pack of glow sticks before you go. These are great after it gets dark. Simply break them once the sun sets and your kids won't ask for light-up toys. And you can also ask your kids to hand these glow sticks out to other kids around you, and have fun together.
7. Set a Limit on the Amount
Your kids will inevitably want to buy things, but you can help this by giving them each a specific amount of money. Tell them ahead and spend some time showing them what they could buy with. Let them know how much they'll have left, then let them make the decisions.
Disney World Tips—How to Save Time
Attach a bright ribbon, scarf or balloon to the handle of the stroller, or you have to spend valuable time looking for it.
Take the left line for rides. It's always shorter.
Go to the parks 45 minutes earlier than the scheduled opening time, and you will find the shortest lines.
Take advantage of the parade time, you will find the part is almost half-empty during it.
If you are leaving along Main Street after a major event such as the firework show, walk through the shops instead of wandering slowly down the street.
Opt for the Resort Monorail but not the Express for shorter lines.
Meet characters at character meals rather than waiting in a long line at the park.
There is a "Child Swap/Rider Switch" program when your child isn't tall enough for a specific ride he likes.
Rent a stroller from a local company instead of Disney for better strollers and half the price.
Bring ponchos in case of rain.