In many parts of the world, summertime is sweltering hot. When the humidity rises, the sun is relentless and the heat is going up, planning out dinner for hot nights can be a lifesaver. The last thing you want to do is to heat up your house even more by going into the kitchen and turning on a heat source. Are you ready to learn several easy-peasy "cool" recipes to make dinner for hot nights? Read on!
Best Dinner for Hot Nights
These fantastic recipes can help you keep things cool when it's too hot to cook. Please note that these recipes don't have measured ingredients–the idea is that you can use the ingredients as you want to make your family happy with the flavor.
1. Crunchy Rainbow Wraps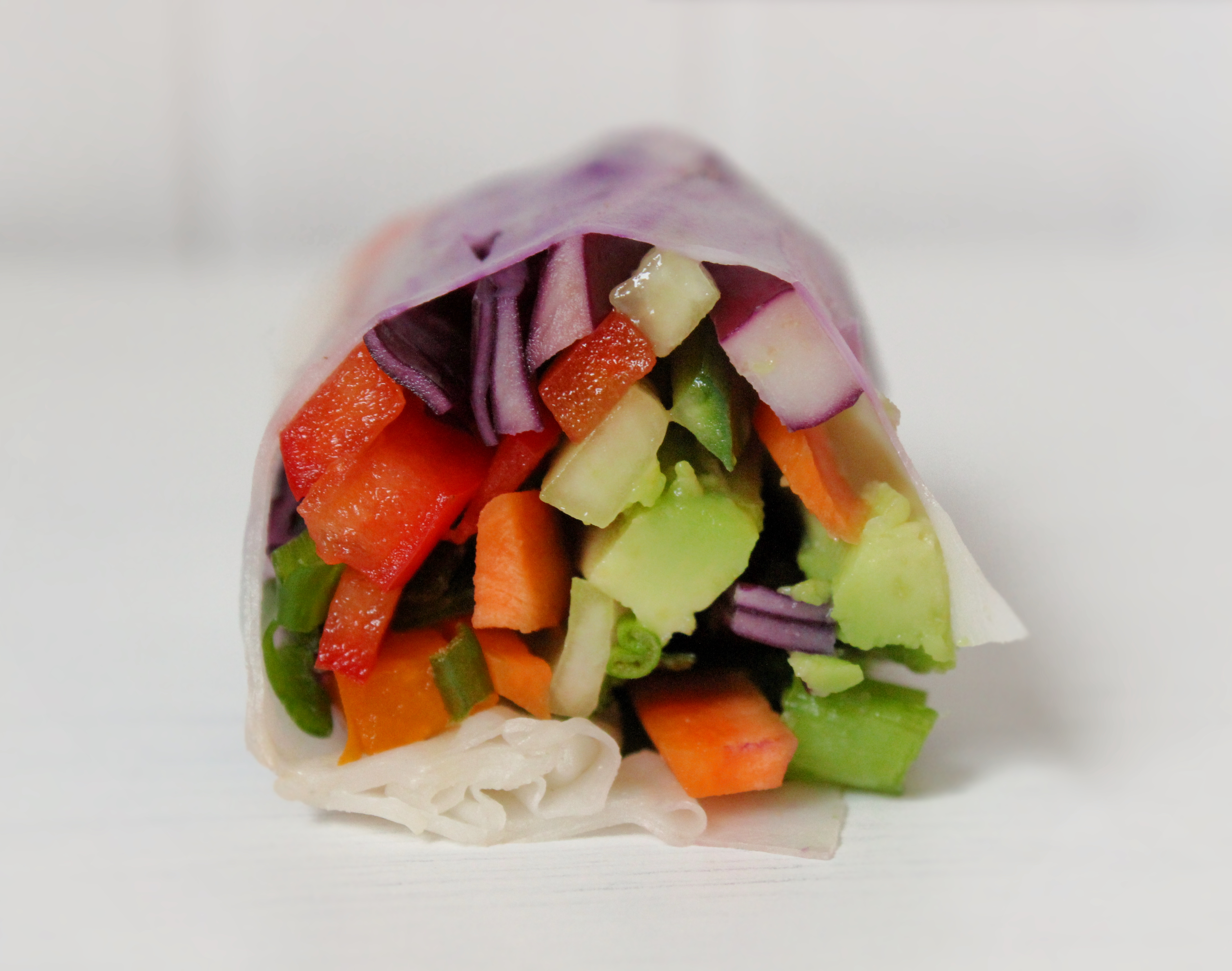 Total time: 20 minutes
What you need: Flavored wraps or tortillas, cream cheese, lettuce leaves, shredded carrots, peeled and diced cucumber, red onion, avocado, and Monterey jack cheese.
What to do: Spread a generous amount of cream cheese on one side of the tortilla or wrap. Then simply chop up the rest of the ingredients and layer them on however you wish. Roll them up, then slice them diagonally to show off the rainbow inside!
Tip: You can do this ahead of time by chopping everything up, or you can delegate which kid gets to chop up which veggies. For the braver adults, sprinkle jalapeno slices in there, too.
2. Italian Caprese Sandwiches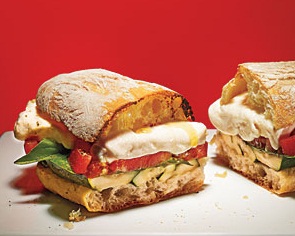 Total time: 10 minutes
What you need: Wide, flat loaf of bread, fresh mozzarella slices, 2-3 sliced tomatoes, fresh basil leaves about 2 tbsp, balsamic vinaigrette dressing, and thinly sliced red onions.
What to do: Slice the bread in half, leaving two half-loaves. Stack the cheese, basil leaves, tomatoes, and drizzle it all with the dressing. Put the top of the bread on and slice the whole thing into pieces.
Tip: Want even more flavor? Spread some pesto on the bread before you stack the goodies.
3. Avocados Stuffed with Tuna Salad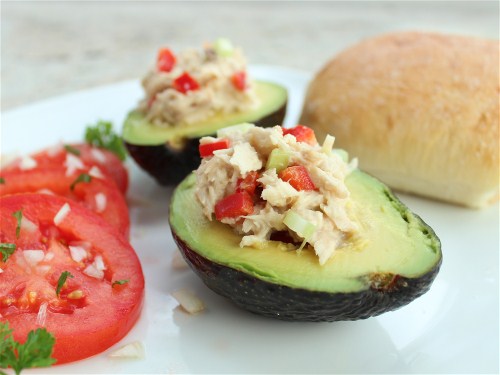 Total time: 15 minutes
What you need: Tuna packed in water, mayonnaise, diced red bell pepper (or celery), ripe avocados, juice of ripe lemons, and salt and pepper to taste.
What to do: Halve the avocados, remove the pits, and sprinkle them with salt and pepper. Use the rest of the ingredients to create a tuna salad. Then eat the tuna salad out of the edible "bowl."
Tip: This is a great recipe to make ahead, and little kids can help with slicing of veggies and mixing the tuna salad.
4. Cornmeal-Crusted Chicken Nuggets with Blackberry Mustard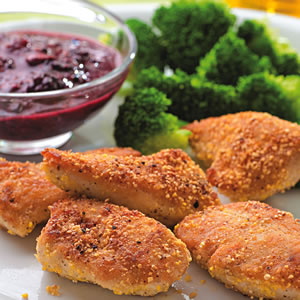 Total time: 20 minutes
What you need: Blackberries or raspberries, whole grain mustard, honey, chicken tenders, salt and pepper, corn meal, and olive oil.
What to do: Blend the berries, mustard and honey together. It should be a chunky sauce. Toss the chicken in cornmeal, salt and pepper, then fry about 6 to 8 minutes in the olive oil over medium heat. Serve on colorful plates and top with the berry mustard.
Tip: Cut the chicken tenders into smaller pieces for faster cooking time.
5. Gnocchi with Zucchini Ribbons and Parsley Brown Butter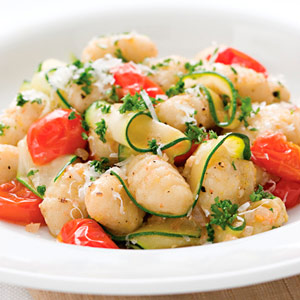 Total time: 20 minutes
What you need: Gnocchi (fresh or frozen), butter, chopped shallots, small zucchini sliced lengthwise, cherry tomatoes, salt, nutmeg, pepper, parmesan cheese, fresh parsley.
What to do: Cook gnocchi according to package directions. Saute shallots and zucchini in butter until soft, then add cherry tomatoes, salt and pepper, and a small amount of nutmeg. Stir until the tomatoes start to break down. Stir in parmesan and parsley, toss with the gnocchi, and serve immediately.
6. Grilled Rosemary-Salmon Spedini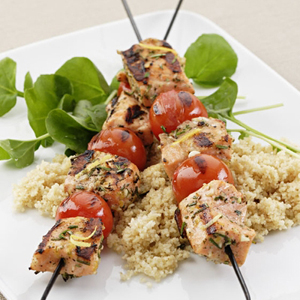 Total time: 30 minutes
What you need: Fresh rosemary, garlic cloves, olive oil, lemon zest and juice, salt and pepper, center-cut salmon filets and cherry tomatoes.
What to do: Blend rosemary, olive oil, garlic, lemon zest and juice. Toss with salmon that has been cut up into bite-size pieces, and sprinkle with salt and pepper. Alternate the salmon and tomatoes on skewers and grill over medium-high heat until done.
7. Five-Spice Tilapia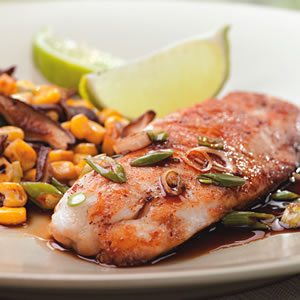 Total time: 15 minutes.
What you need: Tilapia filets, five-spice powder, soy sauce, light brown sugar, scallions, olive oil.
What to do: Sprinkle tilapia generously with five-spice powder. Blend soy sauce and brown sugar into a bowl to form a sauce. Cook the tilapia in the oil about 2 minutes until the edges are opaque. Reduce heat and pour soy mixture into the pan. Bring to a boil and cook until fish is done. Add scallions before serving.
Tip: Make your own five-spice powder with a blend of cinnamon, star anise, peppercorns, cloves and fennel seed.
8. Spaghetti with Quick Turkey Chili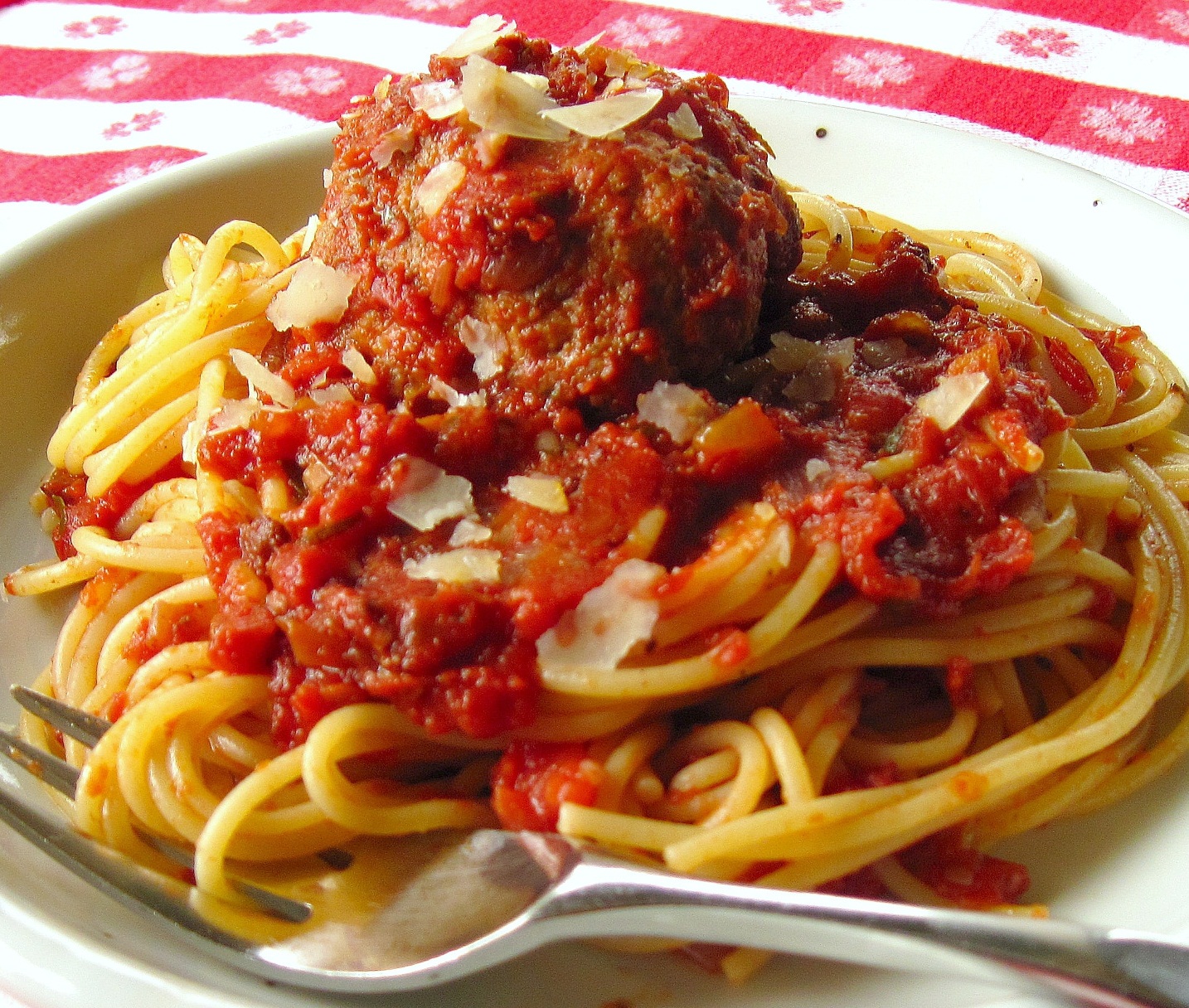 Total time: 35 minutes
What you need: Kosher salt, olive oil, scallions, garlic cloves, tomato paste, chili powder, ground turkey, chicken broth, can of pinto beans (drained), ketchup, hot sauce, spaghetti, cheddar cheese and sour cream.
What to do: Saute the scallions in olive oil, then add the tomato paste and chili powder. The mixture should turn brick red. Add one pound of turkey and stir, breaking up the meat as you go. Add about two cups of chicken broth, the beans and ketchup to taste. Cook until the chili is thick but still soupy, about 15 minutes. Stir in the hot sauce. If it is too thin, add more tomato paste. While that simmers, prepare spaghetti according to package directions. Divide and top with chili, sour cream and cheddar cheese.