When looking for a family vacation spot, it is important to consider what will appeal to both adults and kids, and that is what Costa Rica has to offer. With the perfect mixture between beach and rainforest, lush and exotic, Costa Rica offers wonders for every age. There are plenty of areas where kids can swim, be it the ocean, a swimming pool, a river, or the hot springs. At the same time, the whole family will want to attend a treetop canopy tour to be amazed by the tropical wildlife, including butterflies, frogs, monkeys and toucans.
What You Should Know Before Costa Rica Family Vacations?
Costa Rica offers adventurous outdoor activities with affordable prices for everyone. Great for nature lovers and adventure seekers alike, no family will regret enjoying the rain forests and national parks Costa Rica has to offer.
When to Visit
The most popular time to visit would be any time from December to April, which is during the dry season and you will want to reserve at least a year in advance to get your choice of lodging. Despite being dry and hot, you will see more of the area as there will be significantly less rain than during the remaining months of the year.
What to Look Out For
Pay attention to what you eat and drink. When it comes to traveling abroad, you will want to stick to bottled water as it is safer. It should even be used when brushing your teeth to avoid any illness. As for food, if it has been cooked and is served hot, it is safe. Also, fruits with skins are safe. Be wary of restaurants that do not rinse garnishes in purified water and don't be afraid to ask before consuming as some locations will have internal purification systems.
Protect yourself from the hot weather. In order to cope with the heat, drink plenty of fluids and be familiar with the color of your urine. The darker the yellow, the more fluids you need to be drinking. Make sure you are liberally applying sunscreen before you go out in the morning and every couple of hours throughout the day. Use sun hats to avoid excessive exposure to the sensitive skin on your face.
Be careful while enjoying the wildlife. Seeing all of these unique tropical creatures in their natural habitat is fascinating, but that doesn't mean they enjoy the intrusion. Listen to your tour guide, and don't go into the rainforest without a guide. If an accident does occur, follow the instructions given by your tour guide. Lastly, do not feed or attempt to touch any of the wildlife, unless your guide has given permission. Even the kindest seeming wildlife may turn angry in mere seconds.
What to Do on Costa Rica Family Vacations
Costa Rica's terrain is not designed for just one type of traveler, but will apply to those who seek sun, nature or even adventure. With many lush forests, wildlife reserves, as well as tropical beaches, your family will be making new discoveries at almost every turn.
1. Admire the Arenal Volcano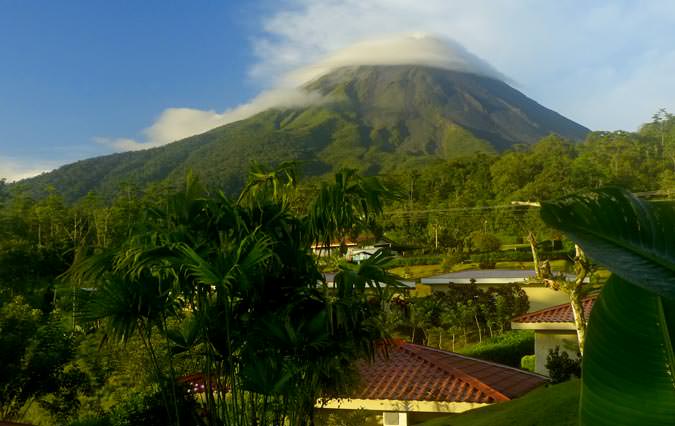 Whether you want to hike to the top of the mountain, or rappel from a waterfall, the Arenal volcano can definitely accommodate you. With splendid views of waterfalls intermixed with rainforests, impressive canyons, and even hot springs, many tours of Arenal are designed to combine the many activities that the volcano provides. Your options can include horseback riding, hiking, river rafting, canopy tour, or a mixture of all four in one fun filled day. Based on the amazing views, any tour will allow your family to take in the magnificence of nature's creation and will be money well spent.
2. Hike in Manuel Antonio National Park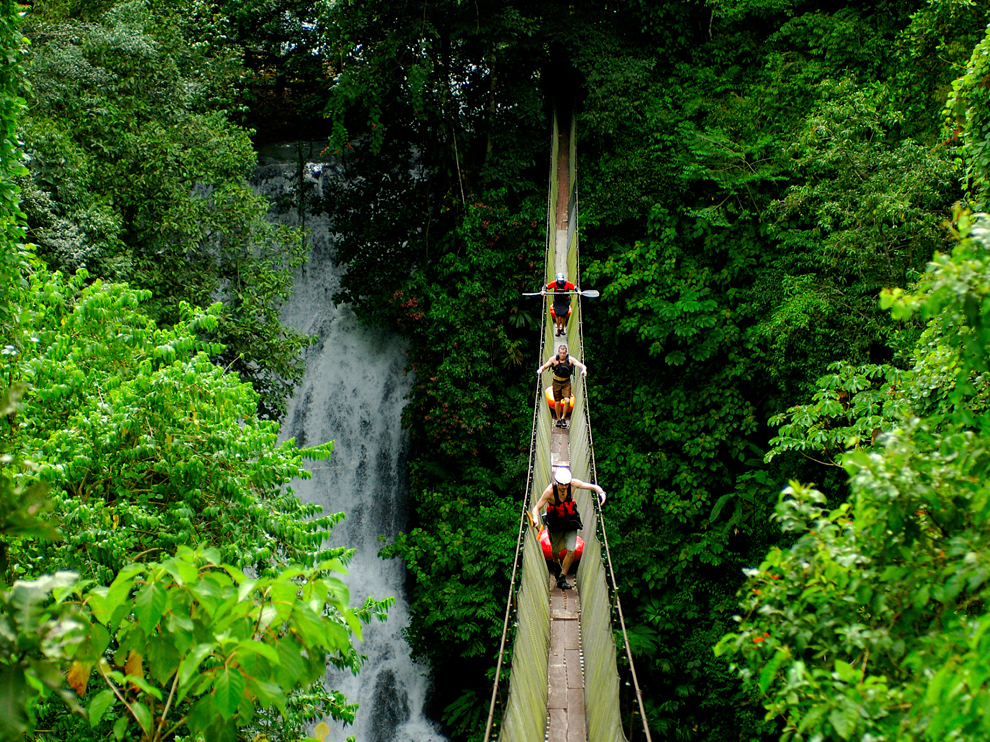 Despite being Costa Rica's smallest national park, it is labeled as Costa Rica's best. Home to many endangered species, the Manuel Antonio National Park was created in 1972 and boasts a lush forest and perfectly crafted beaches. In order to experience this area fully, sign up for a tour to enjoy the many amazing views, experience some of the endangered species firsthand, and linger amidst the well-marked trails. Connected by a narrow bridge, the park actually limits the number of visits per day, so be sure to get there earlier to avoid being turned away. Once you get there, simply enjoy the beauty of nature's creation—the wildlife.
3. Explore the Santa Elena Cloud Forest Reserve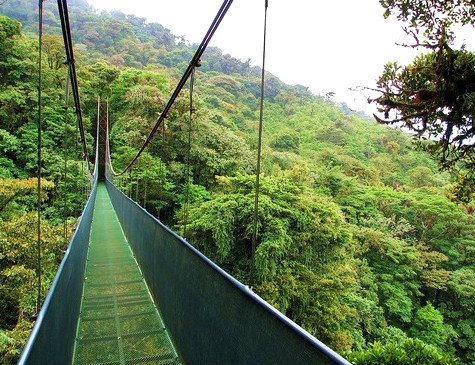 As opposed to other forests, a cloud forest is found in higher elevation and given its name because of the canopy-level cloud cover it, providing the forest with the moisture it needs to keep the plants growing. With this cloud cover, any visitors will be able to experience the wonderment of the ever growing vegetation, where trees are almost entirely covered with other plants with the limited space. Along with the amazing vegetation is the consistent movement of wildlife mixed with stunningly jaw-dropping views that are not for the faint of heart.
4. Nicoya Peninsula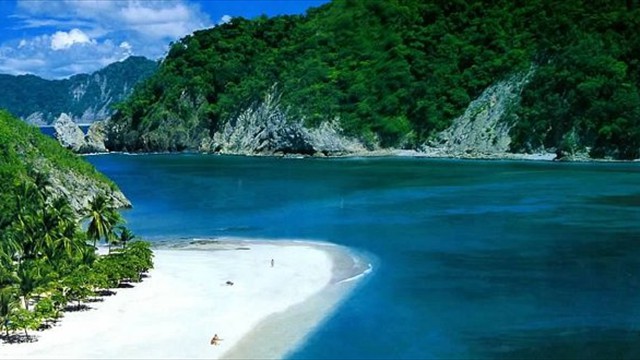 If climbing up into vegetation isn't quite your family's scene, then you will love the option of visiting the 80 miles shoreline of the Nicoya Peninsula. Aside from hanging out at the beach all day long, you can also find more dense forests bordering the beaching as well as fishing and cattle-ranching communities. Due to tourism, there are plenty of restaurants and hotels to stay at on the peninsula, allowing you to stay close and enjoy the gorgeous sunsets, myriads of colorful fish, and the sparkling turquoise waters. Keep in mind that rip currents are present and extra caution should be taken if you are not experienced with swimming in the ocean.
5. Guanacaste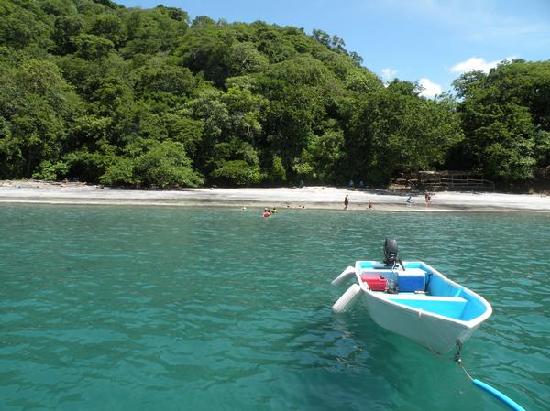 Known as the "Gold Coast', Guanacaste is different not only because it boasts secluded beaches, but because its terrain consists of dry, sunny savannas rather than cloud-covered rainforests. The views from here are unlike any other as you will get the full impact of the volcanoes covered with rainforest vegetation. A popular tourist activity is heading to the Rincón de la Vieja National Park to enjoy hot springs and gorgeous waterfalls, making this area of Costa Rica the perfect getaway vacation. Along with this national park, you will be able to enjoy the brilliantly blue water along the Playa Carrillo beach.
6. Baldi Volcanic Hot Springs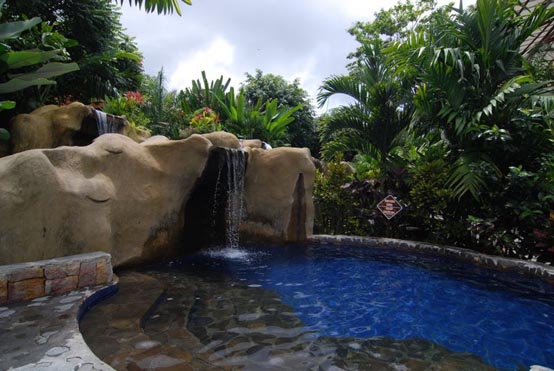 If visiting a few hot springs was not part of your original plan, it may be time to reconsider as a day at the Baldi Volcanic Hot Springs can be a soothing experience. Although crowded with tour bus groups in the morning and evening, this spot is perfect for a lunch time swimming endeavor, and even boasts a package that includes lunch for the day. Fortunately, its pools range in temperature and a few of them are cool enough for children. While enjoying the swim, be sure to keep a lookout for an amazing view of the iconic Arenal Volcano.
Here is a video about more things that you can enjoy on Costa Rica family vacations: