Children can be very fussy and picky eaters, so it is a task to get them to eat everything that is served for meals. They have very firm choices and do not agree to eat something they do not like. Planning a meal for everyone in the family then becomes very difficult. Something which works well in this condition is planning casseroles for meals, since you can add a variety of ingredients to it, which your kids will enjoy and they are healthy as well. The recipes of casseroles for kids given in this article are interesting and have lot of twists, which your kids will fall in love with.
Recommended Casseroles for Kids
Mushroom & Tortilla Casserole with Black Beans
A combination of Texan & Mexican flavors, this casserole has juicy mushrooms, black beans and spicy salsa to go with corn tortillas. It is perfect meal and you can serve it with a layer of cheese on top.
Total time: 30 minutes
Serves: 4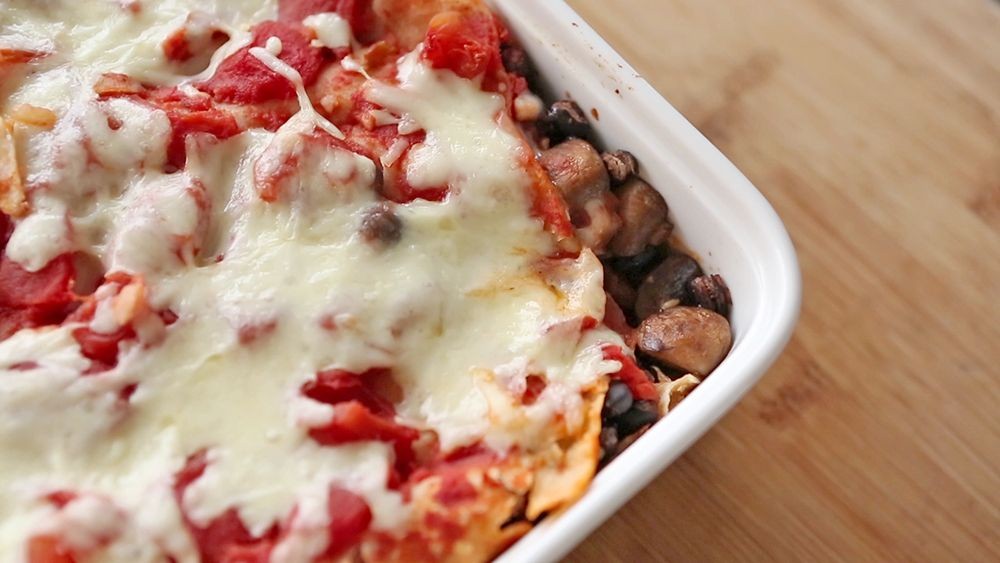 Ingredients:
350 grams of button mushrooms
1 can of black beans
2 cups of salsa
8 corn tortillas
1 cup grated cheese
2-3 cloves of garlic
Salt & pepper to taste
1/4 teaspoon cayenne pepper
2 teaspoons extra virgin olive oil
Directions:
1. Rinse and drain the black beans, mince the garlic and half & warm the tortillas.
2. Heat oil in pan and sauté the mushrooms until brown.
3. Add the garlic, cayenne pepper and season with salt & pepper.
4. Add the black beans and cook for 2 minutes.
5. Arrange 5 tortilla halves in a baking dish and top it with the mushroom mixture, ½ cup salsa and 1/3 cup cheese.
6. Repeat step 5 two times and cover the dish with foil.
7. Bake in preheated oven for 10 minutes at 400 °F, or till cheese melts.
Spinach Spaghetti Casserole
Spaghetti is a favorite amongst kids of all age groups and hence this casserole recipe is a good way to add the not-so-popular spinach in it. It is a win-win recipe since the kids get the greens and nutrients and they don't even notice the spinach in the yummy tasting casserole.
Total time: 40 minutes
Serves: 8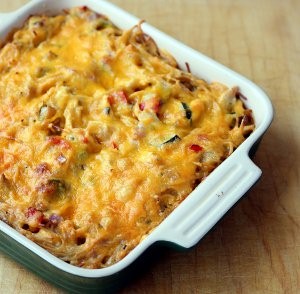 Ingredients:
120 grams Spaghetti (cooked)
200 grams Spinach (chopped)
1 egg
1 cup sour cream
2 cups grated cheese
1 cup fried onions
1/4 teaspoon garlic powder
Directions:
1. Beat egg in a mixing bowl and add the sour cream, garlic powder and cheese.
2. Stir in the cooked spaghetti, pureed spinach and ½ cup of onions.
3. Transfer the mixture in a baking dish and cover with foil.
4. Bake in pre-heated oven at 350 °F for 30 minutes.
5. Add the remaining onion and bake till they turn golden brown in color.
Cheesy Beef Casserole
It is very easy to make casserole with beef which is a hit with the kids. It can be made for a weeknight as a complete meal. Everyone is surely going to love this very interesting casserole recipe.
Total time: 50 minutes
Serves: 4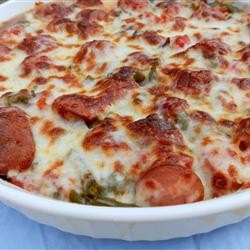 Ingredients:
250 grams beef hot dogs
1 can cheddar cheese soup
1 can corn kernels
½ cup onions (chopped)
2 tablespoons margarine
1 cup mashed potato flakes
½ cup skimmed milk
1 egg
½ cup grated cheddar cheese
Plain water to cook
Directions:
1. Mix the hot dogs, cheese soup, corn kernels and onions in a large mixing bowl.
2. Heat water and margarine in a pan, till it melts.
3. Add the potato flakes and milk, mix well.
4. Add the beaten egg to it.
5. Transfer the hot dog mixture in a baking dish and spoon the potato mixture over it.
6. Bake in a pre-heated oven for 35 minutes at 350 °F.
7. Remove from oven, sprinkle cheese and bake till cheese melts.
Chicken & Spinach Casserole
Hiding away the spinach in this chicken casserole makes a complete meal. You can use the rotisserie chicken for this casserole and adding bread makes it even more filling and complete. Enjoy this recipe with your family for any meal.
Total time: 30 minutes
Serves: 4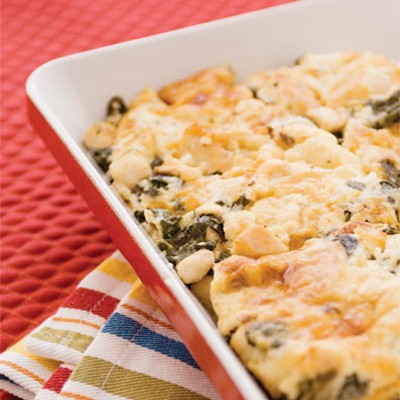 Ingredients:
1 cup shredded rotisserie chicken
4 cups spinach leaves
1 medium sized onion
2 tablespoons all-purpose flour
2 cups bread (torn into bite sized pieces)
2 tablespoons extra virgin olive oil
2 cloves garlic
1/4 cup white wine
3/4 cup milk
3/4 cup cream
½ teaspoon lemon juice
Salt & pepper to taste
Directions:
1. Cook spinach in 1 teaspoon of oil with salt. Squeeze water and keep aside.
2. Heat 1 and ½ teaspoon oil in pan and onion, garlic, salt and pepper. Cook till onions are soft.
3. Add wine to the pan and reduce till half in quantity. Add flour and cook while stirring continuously.
4. Whisk in the milk and cream, lemon juice and bring to a boil.
5. Remove from heat and add the spinach, chicken and transfer to a baking dish.
6. Add oil to bread pieces along with salt and top the baking dish with bread.
7. Bake in a pre-heated oven for 10 minutes at 450 °F, or till bread is golden brown.
Cheesy Ravioli Baked Casserole
Pasta and cheese when baked forms a nice crust on the casserole which the kids will love. It is easy to prepare and can be assembled well in advance and refrigerated. Baking it just before dinner will make a yummy dish.
Total time: 50 minutes
Serves: 6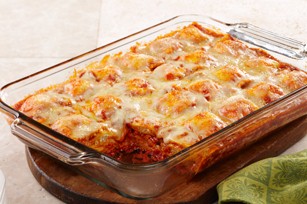 Ingredients:
900 grams ravioli
750 grams whole tomatoes (chopped)
750 grams crushed tomatoes
1 medium onion
3-4 cloves garlic
½ cup parmesan cheese
1 ½ cup mozzarella cheese
1 ½ oregano or thyme
2 tablespoons olive oil
Salt & pepper to taste
Directions:
1. Heat oil in a large sauce pan and add the onions and garlic to it.
2. Season with salt and pepper and cook till onions are soft.
3. Add the oregano / thyme and both types of tomatoes to the pan.
4. Bring to a boil, crush the tomatoes with spoon and thicken the sauce for 20-25 minutes.
5. Cook ravioli in water and salt, then drain.
6. Add the sauce to the ravioli and transfer to a baking dish.
7. Top with cheese and bake for 20-25 minutes, or till cheese turns golden.
Butternut Squash & Apple Casserole
This casserole recipe has a twist from the traditional recipe of casserole for butternut squash and can be served as a side dish or even the main dish. It has lot of ingredients like apples, corn flakes and pecans adding a lot of interesting flavors.
Total time: 1 hour
Serves: 8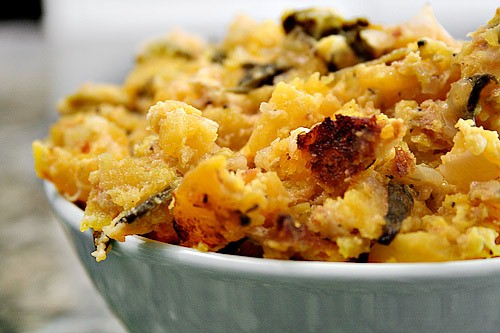 Ingredients:
1.2 kg butternut squash
1 kg of apples (sliced)
3 cups corn flakes
½ cup pecans (chopped)
½ cup brown sugar
¼ cup sugar
1 ½ tablespoon shortening
¼ cup butter
2 tablespoons melted butter
Salt & pepper to taste
Directions:
1. Make coarse crumbs of corn flakes in a food processor and keep aside.
2. Cut the squash, deseed and steam or bake till tender.
3. Remove the pulp, add the butter, salt, brown sugar, and pepper.
4. Melt the shortening in a skillet and add the finely sliced apples, sprinkle sugar and cover.
5. Transfer the apples to a baking dish and spoon the squash mixture on top.
6. Make topping by mixing the melted butter, corn flakes, brown sugar and pecans.
7. Top this in the baking dish and bake at 325 °F for 12 – 15 minutes or lightly brown.
Watch the video for another recipe of casseroles for kids: