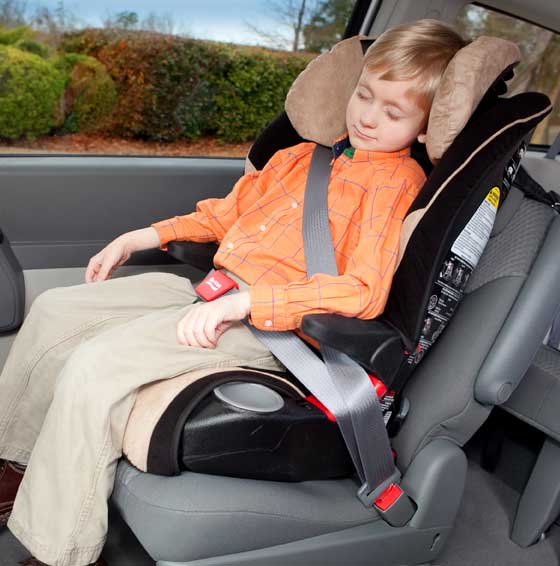 As your baby grows up, you would have to start thinking about buying a booster seat for him/her in place of the child-restraint seat. What are the basic booster seat requirements? You might find it hard to decide which type of booster seat to buy, as information on the topic is scarcely found anywhere. Thanks to a study conducted by Insurance Institute for Highway Safety, we now know which kind of booster seat is safe for a child and which is not.
The study revealed that among the 41 tested seat models, only ten came out to be worth buying, while 13 were not even safe for young children. If you are looking for a good booster seat, then it is advisable that you look at the ten models the study recommends. The following tips can further help you in deciding which seat among these ten is most suitable for your child.
Why Should a Child Use a Booster Seat?
Car seat belts are not designed for children and this is why they do not fit them in the same manner as they would fit an adult. A booster seat can elevate the child to the height of an adult, thus making the seat belt fit him/her perfectly. In this way, the child would be more protected as the belt would be wrapped around those parts of the child's body, which can easily withstand the pressure applied by the belt in case a collision occurs.
Results of the Insurance Institute for Highway Safety's study indicate that the lap belt should not be wrapped around the abdomen of the child's body as it is sensitive and might get injured in case an accident occurs. The results of the study suggest that the lap belt should be wrapped across the upper thighs of the child as they are stronger and the chances of a serious injury is far less. Since a booster seat can help in getting the lap belt across the thighs of the child, it should be used for children who lie in the 4-8 years age group.
When Should a Child Switch from a Car Seat to a Booster Seat?
This is usually going to happen when your child reaches the age of 4. However, it is not necessary that you should switch to a booster seat as soon as your child turns 4. If your child is able to fit into his/her car seat even after his/her 4th birthday, there is no need to switch to a booster as the car seat can provide maximum safety for him/her.
When your child does become too big for the car seat, then you must buy a booster seat for him/her because even though he/she has outgrown the car seat, he/she is still too small to properly fit into the safety belts of the car. The belts would wrap around his/her neck and abdomen if he/she is not put in a booster seat and can cause serious injuries to these sensitive areas if an accident occurs. Thus, to avoid chances of injuries, keep the child in a booster seat until he/she becomes 8 years old and can fit properly into the car's safety belts.
What Are the Types of Booster Seats?
When choosing proper one for your kid, you may consider about some of the booster seat requirements to make sure that it suits your baby best.
1. Recommended Booster Seats
| Types | Descriptions |
| --- | --- |
| No-back booster seat | It should be used in those cars that have seats with a headrest and have lap and shoulder belts. These booster seats are hard to move. |
| High-back booster seat | It can be used in cars that don't have headrests and are ideal for children that fall asleep in the car. These booster seats offer safety from whiplash. |
| Forward-facing seat with harness or combination seat | It combines the safety features of both car seat and a booster seat. It can be used in cars that do not have headrests. These booster seats offer more security to the child than any other type of booster seat. |
2. Booster Seats to Avoid
Shield booster seats are not recommended for children. The reason for this is that the shield they have can injure the child in the wake of a collision. However, if the shield of such booster seats can be taken off then they can be used, since without the shield they become just like a no-back booster seat.
Recalled and secondhand booster seats should also be avoided at all costs as they can be dangerous for a child, too.
How to Buy a Good Booster Seat
Now you are familiar with some of the booster seat requirements, there are some rules for you when buying a good booster seat.
1. Wait Until It Is the Right Time
When looking for a good booster seat, make sure that you do so only when your child's weight has exceeded the weight limit of his/her car seat. You must not hurry in making the switch to booster seats because car seats are far safer than them.
2. Choose a High-back Booster
It is better to go for a high-back booster than a backless one because it will help your child in having the shoulder belt wrapped more securely around him/her. Another advantage that high-backs have over backless booster seats is that even though they come at a higher price, they can be used in a car that does not have seats with headrests as well.
3. Keep Calm When Buying a Booster Seat
It is vitally important to keep calm when buying a booster seat and to spend your money wisely.
4. Buy One That Fits Your Child
Moreover, only buy those booster seats that fit your child perfectly.
5. Purchase One with a Harness
If you want more protection for your child then you must go for booster seats that have a harness attached to it.
When you buy a booster seat for your child, you may first take safety into consideration. Want to learn what booster seat safety you should know? Check out the video below:
How to Install a Booster Seat
The first step of installing a booster seat is to read up the product manual that comes with the booster seat.
Secondly, place the booster seat in the middle of the back seat in a front-facing position and then consult the manual for finding out how the seatbelts of your car would have to be used with the booster seat.
Every time you put your child in the booster seat, make sure that it is placed in the correct position.
Want to see how to install a booster seat? Check out the video below: