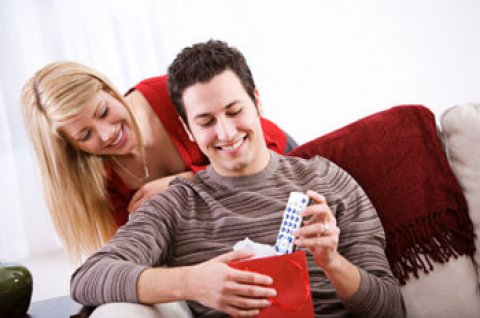 It may sound easy, but coming up with a birthday gift for your husband can at times be challenging. It gets even more challenging when you find out the gift you'd like to give him this year has already been given to him last year.Worse still, if you have a husband who does not give many hints on the type of birthday gift he would want. To get hints on the type of gift your husband might want, look into his hobbies or just come out and ask him what he would want as a gift for his birthday.
7 Classic Birthday Gifts for Husband
Birthdays are commemorations of life, and this is why they should be celebrated. Your husband's birthday is one of the many days you need to show him just how much you love him. As we all know, you can't leave out cakes, chocolates, flowers and cards for a birthday. But if a gift could satisfy his wishes, why not prepare some? Here are some ideas that might help choose the birthday gifts for husband:
| | |
| --- | --- |
| What Your Husband Likes | What to Prepare |
| Gadget lover | Men love gadgets just as much as women love diamonds. Even if he already possesses many gadgets, he will always have room for one more. So, get him a new tablet, digital watch, spy pen, the latest music player or headphones. |
| A romantic guy | Plan a day at a spa followed by a candle-lit dinner. You can even gift him with a staycation, weekend trip or second honeymoon. Sometimes, the trick might be as simple as watching a romantic movie together. You can even book a hot air balloon for both of you or go on a cruise trip. Just think of all the things your husband would give you for your birthday. |
| Passionate for travelling | If your husband is always on the road, you could opt for buying him an electric carmug. Other options include USB fridges, mini wine coolers, hydration packs, hiking shoes, etc. |
| A sports enthusiast | If your husband loves sports, you could get him a football/baseball/golf kit. You can also gift him with a gift voucher for an upcoming game. Personalized sports caps/shoes/sweatshirts/balls will also do the trick. Alternatively, enroll him for a class in a sport he loves such as sailing,paragliding or scuba diving. |
| Wine lover | Get him a wine rack, chiller, aerator or cooler. You can alternatively give him a gift basket containing his favorite bottle of wine, bottle opener, wine glasses, chocolates and cheese. |
| Crazy about fitness | Gym membership will definitely be appreciated as a birthday gift. You can also give him a treadmill, exercise bike or different sized dumbbells. Enrolling for a couple's dance class is also a wonderful gift. |
| Classy dresser | Cuff-links, tie pins or a silk tie makes the perfect gift for this type of man. Another good idea is a leather wallet accompanied by a handkerchief set. You can even decide to outdo yourself and give him a complete wardrobe makeover. When doing so, make sure that you get him clothing he would wear and like. |
Unique Ideas for You When Preparing Birthday Gifts for Husband
The ideas above are picked out according to some popular hobbies or passions of guys, now here are some very special ideas when preparing birthday gifts for husband; some are very old school but touching, and some are so unique that your hushand might be totally surprised by it.
| | |
| --- | --- |
| Unique Ideas | Description |
| Make yourself as the gift | This is a bit tricky, but could work if pulled off right. You can bundle yourself up in a box and ask a friend to wrap it like a gift. Ask for the box to be delivered to your door and voila! This could work especially if you've been away for a while. Make sure to have another gift with you. |
| Make a music video for him | You can do this even if you don't do any singing, even in the bathroom. Compile some of his favorite photos to be used in the music video and sing along to music that he enjoys. |
| Let him be the king | You can dedicate a whole day to him. Everything he wants, you will give him. For example, what does he like to eat for breakfast? What does he want to do when he comes home? Just do whatever makes him feel like a king on his day. |
| Dedicate a song to him on the radio | This is an oldie, but it still works. You will have to call the radio station in advance and dedicate his favorite song. You should also make sure that he will be listening in on the radio station at that specific time. |
| Leave a love thread | If you have kids, you will have to be a little more creative when leaving a love trail so that they do not pick it up. Use things he loves to lead him to the special place you have planned for him. |
| Surprise him | For example, you can ask your husband to pick up vegetables at the store. Meet him up at the grocery store and surprise him with tickets for his favorite game or anything else he loves. |
Tips on Choosing Birthday Gifts for Husband
Deciding which gift you would give your husband on his birthday is not always easy. While it is easier to ask him what he wants, it is not always a good idea. Birthday gifts for husband are truly special because they serve as a reminder of your relationship on that special occasion. Therefore, you will want it to be special and unique. Here are some tips on choosing the right birthday gifts for your husband:
Ask him what he may want as a gift. You can do it in a subtle way. Weave it into a conversation or take him to a mall and see where his interest lies.
Choose one that is based on your husband's hobby or passion. For example, if he likes to collect sports memorabilia, get him a gift that has been autographed by his favorite sports star.
Choose a gift that he will use in his day-to-day life but unlikely to buy it for himself. For example, if he travels a lot and also loves music, you could subscribe him to satellite radio.