Teachers who have been teaching for a long time usually have a large number of gifts lining their shelves at home. Be it commemorative plaque, ceramic apples or best teacher mugs, a teacher values and appreciates them all the same as it gives her the recognition that she deserves for building the career of her students. Thus, if you are planning on thanking your kid's teacher for doing a good job, then it is best to give her a nice gift that she remembers for the rest of her life.
Top 10 Best Teacher Gifts
Teachers play a major role in shaping the futures of their pupils. This is why parents and students try to appreciate their efforts by giving them something special but get lost for ideas when it comes to giving gifts for teachers.
1. School Supplies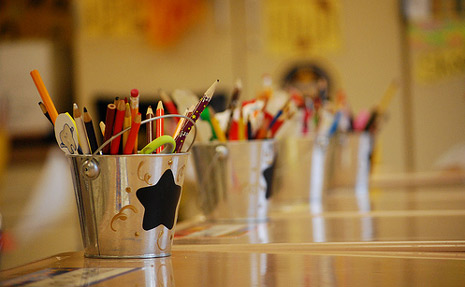 Sending school supplies to your child's teacher can prove to be a nice teacher gift. Most of the teachers in schools have to buy these supplies out of their own salary which puts extra burden on them. By giving away these supplies to her, you can lighten her load and give her the chance to spend her money on her other needs. The best thing about this gift is that it would be truly appreciated by the teacher and would be used for the benefit of other children as well.
2. Helping Out at School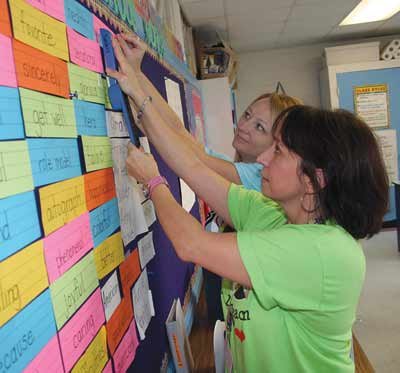 The gift you give to your kid's teacher shouldn't have to be tangible only. You can show your token of gratitude to her by helping her out at school too. Volunteer to spend some time with her in class or to go along with her on a study or holiday trip with the kids. This will make the teacher's task of handling the kids a lot easier and she is surely going to appreciate you taking out the time to help her out.
3. Food Items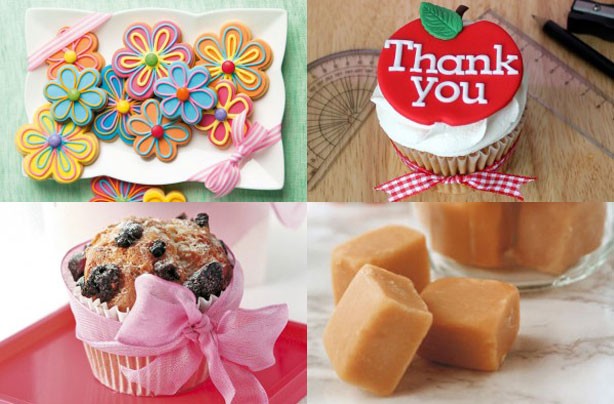 Food items are among the most popular teacher gifts. Be it a homemade cake, chocolates, gourmet coffee or a basketful of fruits or eatable goodies, food items always do the job when it comes to thanking teachers for the hard work they do with your child. However, it is important to keep the preferences and likes and dislikes of the teacher in mind when giving such items so that she can enjoy the food items that you are giving her.
4. Flip Book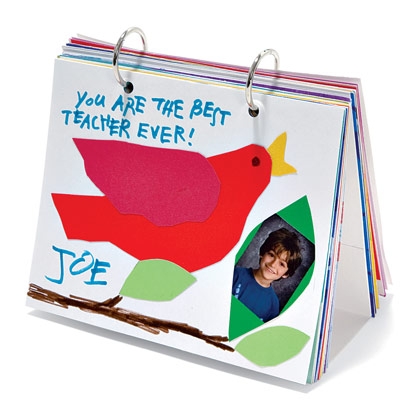 A flip book is a nice homemade teacher gift that is sure to bring a smile to her face every time she flips through its pages. This gift requires participation of the whole class as each child will have to write something positive about the teacher on a card using crayons or color pencils. All of these cards will then have to be bunched together to make a flip book that will stand on the teacher's desk and keep on reminding her about her pupils.
5. A Guided Tour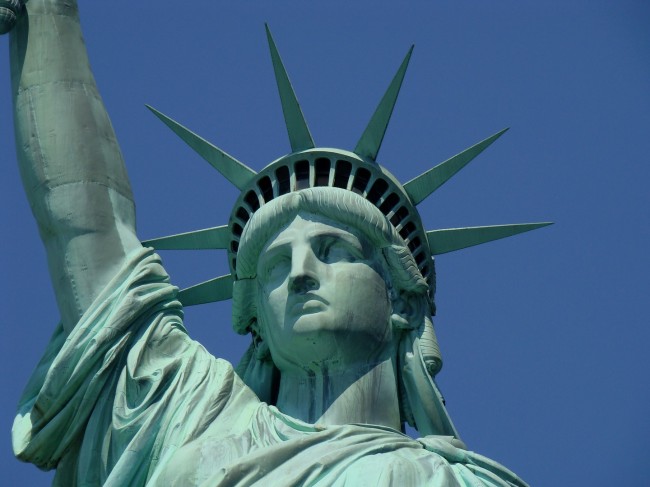 A gift certificate for a historical walking tour, bike tours or guided hikes of nature areas can also prove to be a great teacher gift especially if she is interested in exploring new environments and cities or is new in your area. The gift card is going to allow her to choose the type of guide tour she wants to go to and the timeframe in which she likes. When giving away this gift, it is best to get an idea about the teacher's preferences beforehand so that you can choose a more appropriate gift card for the guide tour.
6. Personalized Stationery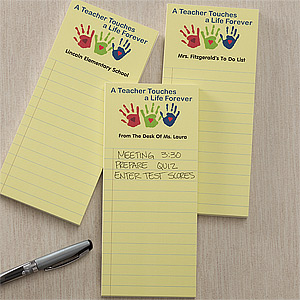 As for best teacher gifts, giving away personalized stationary items to the teacher is a great way of thanking her for her untiring efforts for your child's future. Since teachers have to write a lot of letter and notes to the parents, they would love to have a personalized letter pad or notepad having their name on it. You can order such notepads or other personalized stationary items from many online stores that offer you the chance to have your teacher's name and a nice avatar printed on the notepad.
7. Books or Magazine Subscription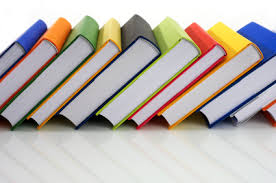 A magazine subscription is another excellent gift item for a teacher. However, you would have to find out about your teacher's interests first before getting her a subscription of a publication. If you are not sure about your teacher's reading interests then giving her a gift card of a local bookstore or a special book for the library in her name can also prove to be great gift ideas.
8. Donations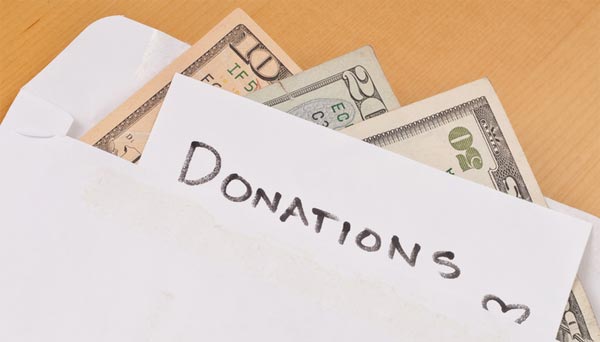 Giving away a donation to a non-profit organization on behalf of your teacher is a nice teacher gift too. However, make sure that the non-profit organization you are donating to is one that your teacher feels strongly about. For instance if she is an environmentalist, then donating a sum of money to an organization that is working for conserving the natural habitat of animals is a good way of showing your appreciation for what she has done for you.
9. Movie Theater Gift Card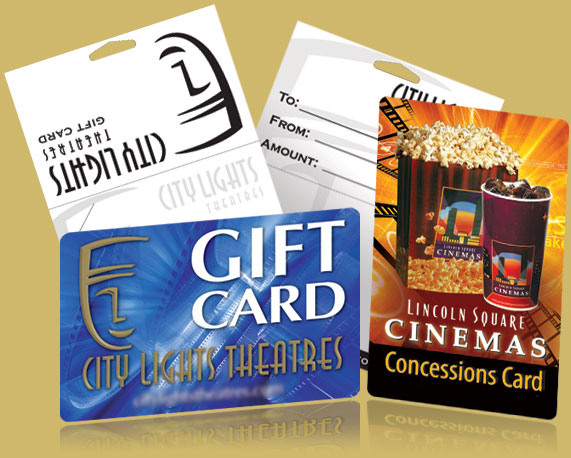 Teachers don't get the time to watch movies on the big screen owning to her busy schedule. Thus, when planning to give a gift to your teacher, it is a good idea to give her a movie theater gift card. Make sure that the gift card is of good value and covers tickets for two and popcorn as well.
10. Appreciation Letter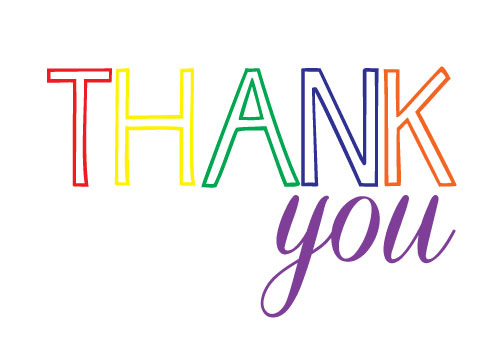 The best way to show your gratitude for a teacher's efforts for your child is to write a letter of thanks to the principal highlighting how happy you are with the teacher and how much you appreciate her hard work. Be sure to get your child to write a few lines in the letter as well expressing how much he loves and admires her as well.
Tips on Giving Best Teacher Gifts
If you want to make sure that the gift you are giving away to your teacher is an appropriate one, then it is best to see her as a human being and keep her interests and preferences in mind when giving her the gift.
Best not to give jewelry or clothing items as gifts to teachers because if the teacher does not wear it to school, the child might get disheartened.
Avoid saying anything about the teacher's gift to the child that you want to keep a secret because the child is most likely to spill it in front of her.
Refrain from sending personal items as a gift to teachers as it can be too embarrassing for them to open it in front of their students.
It is not a good idea to buy mugs for teachers as gifts as they are sure to have many of them already in their possession.