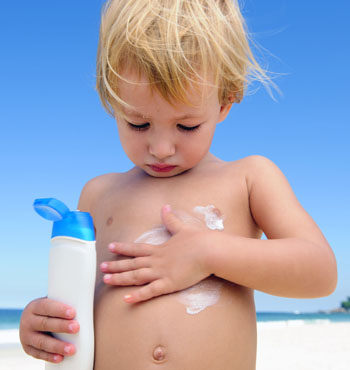 Babies, like everybody else, are extremely vulnerable to the health problems that can result from exposure to too much sunlight. That's why most doctors recommend that parents apply sunscreen to all children over six months of age.
However, sunscreen alone cannot protect a baby's skin, so caregivers will have to take such precautions as keeping children out of the sun at the hottest times of the day—10 a.m. to 2 p.m.,—putting hats on babies, and covering up skin. Sunscreens were never meant to be an alternative to such measures but to enhance them.
When Is It Okay for My Baby to Use Sunscreen?
The biggest question that most parents have about sunscreen is when it is okay to use it. The best answer to this question for children over six months of age is whenever the child goes out into the sun or spends a lot of time outdoors.
Contrary to popular belief, the sun's rays are just as destructive on cloudy days as sunny days. Nor should parents stop applying sunscreen in the winter; the danger in winter is often worse because sunlight reflected off snow can magnify the dangers.
The only time when it is not advisable to put a good sunscreen upon your child is when he or she is under six months of age. After that, you should get into the habit of always putting sunscreen on kids.
What's the Best Sunscreen for Babies?
The good news is that a large percentage, if not a majority, of the sunscreens on the market will protect your baby's skin. The bad news is that there are some brands that don't provide protection.
According to the American Academy of Pediatrics, the attributes of a good sunscreen are:
| Attributes | Description |
| --- | --- |
| SPF rating of at least 30 | There are some doctors that believe that an SPF rating of 15 is adequate, but many experts think one between 30 and 50 is necessary. Note: children with light complexions and kids that are prone to sunburns might require a higher SPF product. |
| UVA & UVB defense | Provides a broad-spectrum defense against UVA and UVB radiation. Make sure the label says it provides protection against both UVA and UVB rays. |
| Water resistant | The product needs to be water resistant because sweat, rain, and even lawn sprinklers can wash non-water resistant products off. |
| Hypoallergenic and fragrance free | It can be difficult to determine if your child has an allergy, so choose a product that is hypoallergenic; that is, it contains no materials known to cause allergies. An allergic reaction can lead to serious health problems and even send a child to the hospital. |
| Easy to apply | The product should be very easy to use, so you can use it every day and can quickly apply it when necessary. There are now spray and lotion products that are easy to apply. |
Watch this video to learn how to select the best sunscreen for babies:
The Best Kid-friendly Sunscreens
Here are some really good kid-friendly sunscreens that we really like and recommend, and you can choose the best sunscreen for babies on your own little one's conditions.
| Product | Description |
| --- | --- |
| Badger Baby Sunscreen Cream | This SPF 30 sunscreen is made from USDA Certified Organic ingredients, and it does provide UVA &and UVB protection. The all natural product does have a mild fragrance, but it has been tested and approved by pediatricians. |
| Coppertone Water Babies Pure Simple Sunscreen Lotion | This product has a lot to commend: it provides a protection level of SPF 50, and it is oil free, fragrance free, hypoallergenic, dye free, and waterproof. |
| Neutrogena Wet Skin Kids Sunblock Lotion | This popular product has an SBF level of 45+. Unfortunately, it is not hypoallergenic, fragrance free, or dye free. It is designed for pool and beach use, so it is waterproof. |
| Banana Ultra Mist Tear Free Lotion | The big advantages to this product are that it has an SPF level of 50 and it is a spray, so it is easy to apply. Ultra Mist is hypoallergenic and tear free, and it provides up to 80 minutes of water resistance. |
What Sunscreen Ingredients Need to Be Avoided
The really bad news is that there are some sunscreens that contain toxic ingredients that can irritate a baby's skin and eyes. The worst of these are products that combine a sunscreen and an insect repellent.
Insect repellents contain some extremely toxic ingredients. Many of them use the DEET formula, which is known to cause allergies and other problems. Parents shouldn't use these because of the potential of exposure or overexposure.
Make sure that any sunscreen you use is just a sunscreen. Never use a sunscreen that is mixed with another product such as an insect repellant.