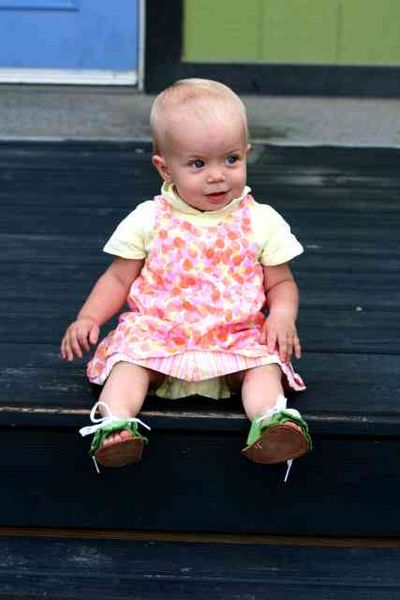 As your baby learns how to walk, the feeling of the floor beneath its feet helps it maintain balance. While it's okay to dress your little tot in booties or socks to keep warm, it is recommended that you let them walk bare foot once in a while.
Nevertheless, every toddler needs shoes that are stylish every once in a while. You may want her to put on a pair of sandals before you fasten her into a stroller or during baby outings and special occasions. You may also want to strap on a nice pair of cute designer shoes. This piece will help you choose the best shoes for babies.
When Should a Baby Start Wearing Shoes?
Before buying the best shoes for babies, you should know that when a baby should start wearing shoes. There will come a time that you will definitely need to buy your little one her very first pair of shoes. When you notice that your young one is confident enough to walk around on her own, and is comfortable walking outdoors, then this is the first sign that you need to purchase the first pair of shoes for her. Only put your baby in shoes when she is walking outside. Shoes help to protect your child's feet outdoors and everywhere else that could be dangerous.
A baby does not need shoes before they start walking. As a matter of fact, supportive shoes can get in the way of your child's developing mobility. Sometimes, soft-soled baby shoes and socks are necessary for warmth. However, allowing your child to go barefoot is okay. Your baby toddling around when there with lightly covered feet, or completely bare feet helps her build coordination and strength in their feet. When your baby takes the first steps, it is time that you start thinking about shoes. First shoes should have a flexible sole that is non-skid (usually rubber).
What to Look for When Buying Shoes for Babies
When it comes to buying best shoes for babies, it is best that you go with your baby to a baby shop and have her feet measured by a shoe fitter who is qualified. The shoe fitter will not only advise you on the shoe type that you should buy, but also ensure that the shoe fits her properly. When your baby is being fitted for her first shoes, she may not take it kindly as it is a new experience. You have no need to worry if your baby starts crying and puts up a fuss. Come another day or just ask for a more experienced fitter if you think your fitter is not doing it right.
Your baby will need shoes that are of a specific width and length. The length of a baby's shoe starts from size 3, while the width will be between D and H. F and G are the most common widths of a baby shoe. Here is a table to show you what to look for when buying shoes for your baby:
| What to Look for | Descriptions |
| --- | --- |
| Flexibility of the soles | You can do this by bending the soles. The shoes should be gripping and flexible, not stiff and smooth. A rubber sole that has ridges and is non-skid will offer good grip. |
| Material | Choose a lightweight and breathable material. Soft cloth or leather is best. Avoid synthetic shoes that don't breathe, and stiff leather shoes which can come in the way of foot development. |
| Check on tightness | Give it a squeeze, and if the shoe is made of soft fabric, try to grab some material on top of the foot when your baby is wearing the shoe. If you can't do this, then the pair of shoes might be too tight. |
| Check the fit | Have your child stand up while wearing the shoes. There should be enough space to squeeze your small finger between the heel of the shoe and your child's heel. Check every month and make sure that the pair of shoe still fits. |
| Notice problem spots | Let your baby wear shoes while outdoors. When you take them off, look for any areas that might be irritated on your child's feet. |
| Shop later on in the day | The feet of babies swell, and are often bigger in the evening. Shoes that fit perfectly in the morning might feel a little tight in the evening. |
| Style | Velcro fasteners make it easier to get shoes off and on. You will not have to worry about tying shoe laces. If you opt for shoes that have laces, ensure that the laces are long enough to tie into double knots so that they will not come undone so often. |
More Tips on Babies' Shoes
Do not share or hand down baby shoes, especially the shoes that were worn every day.
The best time to fit shoes is at the end of the day when the feet of your child are a little swollen.
Ensure that the child likes the shoes for their comfort, not only for their sparkles. Make the child run around the shoe store and be keen to observe whether she is doing so with any discomfort.
Ensure that the shoes that you choose have a little less than your thumb's width of room at the toe to allow your child grow into the shoe. It is time to buy a new pair when the toe approaches the end.
Roominess – ensure that baby's shoes pass the thumb test for toddler shoes. First baby shoes should also pass the pinch test.
If you would like to make shoes for your baby, watch the video below:
Best Shoes for Babies
| Types | Descriptions |
| --- | --- |
| Pediped Originals | Pediped has plenty of adorable shoe designs both girls and boys. You can get the Harvey style and it comes in a chocolate brown and sells for $33. |
| Robeez | The Robeez Moccasin Mini Shoes are just too cute. They are perfect and ideal for your little princess. This shoe has a price tag of $19.99. |
| Stride Rite Step 2 | The Stride Rite is the perfect open shoe for your baby girl. It is retailing for $39.90. The step 2 collection also has many other styles for your kids. |
| Bobux i-Walk | This shoe is perfect if you are looking for something your little man can walk around in style. With a price tag of $47.95, this shoe is also very durable. |
| See Kai Run | The See Kai Run comes in a variety of colors such as blue, green and hot pink. It is retailing for $22.80. |
| Momo Baby Sneakers | Look for sturdy sneakers your baby can wear? The Momo Baby Sneakers are just what you need. Having a Polka Dots Brown style, this shoe is retailing for $54. |