For parents, there are many aspects to consider when choosing the right bottle to feed their baby with. From styles and colors to bottle thickness, a bottle has many characteristics designed to suit different babies. Parents may have to experiment with a few different bottles and nipples before they find the one that suits their baby best.
A baby will make it clear when it isn't comfortable with the bottle it is being fed with. After a year of using the bottle, the baby may be ready to transition further. Most important in a bottle is that it be easy to hold for the baby and easy to clean for parents. Read on to learn how to choose the right bottle for you baby and a few options for you to select from.
How to Choose the Best Bottles for Babies
Here are a few aspects to consider when choosing the best bottle for a baby:
1. Nipple Shape
This is especially relevant for mother's transitioning from breast feeding to bottle feeding. When a baby is still getting used to feeding from a bottle, it is recommended that the shape of the bottle nipple resemble a mother's nipple as accurately as possible. The baby will be less irritated by the change and will grow accustomed to a bottle much more quickly. Wide-base nipples are similar to women's breasts and are also easier to suck from.
2. Nipple Flow Rate
The nipple flow rate is the speed at which the milk or formula flows out of the bottle nipple. If the flow rate is too high, the baby may gag on its milk and new borns are particularly vulnerable to choking on bottle nipples. However, very slow passing milk can become frustrating for the baby too and cause a stomach upset later on. When choosing a bottle, parents need to make certain the nipple flow rate is slow enough that their baby is comfortable, but fast enough that the baby can feed at its own pace.
3. Bottle Material
Since awareness regarding the dangers of plastic has grown, clear glass baby bottles have become increasingly popular. There is not much conclusive evidence regarding the harmfulness of plastic baby bottles, but many parents prefer to stay on the safe side and opt for glass bottles. Glass bottles are slightly heavier to hold, but often come with cute bottle wraps made of soft fabrics that can make it easier to keep a grip on the bottle.
4. Bottle Shape and Vent System
The bottle's shape and vent system determines how much air a baby inhales along with milk. Swallowing air can cause great discomfort and tummy upsets for some babies so caretakers look for bottles with an angled shape that helps prevent the baby from swallowing too much air. On the downside, bottles with an air vent system can be tricky to clean due to their angled shape. In such a case, it is a good idea to invest in a bottle brush to guarantee that the baby's bottles are being properly cleaned.
5. Nipple Material
A bottle nipple needs to be as baby friendly as possible. In order to familiarize a baby with its bottle, parents have to let it chew and play with the nipple before feeding. Silicone bottle nipples are widely used today because they don't retain any taste or smells and don't carry allergies. Also, a baby may chew on its nipple without ever swallowing any bit of it. Even if a baby breaks off a piece of the nipple, it cannot be swallowed and can be plucked out of the child's mouth immediately.
6. Bottle Size
Bottle size varies according to the child's age and feeding requirement. New born babies eat much less than even 2 month old ones, so parents may start off with 4 ounce bottles and progress to 8-10 ounce ones in a few months. Good quality bottles have measurement indicators on the bottle to make it easier for parents to gauge how much they need to fill the bottle.
Notes and Warnings for Choosing Best Bottles for Babies
Baby bottles used to be produced almost exclusively of popular and affordable types of plastic. In recent years, dangers have risen associated with certain harmful chemicals such as BPA (bisphenol A) being used in bottle material.
In 2012, the United States Food & Drug Administration banned BPA use in baby appliances nationwide. To guarantee that BPA–laced plastic bottles are not being used, it is best to avoid bottles or sippy cups marked with the number '7'. They are usually made of polycarbonate plastic associated with BPA.
Recommended Best Bottles for Babies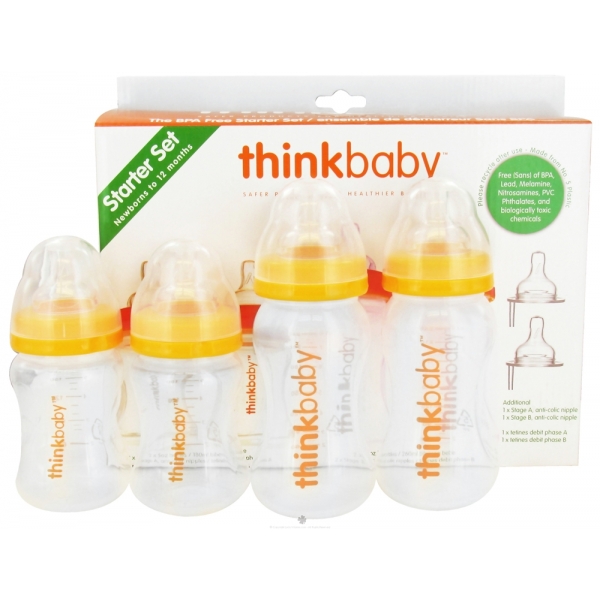 Wide-based bottles are great breast feeding bottles because the bottle nipples closely resemble women's breast nipples. The ThinkBaby bottle system is ideal for breast feeding and conversion bottle feeding as well as moving from a bottle to a sippy cup. The nipple flow rate is slow and steady and all ThinkBaby bottles are easy to grip. The different nipples are wide-based and fit on to the same bottle so the baby doesn't have to get used to a new bottle every time.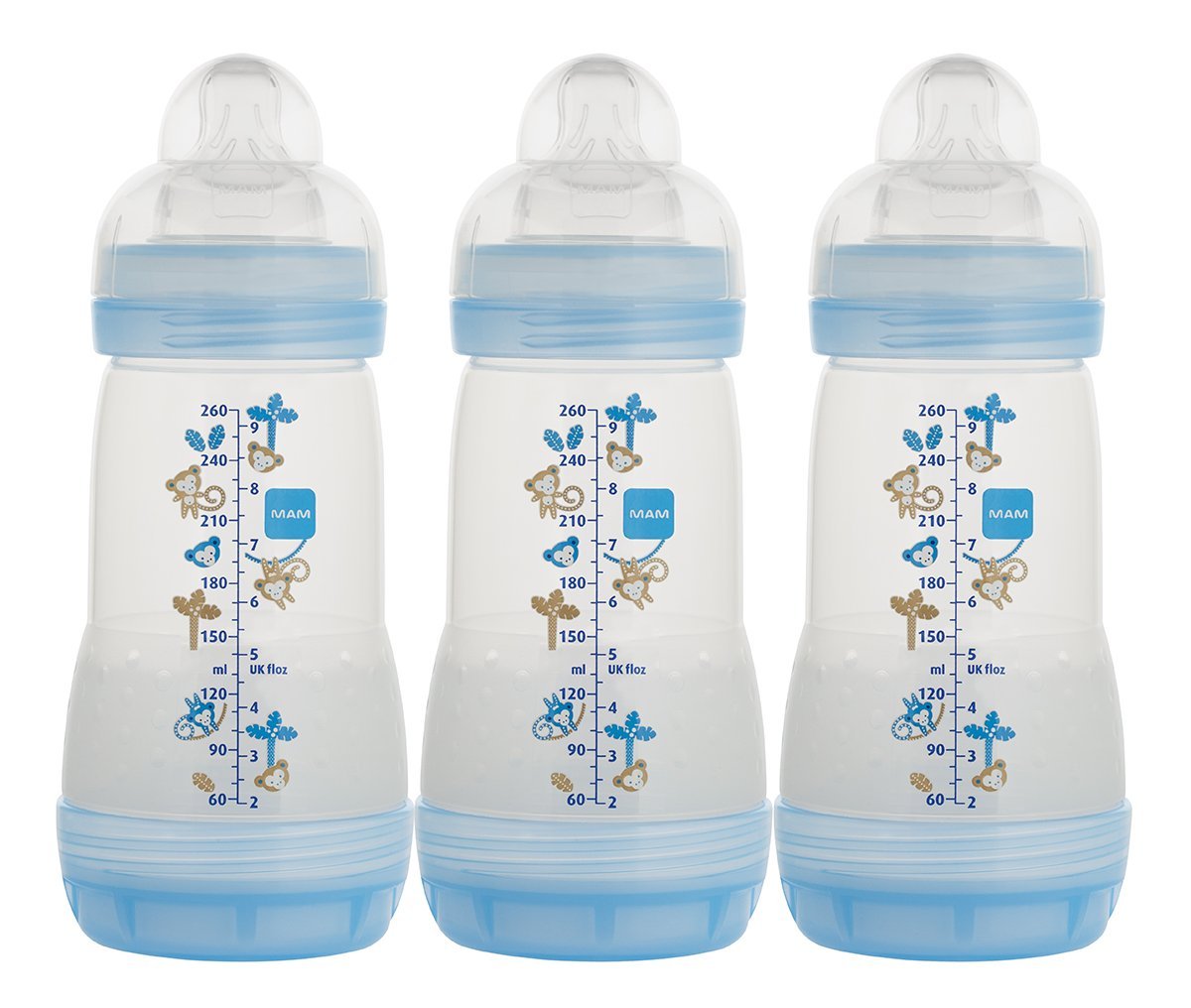 Anti-colic bottle nipples are often orthodontic, which means they are not perfectly round and can be uncomfortable for the baby to feed on. The Mam Anti-colic bottles support the baby's oral development as well as reducing colic. They have softer nipples and they come in 3 easy to assemble parts all of which are dishwasher safe.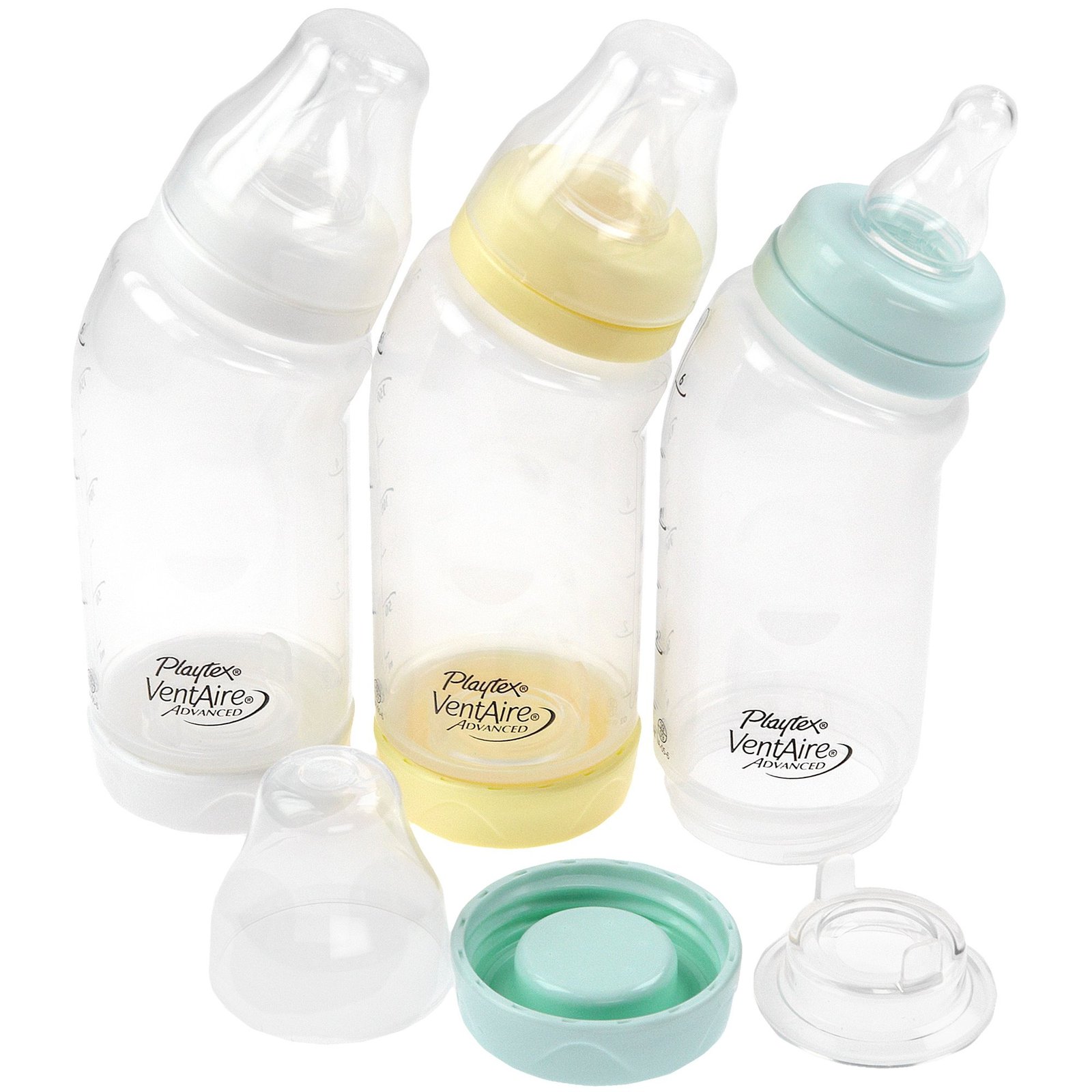 For a suitable narrow neck bottle, look no further than Playtex Vent Air bottles. The bottle nipples are 'slow-flow' enough to be great for breast feeding and their angular shape makes it easier for the infant to drink without having to tip the bottle. Narrow neck bottles can be difficult to adjust to but Playtex has designed their bottles to be as adjustable as the feeder likes and ideal for self feeding.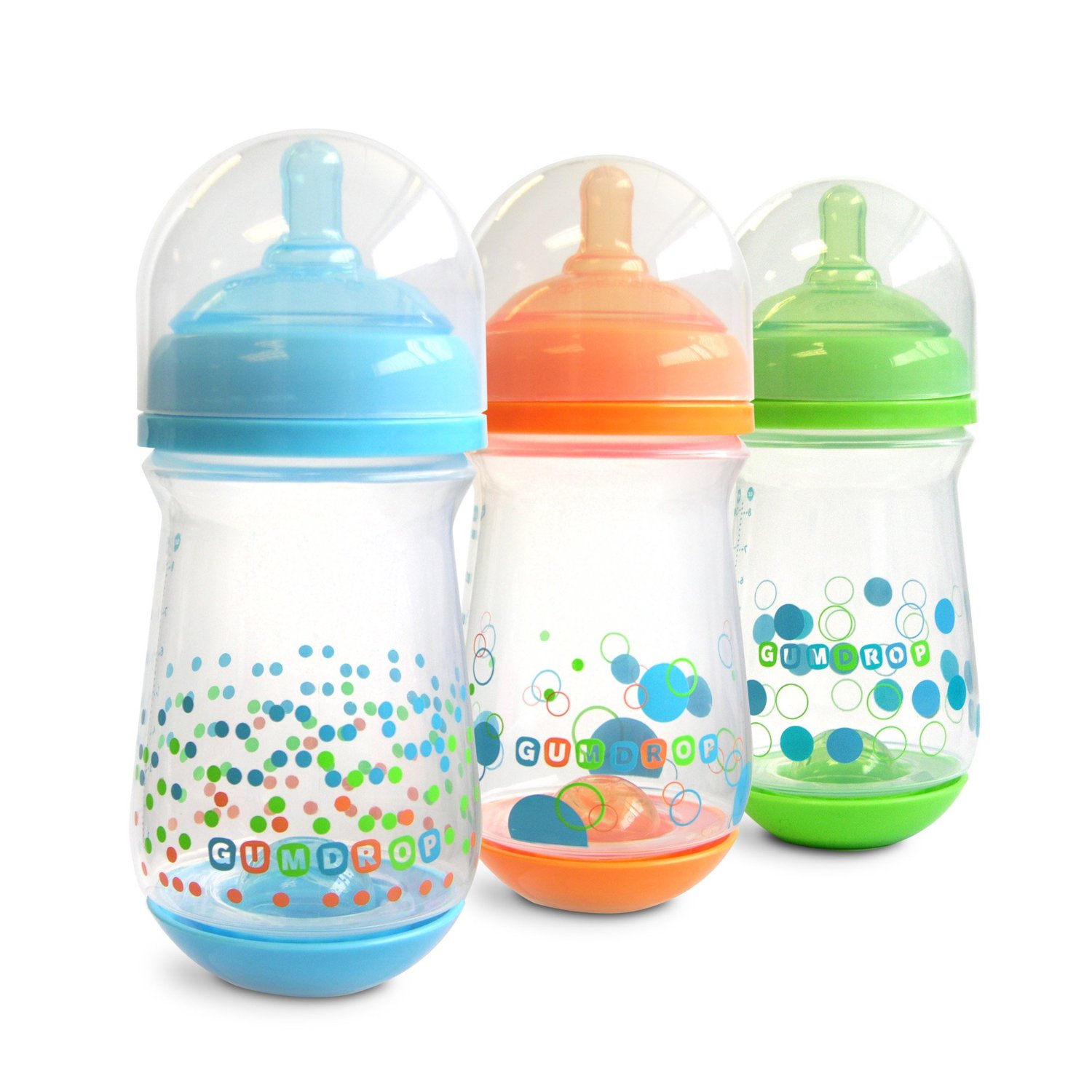 The First Year's Gumdrop bottles are the perfect wide neck bottles not just because of their unique shape, but also their new bottle venting system. The bottle nipples are modeled after their signature gumdrop pacifiers and make a baby feel right at home while feeding. The bottles also have an adjustable nipple flow rate so that a baby can feed at his own pace.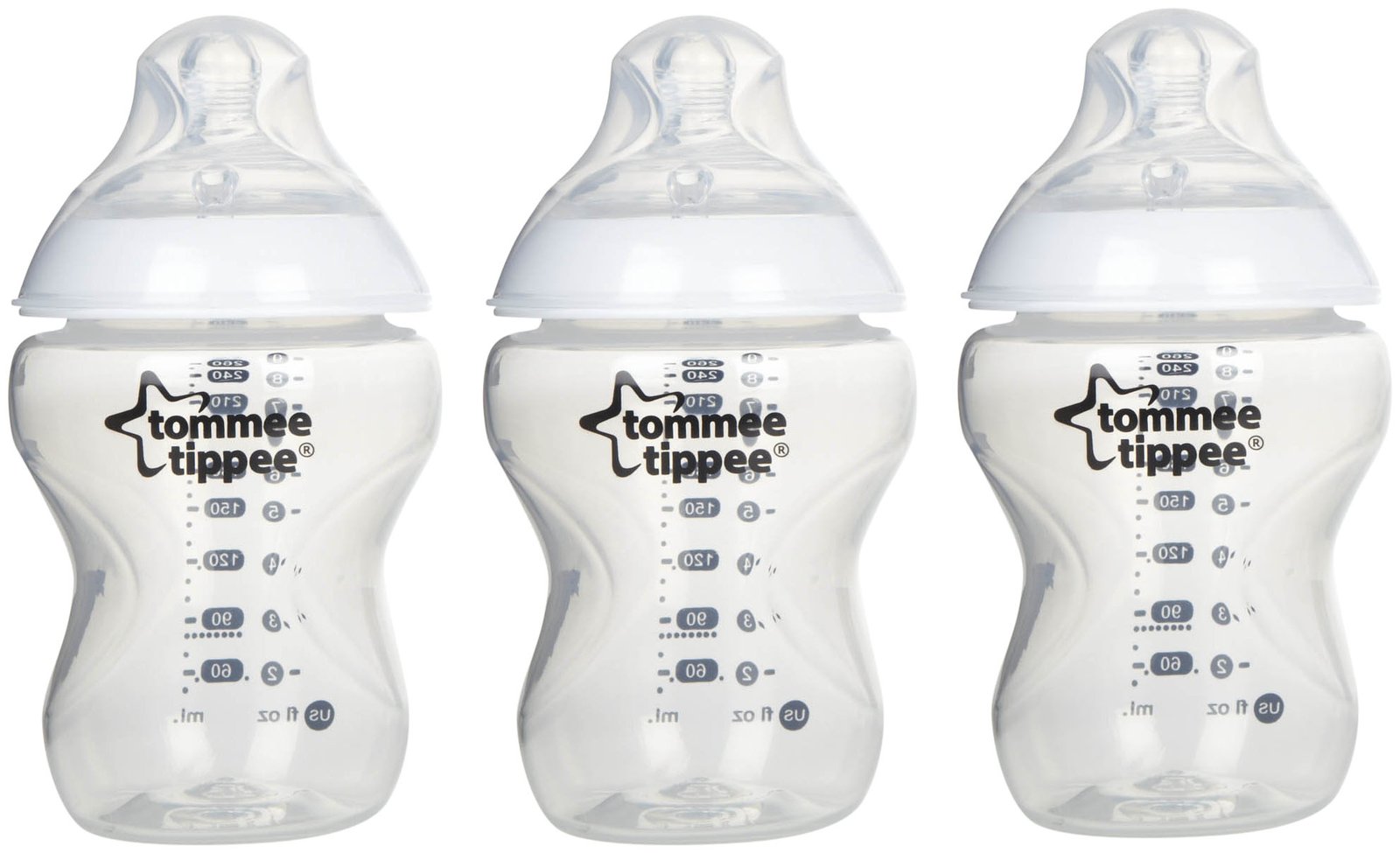 Taking several bottle properties into consideration, Tommee Tippee bottles come out on top as the best baby bottles of all. Portable, light and baby friendly, these bottles are easy to assemble and take no maintenance at all. Parents may feed their babies at the speed of their choosing and not have to worry about gas or tummy upsets.
Watch a video to learn the recommended best bottles for babies from someone who has used them: