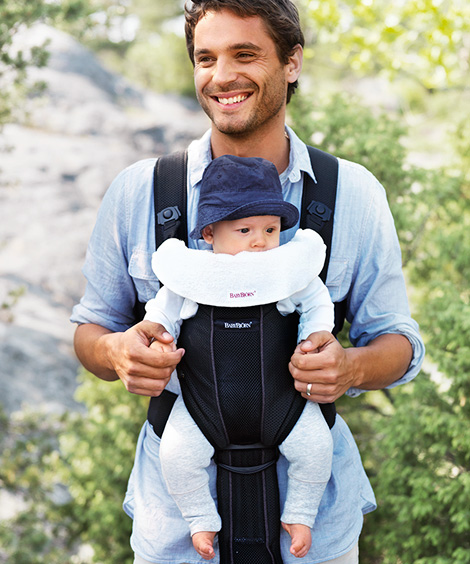 Worry too much about keeping your baby comfortable and close to yourself while your hands are still free to perform other things? Say hello to the best baby carriers like best baby slings. However, it is imperative to mention that you need several other parameters as well besides your parental instincts while buying a baby carrier. For example, valid information about the product and alternatives, personal preference, comfort level of your baby, cost, durability, and other factors should be assessed before buying a baby carrier for your child.
Four Main Types of Baby Carriers
Baby carriers are available in different styles, sizes and designs. Selection of best baby carriers must be done according to the requirements and style that suit your baby best. Currently, four major types of baby carriers are available: baby slings, backpacks, front carriers, and hip baby carriers.
1. Baby Slings
This type of carrier has been in use for many years and is made from fabric that permits carrying of child closer to you in a hammock like set-up. These are especially ideal for nursing mothers.
Two types of slings are available. One is available in a single size that fits all, with straps that are adjustable. Another type of sling provides customization based on different body specifications, while utilizing several techniques for wrapping. We will recommend one of the best baby slings
in the following table.
Warning: Parents are strongly recommended not to use sling type carriers until the child is old for a position of hip-carry (i.e. older than 4 months). It is because baby slings may cause suffocation hazard to the child. In addition, due to carrying position, there is a mild risk of hip dysplasia in the babies.
2. Backpack Baby Carriers
These are pretty much like the other backpacks except these are more valuable as they carry your baby. Backpack baby carriers
come in handy when going for a hike or a long walk, and the baby can rest in backpacks, living every moment with you. Backpack carriers are generally not recommended for babies under 1 year of age.
3. Front Carriers
A style comprising of a fabric seat for baby attached with two shoulder straps. It is ideal to buy such front carriers
when the baby is old enough to sit up and control his neck and head, which is nearly at the age of 6 months. The major advantage of front carriers is that the baby can be either positioned facing forward and seeing whatever is ahead or facing your chest, which he could use for resting his head, and looking up at your face for a warm smile.
4. Hip Baby Carriers
This carrier offers multi-positioning options and enables you to hold your child on the hip in a protective gear (like you usually do without the carrier). In addition, using hip baby carrier
allows you to use your hands freely. In fact, hip baby carriers are classified under hybrids due to multiple positioning and seating options they offer to you and your baby.
Important Features of Best Baby Slings and Carriers
The important features of best baby carriers are listed below:
Fabric: The most commonly used fabric for baby carriers is polyester or cotton. The strength of a baby carrier is determined by the fabric used, and cotton is a strong choice of fabric as it does not wear off easily. Baby carrier's breathability is also determined by the fabric used. Fabric considerations include easy cleaning, fire resistance and anti-allergenic characteristics.
Padding and Straps: Padded baby carriers support baby's legs, back and head. Good carriers also include waist straps that prevent shifting of weight to one side, which can cause shoulder and back ache. Be sure to check the firmness of padding and adjustability of the straps when buying baby carriers.
Fasteners: Selection of fasteners depends on the type and brand of the carrier you use. The fastener must be difficult to undo for the safety of the baby. It is therefore recommended to choose the products with adjustable fasteners to be used for longer period as your baby grows.
Head Support: Many carriers are available with lumber support for the child. However when carrying a new-born, it is essential to make sure the baby gets the head support. It's because new-borns are unable to support their heads on their own at least for the first few months.
Vents: The carriers may become hot while carrying the baby, so a baby carrier with a vent is the best option.
Weight Distribution: An ideal baby carrier must distribute the weight of carrier across the hips, pelvis, torso, back and shoulders.In case you have shoulder or back pain, choose the carrier that is capable of distributing the weight evenly. Carriers that are soft structured and baby wraps provide even distribution of weight without generating any pressure points.
Ease of Cleaning: Most of the sling-type carriers are machine washable. Some can only be washed by hands or dry cleaned. Some are tumble dried. Obviously, with a new-born, you need a baby carrier that is convenient and easily washable.
Recommended Baby Carriers
Baby Carriers

Descriptions

Moby Wrap

A single long piece material that can be fashioned into a sling.

There are seven types of different single holds for babies and two for twins. This is one of the best baby slings. You may carry up to 35 pounds using Moby Wrap. It has nothing like seams, clasps or rings to claw in your flesh (or the baby for that matter). The soft fabric and even weight distribution make it an ideal carrier. However, it requires a lot of practice to master the several holds.

Maclaren Techno Carrier

A front carrier including a pod for new-borns.

This carrier allows weight up to 25 pounds. It is extra-padded to provide comfort and security to the new-born. Most importantly, it is easily washable and has a display of preppy polish due to quilting. However, it contains a number of buckles that need sorting, which can be exhausting at times.

Chicco You & Me Infant Carrier

A front carrier with lumber support that allows the baby to face both forward and towards you.

This carrier allows weight up to 10-26 pounds. The fit can be customized, and you can choose how low or how high you want the carrier to be on your chest. Besides great adjustability, it offers you ventilated lumber support. However, sometimes it is difficult to pick the right support and position. And the adjustments aren't that easy.

Peanut Shell

A carrier in pouch style that is available in five positions.

This carrier allows weight up to 36 pounds. It may appear as a loop of fabric, but it contains a pocket on the front that may come in handy for keeping keys, burp clothes, etc. There's also a loop for attaching a small toy. The fabric, however, isn't much stretchable, so correct sizing is of great significance.

Ergo

A back, hip and front carrier with straps around the waist and shoulders.

This carrier allows weight up to 40 pounds. The good part is that this carrier can be stretched up to 90 pounds; therefore, it's superb for carrying older babies and toddlers. However, it's rather tricky to tuck in the baby into a back-carrying position.
Needless to say, there are hundreds of baby carriers available in the market. Yet, the choice relies totally on your requirements and the style you can adopt most easily. If you want to learn more about baby carriers, watch the video below: