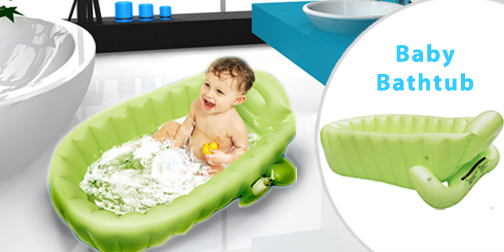 When shopping baby bath tub for your child, you will find that you have a lot of choices. The bath tubs are usually very portable, lightweight and small. Some tubs go inside the regular bath tub, some sit on a tabletop and some can be used over the kitchen sink. With all the choices of baby bath tubs out there, you need to know that fancy things aren't always good to use; something basic can just work well enough.
8 Best Baby Bath Tubs for You
| | |
| --- | --- |
| Product | Description |
| Sure Comfortable Newborn-to-toddler Tub | Mums love this because it has twoways that baby can sit in. There is a newborn sling attachment, padding and storage area. It also fits well over a kitchen sink. The design cradles your baby for extra comfort. |
| Precious Planet Whale of a Tub | Mums say this tub fits great over the sink area and the sides of the tub are also well designed to let baby splash without too much water coming out. This tub also comes with a drain plug which makes it easy to fill and drain. |
| Aquarium Bath Center | This is popular among mums because it is very easy to use. It's got lots of stuff likenewborn sling, temperature indicator. Mums love the hook so it can be hung up to dry. They also love that it was very easy to fill and drain with comfort padding on the sides to rest your arms. |
| Primo Eurobath | Moms love this tub because babies are very comfy bathing in it. The plastic is strong and really holds up. They also say it works really well for the time when your baby is almost sitting up alone. |
| Rainforest Friends Tub | Mums find the sling very convenient with this tub when babies cannot sit up alone. This tub comes with a storage hook and a drain plug. It has padding to prevent babies from sliding down. Also, it's very safe and lightweight. |
| White Hot Inflatable Duck Tub | This best baby bath tub helps you make sure water is just the right temperature for baby. It has a "white hot" spot that will turn white if your baby's bathwater temperature is too high. The dot goes back to blue if the water temp is acceptable. This tub is easy to store when deflated and can be used for little ones 6 to 24 months of age. |
| Lil Luxuries Whirlpool Bubbling Spa and Shower | This baby bath has actual jets that circulate the water and makes bubbles. The strong double plastic sides help to keep water warm. As your baby grows, this tub converts to a spa/shower that they can be still used for. |
| Newborn To Toddler Fold Away Baby Bath | This tub folds up for easy storage. It's got an incline for newborns, and it also can be turned into a spacious tub big enough for babies up to 2 years of age. You can blow up the bottom to give extra cushion for sitting. |
Watch this video with information on the best baby bath tub on the market. It has helpful reviews on how it was helpful to moms.
How to Choose a Best Baby Bath Tub
When looking for the best bath tub for babies, you need to think about a few things. Safety is the most important thing, along with the size of your house and what will be best for your and your baby's needs. Below are some helpful tips to help you choose the best baby bath tub for your little one.
Look for a tub that can be usedfor newborns and older babies. There are baby tubs that have an insert to lay a newborn on, and after your child is getting a bit older, you can simply remove the insert and make more room for your baby.
Go for a tub with an incline. You can buy tubs with a gentle incline which will support you baby in a right position when he is lying in it.
Think about comfort. Go for tubs with curves and soft edges to give your baby more comfort. Tubs that are rounded will make your baby feel more safe and secure, and make the bath experience less frightening.
Easy storage. Some baby tubs come with a hook, so you can hang it on a wall when finished. Or you can attach the suction cup to the inside of the tub and hang it up to drain. There are also folding baby bath tubs that can easily be put in a closet.
Easy to drain. A baby tub with a drain plug makes draining water easier on your tired arms. This work really well when used over a sink or in a large bath tub.
Use a "bath sponge" in the grown-up tub. There are some really handy bath sponges that are cut out in the shape of a baby and can be placed in a regular tub for adults to keep the baby safe and comfortable. After finishing the bath, you just squeeze them out and hang them to dry.
Beware of these types of baby bathing items. Some baby bathing items have not been found completely safe to use, and consumer agencies warn them against the safety issues. Try not to buy baby items at yard sales or second hand stores because you may not know if they have been recalled. Watch out for certain types of baby bath items, such as baby bath rings or seats (risk of entanglement), inflatable baby bath tubs (risk of collapse).