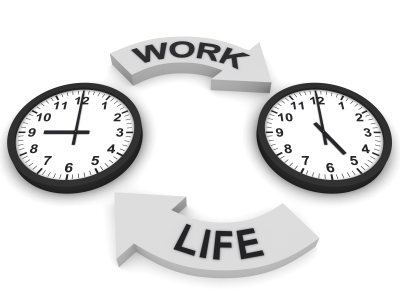 Our work lives are becoming more and more demanding, and we have to put a lot more hours at work, especially because of the threat of employee layoffs. Our spending more time at work means that we are left with so little time for the rest of things, because there is only so much we can do in 24 hours. Our lives have become a constant juggling act, and at most times we end up dropping more than one ball. Since most of us cannot cut back on the amount of time we spend working, it is better to sit back and find out how we can better organize our lives so as to get the most happiness. Here is a list of methods about balancing work and family life.
Tips on Balancing Work and Family
1. Talk to Your Employer
As for balancing work and family, you can come up with a flexible work plan and take it your manager or HR person. It would be better to know how much flexibility other employers are offering, and this can strengthen your case. Since each employer is different, you should also know how much flexibility is acceptable at your company. In addition, you can request for a trial period in which you work according to your plan to show that it does not reduce your productivity.
2. Separate Work from Family Life
Owing to the advent of technology, our work can always follow us to our homes, unless we make a decision to keep our work separated from our personal life. While you are with your family, you should not think about things that you are supposed to do at work and vice versa. This will make your life simple.
3. Reduce Commuting Time
If it takes you more than an hour to move from home to workplace, you will be wasting over 10 hours in transportation every week, and have very little opportunities to watch a movie with your friends or prepare supper for your family. Just if you can live close to your workplace, you will find a lot of time that you can spend with your family.
4. Draw up a Schedule
Making schedules make sure that your time is used efficiently. In order to have all the activities planned, you should keep a family calendar in which all the important family tasks are included. Recorded on the calendar can be dates on which bills are due, birthdays, kids' school and extracurricular events, and a number of other important family events. Google Calendar is recommended for this purpose because it can be easily synchronized and shared with other family members. You can get everything organized by just sparing out 15 minutes on weekends.
5. Make the Most of Your Time
It is tough to be completely disciplined, but if you want to make your life more fulfilling, you must limit the amount of time you dedicate to making phone calls, getting social media updates or checking emails. Moreover, watching TV is a waste of time and it is much better to spend that time with your partner. While you are at work, it is very important to avoid time wasters like Internet surfing, long eating hours, and chitchat with colleagues to boost your productivity. By avoiding these time wasters, you can find a lot more time to spend with your kids and your partner and become more happy and fulfilled.
6. Just Say No to What You Don't Want to Do
Most of us find it very difficult to say "no" to other people out of a sense of responsibility, even when we can easily do so without hurting others' feelings. If you are asked to do something you don't feel like doing, politely make an excuse and you will have more time to do things that you actually think are significant.
7. Have Dinner with Your Children
It is worthwhile for you to have dinner with your kids and your partner. In case you get home very late, you can have a light snack with your family. You would know much about your kids if you make it a habit to chat over dinners. This simple routine might become the most enjoyable time of your family life.
8. Get into a Bedtime Routine
It is important to have a bedtime routine. In this routine, you can have a bath, and then follow it with a story time for your kids. A bath will relax you and provide you with the energy to remain awake during story time. A little time with your kids is going to make them feel happy, and you would also lie down feeling relaxed when that you have reached the end of yet another exciting day.
9. Consider Childcare Service
Childcare is an important part of our lives and demands a significant portion of our time. In order to free up our time, it is recommended to find quality childcare for our kids. You can consult your friends and relatives for quality nannies, daycare centers, and babysitters. When finding nannies, you should schedule interviews and get a look at their references and records before making the final decision. In case you are looking for a daycare center, you should look for one which has flexible hours, ample outdoor space, and a low number of children per caring staff.
10. Schedule a Date with Your Partner
Our partner can get neglected, when we are busy carrying out our duties. We often take our loved ones for granted, but in a marriage or a relationship, it is so very important to find time for your partner. You can arrange special date nights with your spouse once in a month to make sure that there are moments when you two are together and are not thinking about work or kids. This will ensure that the good times of your relationship continue. In case you cannot go on monthly dates, you should spend special moments with your partner, talking only about each other.
11. Enjoy Yourself
Burdened with all the responsibility towards our kids and spouse, we most often neglect our own well-being. You must realize that you cannot work and carry out your duties well if you are feeling tired or tensed. In order to feel relaxed, you must do something that interests you once in a while, like pursuing a hobby or finding time to exercise. A healthy diet and adequate rest are going to make you ready to fulfill your responsibilities.
To learn more about ways of balancing work and family, watch the video below: