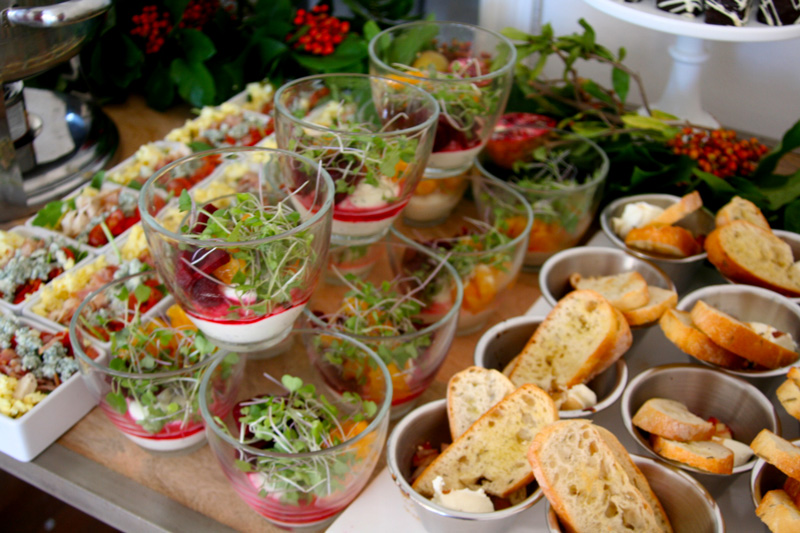 The food will be the centerpiece at your baby shower. You want to have appetizers, desserts and other foods that will create a memorable and special day for the mother to be and all her guests. More importantly, you have to choose the right food which is eatable for mother-to-be. Making a list of what she can eat and what she cannot eat may be a great help in the preparation of baby shower food.
Baby Shower Food Ideas - Four Appetizers
1. Crab Meat Bacon Rolls
Ingredients


1 can of flaked crab meat, drained
¼ cup tomato juice
9 slices of bacon, halved
1 well-beaten egg
¼ teaspoon salt
1 tablespoon Worcestershire sauce
½ cup fine bread crumbs
1 tablespoon chopped parsley
A dash of pepper

Instructions
Mix the egg and tomato juice. Combine the bread crumbs, crab meat, parsley and seasonings and then mix with the tomato and egg mixture. Roll the crab mixture into around 18 fingers, which is about 2 inches in length. Wrap these with one of the halved pieces of bacon and use a toothpick to hold the bacon in place. Place the rolls in a 350-400 degree oven until the bacon is slightly browned.
2. Quick Pizza Snacks
Ingredients

4 ounces (1 cup) muenster cheese
1/2 cup pizza sauce
8 ounces Pillsbury refrigerated crescent rolls
Fresh oregano (optional)
Preheat the oven to 375 degrees. Remove the Pillsbury dough from the package but do not unroll. Instead cut it into 12 slices, placing them cut side down on an ungreased cookie sheet about an inch apart. Bake these for around 10 minutes. Spoon a teaspoon of prepared pizza sauce onto each roll and sprinkle each with the Muenster cheese. Return the rolls to the oven for 3-5 minutes or until the cheese is melted and the edges of the rolls are golden brown. Garnish with oregano if desired.
3. Creamy Deviled Eggs
Ingredients

1 tablespoon Dijon mustard
1 teaspoon white wine vinegar
Coarse salt
8 large eggs
Paprika for garnish
1/3 cup light mayonnaise
1 tablespoon shallot, minced
Ground pepper
¼ teaspoon hot sauce
Place your eggs in a medium saucepan and cover them with cold water up to 1 inch over the eggs. Bring the water to a rolling boil then remove from the pot and let the eggs stand for 13 minutes. Drain and rinse the eggs under cold water to stop the cooking process.
While the eggs are boiling, combine the vinegar, mustard, mayonnaise, hot sauce and shallot. Peel the cooled eggs and half them lengthwise. Remove the yolks and place them in a bowl, combining them with the seasonings you mixed previously. Add salt and pepper to taste. Mash the yolks until they form a smooth paste.
Place the yolk and seasoning mixture back into the whites and sprinkle with paprika for garnish. Refrigerate for up to 8 hours before serving, keeping the eggs covered in the refrigerator.
4. Mini Frittatas
Ingredients

A medium zucchini
1 red bell pepper
16 large eggs
2 teaspoons salt
1 tablespoon chopped chives
1 yellow bell pepper
4-6 white mushrooms
¾ teaspoon fresh black pepper
Vegetable oil cooking spray
½ cup Gruyere or Fontana cheese, finely grated
Lightly spray two muffin tins with 24 muffin spaces with cooking spray. Slice the zucchini into rounds 1/8 inch thick and slice the mushrooms into 1/8 inch thick pieces lengthwise. Core the bell peppers and dice them into 1/8 inch pieces. Set the vegetables aside.
Preheat the oven to 400 degrees and combine the salt, pepper, eggs and chives in a mixing bowl. Mix the cut vegetables then place in the muffin tins. Ladle the egg mixture over the vegetables evenly, filling each up to the rim. Sprinkle them with cheese. Bake the frittatas for 8-10 minutes or until they are set. For serving, reheat them at 325 degrees until warm.
Baby Shower Food Ideas - Four Salads
1. Pasta and Seafood Salad
Ingredients

2 cups multi-colored pasta
10 ounces lobster or crab meat
4-5 scallions
½ a yellow or green pepper
Salt and pepper to taste
3 stalks celery
1 can of sliced black olives (2-3 ounces)
6 ounces shredded cheese (optional)
½ cup "Good Stuff" salad dressing
1 teaspoon lemon juice
Cook the pasta until tender, then drain and wash in cold water. Chop the scallions, celery and bell pepper into small pieces and place them in a bowl. Cut the seafood into small pieces and add to the vegetables. Add the cooled pasta to the bowl and top with lemon juice and salad dressing. Toss the salad gently and add more dressing if desired. Add salt, pepper and cheese if desired. You may also garnish with other vegetables such as cherry tomatoes. Chill the salad for 1 hour before serving.
2. Seven Layer Noodle Salad
Ingredients

16 ounces sour cream
1 cup bottled peanut sauce
4 cups shredded broccoli (broccoli slaw mix, shredded)
1 cup fresh cilantro
1 cup daikon, cut into bite sized strips
6-7 ounces rice sticks, broken
2 cups fresh snow pea pods
8 cups napa cabbage, shredded
½ cup coarsely chopped peanuts
¼ teaspoon cayenne pepper (optional)
Combine peanut sauce, cayenne pepper and sour cream in a bowl. Prepare the rice sticks according to the package instructions then drain and rinse with cold water. Cook the pea pods in salted boiling water for 2 minutes until they are tender but still crisp. Drain and rinse to stop the cooking process.
In a 4-6 quart glass bowl or 2 rectangular baking dishes create a layer of napa cabbage then rice sticks, pea pods, daikon, shredded broccoli then cilantro. Spread the sour cream dressing on top then add more cilantro and peanuts. Chill for up to 8 hours or until ready to serve. If serving in a bowl, toss beforehand. If serving in the baking dishes, cut serving portions with a knife.
3. Shrimp and Snap-Pea Salad with Ginger Dressing
Ingredients

12 ounces snap peas, trimmed
Ground pepper
Coarse salt
¼ cup vegetable oil
3 tablespoons fresh lime juice
1 medium carrot, chopped
2 red bell peppers deveined and chopped
1 pound deveined frozen medium shrimp, thawed
1 head Boston lettuce, torn into bite-sized pieces
4 scallions with whites and greens separated and sliced
1 tablespoon fresh ginger, chopped and peeled
In boiling salt water cook the snap peas for about 2 minutes. Reduce the water to a simmer and add the shrimp and cook them through, around 1 minute. Drain and rinse the food to cool.
Combine the oil, scallion whites, lime juice, ginger, carrot and a cup of water in a blender and blend until smooth. Season with salt and pepper to taste. Toss the lettuce, scallion greens, bell peppers, shrimp and snap peas in a large bowl. Drizzle the dressing over the top or serve on the side.
4. Chicken, Pistachio and Feta Salad
Ingredients

¼ cup and 1 tablespoon olive oil
Salt and pepper
1 head of romaine lettuce, chopped
½ cup fresh parsley, densely packed
2 navel oranges, thinly sliced
1 teaspoon coriander
½ cup unsalted, shelled pistachios
¼ cup white wine vinegar
4 chicken cutlets
4 ounces crumbled feta
1 bunch scallions, sliced
Toast pistachios in a medium skillet on medium heat, stirring frequently for about 7 minutes or until golden. In a bowl combine vinegar and ¼ cup oil. Season with salt and pepper as desired.
Heat the remaining oil in a skillet. Season the chicken with salt, pepper and coriander. Cook through, 2-3 minutes each side until opaque, turning as necessary. Cut the cooked chicken into thin slices.
Combine the lettuce, parsley, pistachios and scallions and toss with the oil/vinegar dressing. Plate individual servings and top with feta, oranges and chicken.
Baby Shower Food Ideas - Four Cake and Desserts
1. Almond Macaroon Galette with Strawberries
Ingredients

3 egg whites
2 teaspoons lemon juice
1½ cups blanched almonds, toasted and ground in a food processor
3 tablespoons strawberry jam
1 cup confectioners' sugar
2 teaspoons lemon zest
6 cups strawberries with hulls intact
1 tablespoon kirsch
1 tablespoon granulated sugar
Preheat the oven to 325. Mix the egg whites with an electric mixer using the whisking attachment on medium until you get soft peaks. Add in the lemon zest and slowly beat in the confectioners' sugar until a ribbon holds on the surface and the egg whites are glossy. Fold in the almonds.
Coat the inside of an 8 ¾ flan ring with cooking spray and place on a lined baking sheet. Spoon the batter smoothly into the mold and let it sit for 10 minutes. Prop the oven open ½ inch and bake the batter for 10 minutes. Reduce the temperature to 300, close the door and bake until it is set and golden, around 25 minutes. Take the batter out of the mold and let it cool completely using a wire rack.
Take 10 strawberries and halve them for a garnish. Hull the rest of the strawberries and chop them into slices. Toss them with kirsch, granulated sugar and lemon juice. Let them sit for up to 2 hours, stirring occasionally. Heat jam until it becomes thin and brush on the galette. Place the strawberries in a circular pattern with the bottoms facing out. Drizzle the remaining liquid over the top. Let the cake sit for 2 hours so the liquid can soak in before serving.
2. Tangerine Chiffon Pie
Ingredients

2 cups tangerine-orange juice blend
3 tablespoons lemon juice
1 cup sugar
4 eggs, separated
1/8 teaspoon cream of tartar
5 teaspoons lemon zest
3 cups shortbread cookies, finely ground
2 teaspoons unflavored gelatin
¼ cup unsalted butter
Preheat the oven to 350. Boil the tangerine juice over medium-high heat until it is reduced by half. Mix the cookies, ¼ cup sugar and lemon zest in a food processor until evenly combined. Add the melted butter while the food processer is running to create a dough. Push the dough into a 10 inch pie plate to make a crust. Bake for 15 minutes or until golden brown. Let the crust cool completely.
Meanwhile mix the lemon juice and gelatin in a small bowl. Let it sit for 10 minutes. Whisk together ½ cup sugar, the reduced juice, 4 egg yolks and 2 teaspoons lemon zest. Cook on low heat until the mixture thickens but do not let it boil. Add in the gelatin and whisk until it dissolves. Refrigerate the mixture until it is thick, around 30 minutes.
Place the cream of tartar and egg whites in a bowl and beat with an electric mixer until it forms soft peaks. Slowly add in ¼ cup sugar and beat until stiff. Fold the egg whites into the chilled gelatin mixture in 3 batches. Pour this into the crust and refrigerate 2 hours or until set.
3. Toffee Cookies
Ingredients

1 egg
1 cup sugar
1 teaspoon vanilla
1 ½ teaspoon baking powder
Granulated sugar to garnish
¾ cup butter
2 cups flour
¼ teaspoon baking soda
½ cup toffee bits
Preheat the oven to 350. Combine the vanilla, sugar, egg and butter and beat until creamy. Combine the baking soda, powder and flour and slowly beat into the liquid mixture until evenly combined. Fold in the toffee bits. Shape the dough into 1 inch balls and roll them in the sugar garnish. Place the balls 2 inches apart on an ungreased cookie sheet, flattening them with a glass dipped in sugar. Bake the cookies for 9-11 minutes or until the edges are warm. If desired, sprinkle with additional sugar before they cool. Let the cookies cool on a wire rack before serving.
4. Chocolate Cream Cups
Crust

Filling

Topping

2 cups ground vanilla wafers

¼ cup melted butter

½ cup chopped pecans

¼ cup brown sugar

24 ounces cream cheese

2 teaspoons rum extract

½ cup brown sugar

3 eggs

½ mashed ripe banana

25 caramels

2 sliced bananas

2 teaspoons lemon juice

1 teaspoon rum extract (optional)

2 tablespoons milk

½ cup pecan halves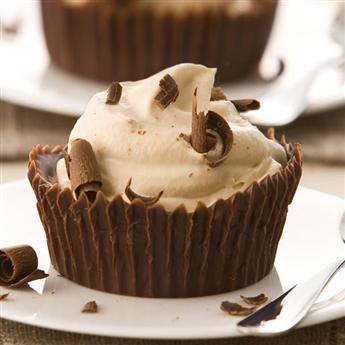 Combine sugar, butter, pecans and cookie crumbs for the crust. Press the mixture into the bottom of a 9x13 baking pan.
Combine the sugar, cream cheese and rum extract for the filling using an electric mixture. Add the eggs and mix until blended. Fold in the bananas. Pour the mixture into the crust and bake at 350 degrees for 30 minutes or until the filling is mostly set. Refrigerate at least 3 hours.
Before serving toss the bananas for the topping with lemon juice and arrange them over the cake. Combine the caramels with the milk and heat in the microwave for 2 minutes. Stir until smooth and add the rum extract if desired. Drizzle the caramel sauce over the cake and sprinkle with pecan halves. Cut into slices and serve.
For more information about planning a baby shower, the following video may help: