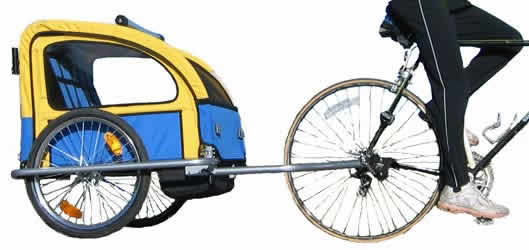 If you want to try cycling around with your baby, you will have to find a good way to carry him along with you. There are two options available in the market for this: a baby bike trailer
that you can tow behind your bike, or a seat that you can mount behind your own. It is advisable to opt for the first choice, as it is safer and more convenient. Below is a detailed guide that will give you the information you need about baby bike trailers
.
What to Look for When Buying a Baby Bike Trailer
| Features | Descriptions |
| --- | --- |
| Harness | The harness on a trailer is essential to keep your baby safe at all times. If your trailer is designed to seat two babies, it should also have two separate harnesses. Five-point harnesses are best because they provide maximum security and snugly tuck your baby into the trailer. To make sure he is comfortable, look for harnesses that have sufficient padding and will not irritate your baby's skin. |
| Foldability | If you have issues with limited storage space, look for trailers that include mechanisms which allow them to fold quickly and easily. Some trailers also feature wheels that can be detached for easier storage. |
| Attachment | There are several ways by which your baby's trailer can be attached to your own bicycle. Some have an axle that can be clamped easily onto the hinge at the rear end of your bike, while others have a mount that can be locked onto your bike's frame. There are also trailers that have thin strips and mounts attached to the seat and can go around your seat post. |
| Hitches | The hitch and its arm are what directly connect your bicycle with your baby's trailer. Look for a hitch that comes with a supporting strap that can provide extra security and stop your baby's trailer from getting detached. Extra security features include rotating ball-and-socket joints and springs, which keep the trailer upright even if your bike tips over. |
| Convertibility | Most available bike trailers can be converted into strollers that can be used while jogging, hiking, or skiing. These come with conversion kits that include extra parts such as handles and wheels. |
| Frames | Steel is the most common material used to create the frames of bike trailers, although alloy is also used for lighter, more expensive ones. When you buy a trailer, look for one that is sturdy and can hold your baby's weight. There are also some that have what is called a roll cage, or a perimeter frame that serves as a protective barrier in case of accidents. |
| Wheels | Trailer wheels can be incorporated with steel or aluminium rims. It is more advisable to buy the latter, as they are lighter and less likely to develop rust. Wheels also come in various sizes. Larger ones will be able to soften the bumps you may pass, while smaller ones will be easier to maneuver. Also look for wheels that have inflatable tires capable of rolling smoothly, even on rough surfaces. |
| Reflectors | Bike trails can be dangerous for your baby if he is not very visible to the joggers. You will want to make sure that his trailer has reflective spokes on its wheels or reflective strips on its side and rear to alert others that you have your baby with you. |
| Seating | Choose a bike trailer that provides your baby with ample legroom and back support to make his ride as comfortable as possible. If you are willing to spend a bit more, look for a trailer with seats that recline and have padding. Trailers designed for two babies may also have seat dividers across the middle. |
| Weather and trail protection | Shields made of plastic or fabric can work well to protect your baby from the elements that he will be exposed to during his ride. Tinted windows are also ideal for defense against the harsh glare and heat from the sun. Just be certain that your baby's trailer will still be well-ventilated so that he will not suffocate inside. |
Want to see how to use a baby bike trailer? Check out the video below:
When Can I Put My Baby in a Baby Bike Trailer?
The League of American Bicyclists advises against using seats that can be mounted on the back of yours because they disrupt the balance of the entire bicycle. When you stand up from your seat, the excess weight coming from its rear will cause your baby to fall down.
Instead, choose a bike trailer. Your baby can start riding one when he is 12 months old. The American Academy of Paediatrics states that your baby can only ride one when he can sit up steadily on his own, so make sure of this before you take him biking with you. Also, be sure to provide him with a well-fitting helmet to keep him safe at all times.
More Safety Tips on Baby Bike Trailer
1. Choose a Helmet for Your Baby
Bring your baby to a specialty shop where he can try on headgear until he finds one that fits snugly. It should have adjustable straps under his chin, making it adjustable so that it does not budge in any direction. Besides, make sure to look for a helmet labelled with the CPSC, ANSI, or Snell seal of approval.
2. Do a Test Drive Before Buying One
Attach the trailer to your bicycle and try going for a ride with it. Use a sack of potatoes or something similar to double as your baby and see if the trailer is safe and secure. Always keep your receipt so that you will be able to return the trailer if you are unsatisfied with it.
3. Keep the Bike Trailer Off Road
Even if your baby's trailer is loaded with safety features, it is still going to be dangerous if you are on a road. Trailers are meant to be used off road such as in bicycle paths, parks, and playgrounds. Any area where you may encounter cars is unsafe for your baby as his trailer will not be readily visible to drivers.
4. Buy a Bike Trailer from a Reputable Bicycle Store
It is very important that you get a trailer with a sticker stating that it complies with the safety standards dictated by ASTM International. Be sure that the shop you are purchasing the trailer from is reputable and trustworthy. Besides, be wary of products sold in toy stores, as these may not exactly conform to regular safety requirements.
5. Be Careful About a Second-Hand Baby Bike Trailer
Check the product recalls listed on the CPSC website if you are planning to acquire a used bike trailer. This is a precaution that allows you to be sure that you do not end up with an undependable or malfunctioning product. Additionally, always check for lacking parts and signs of damage to the vehicle.