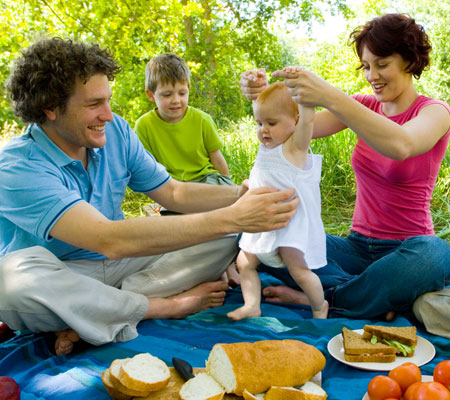 A moveable feast, picnics are the perfect way to get you and the kids away from the constant distractions of TV and fast food. Creating a picnic is perfect for a visit to the park, beach, or even a scenic drive. Be sure to pack up your favorite picnic classics before reveling in the joy of eating in the open air. If you are unsure what classics to add, try out the following options that you and your kids are sure to enjoy.
Picnic Food for Kids–Appetizers
1. Fresh Avocado Dip
Perfect for tortilla chips or fresh-cut veggies, this dip is easily transported to your final destination.
Servings: 5
Ingredients:
3 ripe, peeled and pitted avocados
1 chopped garlic clove
1/2 cup your choice of salsa
2 tsp lemon juice
1/4 cup chopped fresh cilantro (4 tsp if dried)
1/2 tsp salt
1/4 tsp black pepper
1 chopped medium-sized ripe tomato
How to Make It:
Simply mash together everythingexcept the tomatowith either a potato masher or a forkin a large bowl until chunky.
Stir slowly until everything is mixed together in a smoother consistency.
Place in either a plate or shallow bowl before adorning with the tomato, cut however desired.
Note: If you can't find ripe avocados, simply find few firm ones and place them in a paper bag. Keep in a warm spot for a few days in order to quickly ripen the avocados.
2. Asian Deviled Eggs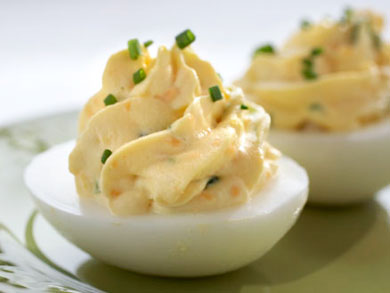 A twist on the traditional deviled eggs; this east-meets-west variation is perfect for an Asian inspired picnic.
Servings: 12
Ingredients:
A dozen boiled eggs, peeled and cut in half lengthwise
1/3 cup mayonnaise
1 tsp sesame oil
2 tablespoons toasted sesame seeds (with a reserve of 2 tsp)
1 tsp wasabi powder
1/8 tsp salt
1/8 tsp black pepper
1 or 2 sliced green onions (or scallions)
How to Make It:
Start by mixing everything except your reserve of sesame seeds and the scallions. Mix well before filling the halves with the mixture.
Next, place the set aside sesame seeds and sliced scallions on the top as garnishments. Preserve the deviled eggs by covering and chilling until it is time to eat.
Note: In order to neatly place the mixture in the egg white halves, use a resalable plastic bag, cut off one of the corners, and pipe the mixture through there.
Picnic Food for Kids—Salads
1. Captain's Coleslaw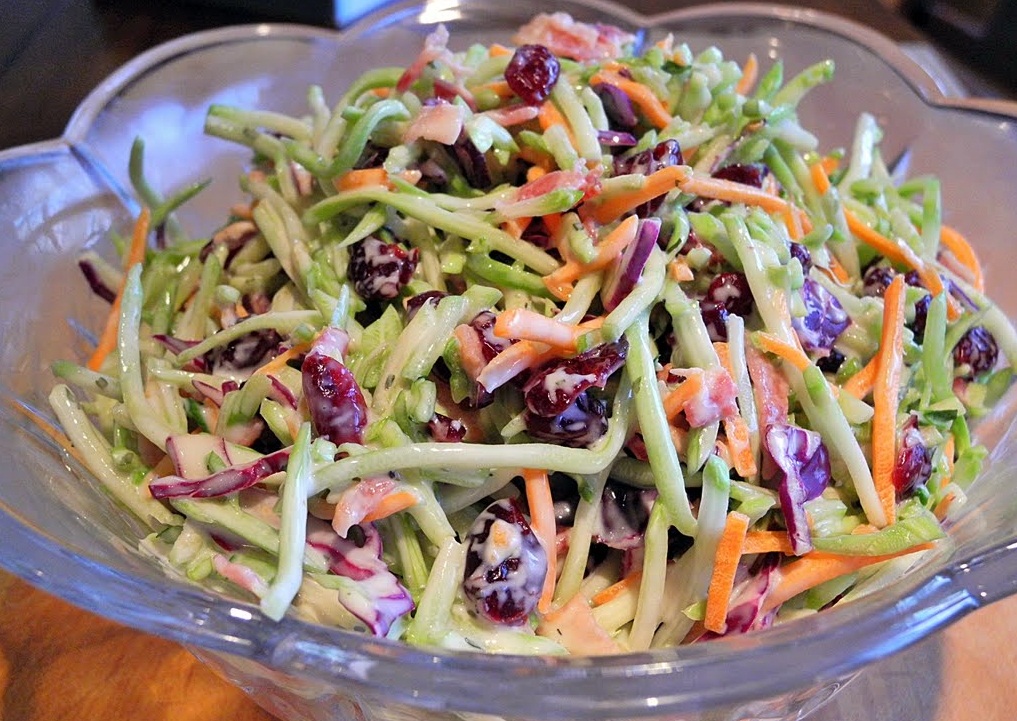 While picking up coleslaw at the store is easy, making it yourself by using this tasty recipe is not hard, too.
Servings: 4
Ingredients:
1/2 c mayonnaise
1/3 c milk
1 tsp white vinegar
1/4 c sugar
1/4 tsp salt
16-ounce cabbage coleslaw mix, purchased or made yourself
How to Make It:
Start by whisking everything together, except the coleslaw mix, until it has an almost soup-like appearance.
Simply add the coleslaw mixture and combine until everything is coated as desired.
Cover with plastic wrap, chill for about an hour, and then serve.
Note: If you want to shred your own cabbage, use about ten cups and add shredded carrots if desired.
2. Crisp Cucumber Salad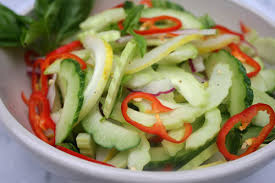 With a hint of sweetness mixed with tangy vinegar, you will be able to enjoy the taste of summer any time with this salad.
Servings: 4
Ingredients:
2 peeled and thinly sliced cucumbers
4 thinly sliced scallions
1/2 small chopped red pepper
1/4 c sour cream
2 Tablespoons white vinegar
2 Tablespoons sugar
1 1/4 tsp salt
1/4 tsp black pepper
How to Make It:
Start by combining the cucumbers, scallions and red pepper in a medium bowl.
Mix the remaining ingredients together in a small bowl to make the source. Then pour over on the vegetables.
Cover the bowl and chill for two hours. Be sure to toss to ensure the cucumber mixture is coated well before serving.
Note: It is your choice whether the cucumbers are peeled or not. You can even give them a fancy look with a fork, providing a ridged look, and then slice them.
Picnic Food for Kids—Sandwiches
1. Croissant Club Sandwiches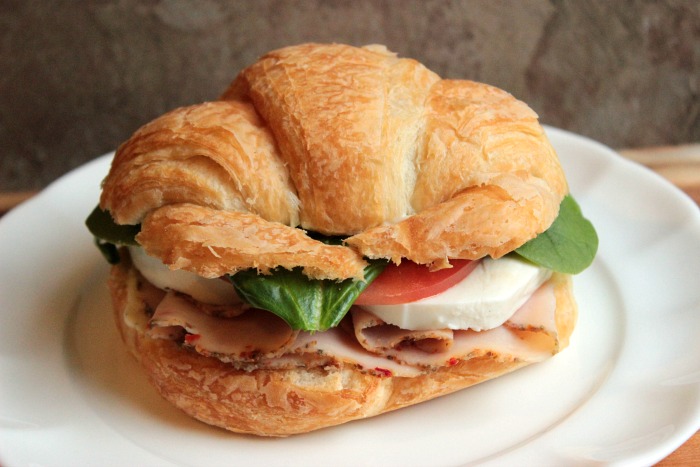 Your kids will love taking a simple staple and sprucing it up with this excellent recipe.
Servings: 8
Ingredients:
1 c mayonnaise
2 tablespoons bacon bits, real
8 large split croissants
8 romaine leaves of lettuce
1 pound deli turkey sliced thickly
1 large tomato cut into 8 slices
How to Make It:
First, mix together the mayonnaise and bacon bits well, then spread the mixture equally on each of the croissant halves.
Next, layer each of the remaining ingredients on the bottom halves and serve.
Note: For an easier fit with the tomato, cut each of the slices in half. This recipe will also work with other types of bread, depending on what you prefer.
2. Chicken and Slaw Wraps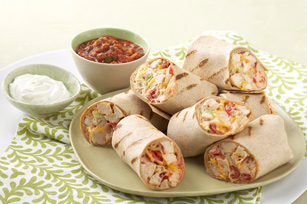 Harness the deliciousness of rotisserie chicken to create a perfectly healthy and filling meal in minutes.
Servings: 4
Ingredients:
2 1/2 cups chopped or shredded cooked rotisserie chicken
1 1/2 cup shredded coleslaw with carrots
1/3 cup ranch dressing–or dressing of choice
1/4 cup sweet pickle relish
8 slices cheddar cheese
4 sun-dried tomato basil wraps–or the wrap of your choice
How to Make It:
Simply stir the first four ingredients together in a large bowl.
Layer one slice of cheese on each of the wraps, and top with approximately ¾ cup of the chicken. Roll it up, wrap with plastic wrap and twist the end to seal it.
Chill for about eight hours before serving.
Notes:You can also eat these warm, if desired, but be sure to cut in half before serving for easy eating.
Picnic Food for Kids—Desserts
1. Easy Peach Cake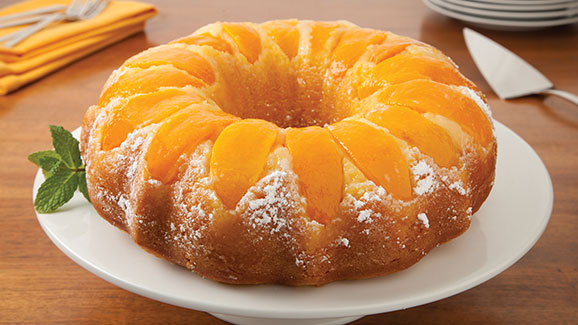 This recipe is sure to amaze all who eat it, and its ease of creation will certainly amaze you, the baker.
Servings: 12
Ingredients:
1 package butter-flavored yellow cake mix (18.25 ounce)
3/4 c chopped pecans
1 container peach pie filling (21 ounce)
2/3 c vegetable oil
2 eggs
1 tsp vanilla extract
How to Make It:
Start by preheating your oven to 350 degree F and coating a 9x13 inch pan to prevent sticking.
Combine all of your ingredients in a big bowl and mix well before pouring into the pan.
Set a timer for 40 to 45 minutes. It is considered done once a toothpick comes out clean after being stuck in the center of the cake. Cool to desired temperature before serving.
2. Lime Margarita Bars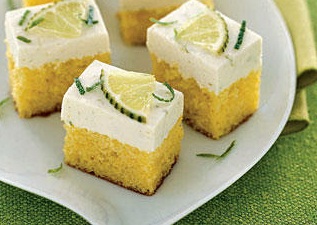 While the traditional margarita has a salted rim, these cooling bars have the saltiness in every bite with a pretzel crunch bottom layer.
Servings: 20
Ingredients:
1 1/2 c crushed pretzels
1/4 c sugar
3/4 cup, or 1 and ½ stick of a butter, melted
2 can sweetened condensed milk (14 ounce)
3 eggs beaten lightly
1/2 c fresh lime juice
4 tsp grated lime peel
How to Make It:
Preheat your oven to 350 degrees F and prepare a baking pan, preferably a 9x13 inch size.
Combine pretzels, sugar and melted butter, and then press the mixture firmly into the bottom of the pan. Bake the crust for eight to ten minutes, or until firm, before removing and allowing it tocool. But do not turn the oven off.
While the crust is cooking, mix the remaining ingredients so they are ready to pour on top of the crust.
Bake until the center is firm, approximately 25 to 30 minutes, before cooling on a wire rack. Cut into bars and refrigerate until ready to serve.
Note: If you decide to freeze these bars, be sure they are in a tightly covered container. They will need to be thawed at room temperature for at least half an hour before being ready to serve again.